The beauty of drones is that there is something for everyone. Even small children can enjoy learning about them and these small robots fly indoors. However, most manufacturers suggest a minimum age of 12-14 years unless supervised. But that is no different than fathers taking their younger children to fly. I'll show you some of the Best Drones Under $30 or less in this guide. Yes, you heard that well. You can buy impressive quadcopters today – with transmitters- for less than $30. I have gone through all the popular models, so you do not have to. What we have here is a collection for the Best Drones Under $30.
Best Drones Under $30 Comparison Table
Best Drones Under $30
Drone Name
360° Flips
 Flight Time
TOYK Drone Mini RC
Yes
8 minutes
GoolRC T100 Mini
Yes
8 minutes
Cheerwing Syma X20 Mini
Yes
6 minutes
JJRC H36 Mini Quad
Yes
7 minutes
The eFun TX4 Quadcopter
Yes
8 minutes
Syma X11 RC Quad
Yes
8 minutes
EACHINE Mini E010
Yes
5 minutes
Eachine H8 Mini Drone
Yes
7 minutes
Cheerson CX-10 RC
Yes
8 minutes
Blomiky DM003
Yes
10 minutes
Not All Drones Are Equal
These drones can be comparable in price, but that does not make them all the same, even not comparable. That's why I went through all of them so that you can choose from a selection of the best.
Here is how some best drones under $30 fall short of the competition:
Made of thin, cheaper materials
Not very crash-resistant
Short battery life, long charging times
Engines are overheated and quickly burned out
Difficult to operate at beginners level
Remote controls are not very intuitive or too small for some hands
Difficult or impossible to find replacement parts
OK, so we can not expect small lightweight micro- and nano-drones to last forever. And some are so cheap that most people would not look for spare parts if they broke something anyway. But what you would expect is a craft that gives you a lot of fun while it lasts. It must also be easy to fly and withstand a few hard hits. You can expect these things, even for the Best drones under $30 or less.
How We Picked Best Drones Under $30
Although I have flown a lot of these cheaper quadcopters, I certainly did not have the chance to try them all. So I compile my reviews on three principles:
Personal experience and product / technical knowledge
Expert opinions
Real user feedback/reviews
There is only a few dollar difference between these models, so I have not bothe red to split them into different price categories. I organized them in order of editorial classification, with the ranked shows first.
Here are the Best Drones Under $30
TOYK Drone Mini RC
My first and best choice may surprise you because it is not a name that everyone knows. But it is here for a good reason. This Mini RC quadcopter gives many people a lot of fun for about 25 dollars. If you want a good drone for less than $30, this can be it. The TOYK Mini RC quad is a popular seller on Amazon with lots of glowing user reviews on this little beauty. So what is it all about? Well, it has 6-axis gyro stabilization. This helps to provide unwavering stability while this puppy is in the air. The performance is excellent for a mini-quad for this price. It is quite crash-resistant and repairs well from sudden movements and beautiful stunts. Children love it, but it is also a popular toy for big boys.
The headless flight mode helps newbie pilots fly faster. You can fly the TOYK Mini in any way you want. Taking off, descending, moving forward, backward, turning, accelerating, it is all under your control. And yes, you can also do those beautiful 360-degree flips. The powerful small motors react super-sensitive and are easy to operate thanks to the intuitive design of the 2.4G remote control. You can expect a maximum of 8 minutes of fun flight time in windless conditions. The charging time takes about one hour for the LiAh battery of 300 mAh (take one or two spare units with you).
Pros:
Best value for money quad
Smart design
One-touch takeoff/landing
Headless flight mode
Crash-resistant
Intuitive controller
Cons:
Motors get hot fast
Not ideal outdoors on windy days.
GoolRC T100 Mini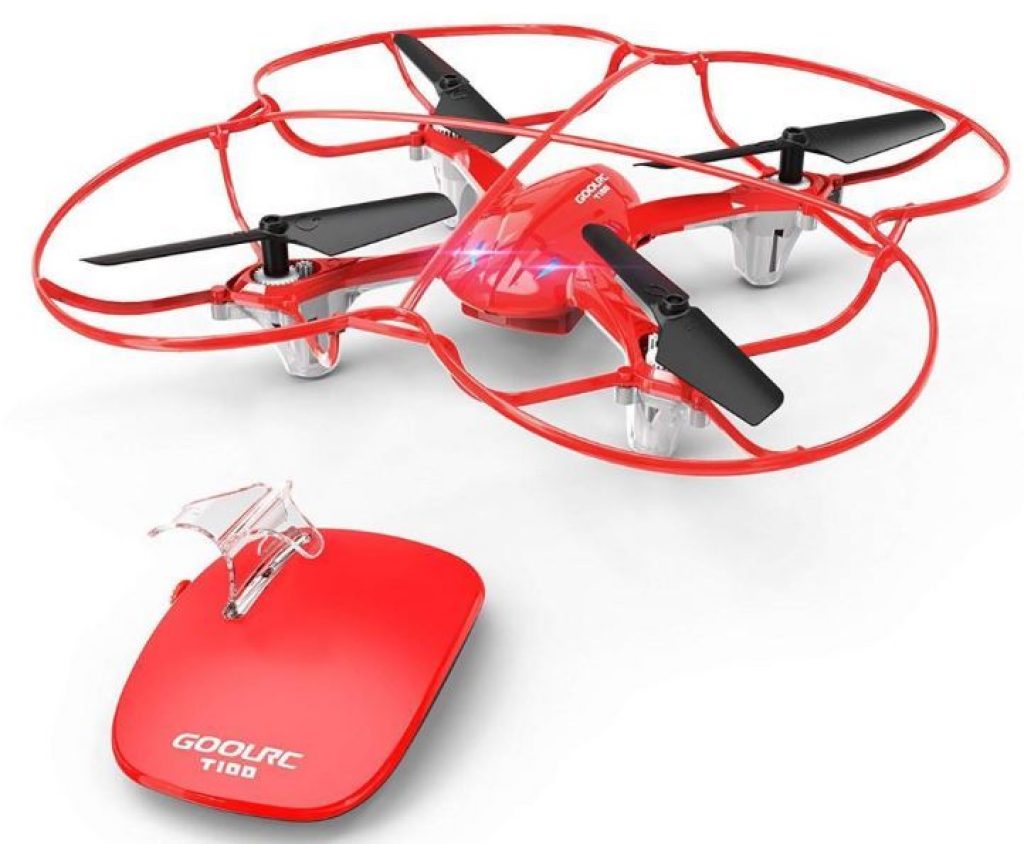 The difference between the GoolRC T100 Mini and the TOYK Mini RC above is the operation of the gesture. Furthermore, they both offer the same quality and great flying experience, but with very different looks. Once you open the box, there is only one thing you want to do with the GoolRC T100 Mini and that is flying. It also looks so cute. And although GoolRC targets this little quad at entry level, I challenge everyone to resist trying. Being able to use your hands to control and maneuver the plane with a mouse-like controller is quite unique. It requires some practice, but it is worth it.
You have one-key motion control options and of course, a standard 360 ° (motion-controlled) flip function that pilots like. I love this controller. It has everything at your fingertips. There is a speed adjustment, turning, 3D flip, altitude setting, automatic start/landing and the on / off switch. Expect a line distance of about 20 meters with the GoolRC T100. That is more than enough with small drones. A fully charged 3.7V 280mAh Li-Po battery gives you a maximum flight time of 6-8 minutes. The real good news is that it only takes about 30 minutes to fully charge the battery.
Pros:
Amazing price for an incredible mini quadcopter
Beautiful design (kids love it)
Intuitive remote controller with built-in gesture control
Reasonable flight time for a Mini
One-key motion control options
Short battery recharge time
Cons:
The remote controller takes a bit of getting used to
Not recommended for outdoor flying in blustery conditions
Cheerwing Syma X20 Mini
You can open your hand and the Cheerwing Syma X20 will sit comfortably the re. This thing may be small in size, but it is great on features like you are about to find out. You can choose between two colors with the small Syma X20 quadcopter, black or white. The small size and the low weight make it an ideal first drone to practice at home. Be careful, the dog is not mistaken for a new fun toy – it happens! It is a cool little craft and is equipped with blade protectors but even they will not protect it against Rover's jaws. A new Syma X20 comes with everything you need, apart from the batteries for the remote control. The box contains the quad, the RC, a 180 mAh battery, a spare set of props (nice touch) and a USB charging cable.
There is, of course, the user manual. You even get a small screwdriver in the box. This is one for the Best beginner quads for less than $ 30, especially for young pilots. It is so easy to manipulate from the beginning. The headless flight mode helps newcomers because they do not have to worry about the orientation of the aircraft while flying. Starting with one key and landing further contribute to the simplicity of the drone. There are also some colorful LED lights if you feel like going to the sky in the dark. The control range for the Cheerwing Syma X20 is somewhere around 20 meters. Even 20 meters is an ambitious journey distance given the size of this small quadcopter.
Pros:
Affordable fun for beginner and experienced enthusiasts
User-friendly flight features
Altitude hold mode
One-key take-off and landing
headless flight mode
Intuitive transmitter
Cons:
Fixed prop guards
USB Ports overly fragile
JJRC H36 Mini Quad
The JJRC H36 Mini Quadcopter is one of the more cheap drones in this review. So what can you expect from a cheap quad that does not even interrupt the $ 20 price tag? Okay … let's find out. This is again one of the popular mini-drones from Amazon and it is not just about the price. Many users have taken the time to judge this little puppy and the feedback is usually favorable. As far as looks are concerned, well … you could say that it seems a little strange, although the look – in this case – is deceitful. And the added protection measures are safer for children than for some other models. The JJRC H36 is an exceptional flying robot for the money.
What we have here is a crash-resistant mini-quad despite the average and low price. It costs more punches than drones that cost a lot more. With the press of a button, you can perform 3D flips in no time. You may want to practice outdoors first, but remember that this is an incredibly lightweight drone. In windy conditions, there is always a chance that a gust of wind will take your quad away. The longest you can expect to stay in the air is 7 minutes on a fully charged battery. Charging can take up to 30 minutes to an hour, depending on the power source. The control range is about 30 meters, which is crazy for such a small model. My advice is to always make sure it is in your line of sight.
Pros:
User-friendly craft
Crash-resistant
Stable flights, fast
Headless mode
Fast battery recharge time
Cons:
Too small for outdoors
Short-ish flight time
Transmitter not comfortable for bigger hands
The eFun TX4 Quadcopter
Sometimes we just want a cheap drone to practice our pilot skills. Others want a simple vessel as an introduction to flying consumer UAVs. So does The eFun TX4 Quadcopter fit the bill? This is a robust, crash-resistant drone (see below) for the money. Having a robust design should be one of the deciding factors when shopping for cheap drones. After all, it is not so cheap when you have to replace the vehicle or its parts with every minor collision. Consider the TX4 if you like the idea to have different high/low speeds to practice with. There is also a protective mainframe (circle) that does a great job of shielding the quad when it crashes.
Read: The Best Drones Under $500
It may look thin, but it works pleasantly. There are even an extra frame and a spare set of props with a new product – just in case. This is an unusual looking quad compared to some. It is still a nice toy or practice drone that offers a lot of power and beautiful service. The eFun TX4 has a headless mode like most other models in this manual. It is a useful function for everyone but especially beginners. It's easy to maneuver the TX4 into the air and make sharp turns and flips once you've mastered it. I would go so far as to say that it flies better than some of the more expensive larger machines. You can expect a maximum flight time of about 8 minutes and a short charging time of only 30 minutes.
Pros:
Sturdy HBS body
Handles beautifully with a little practice
Reasonable flight time
Short charging time
Headless mode
Cons:
Take some getting used to, especially for beginners
Syma X11 RC Quad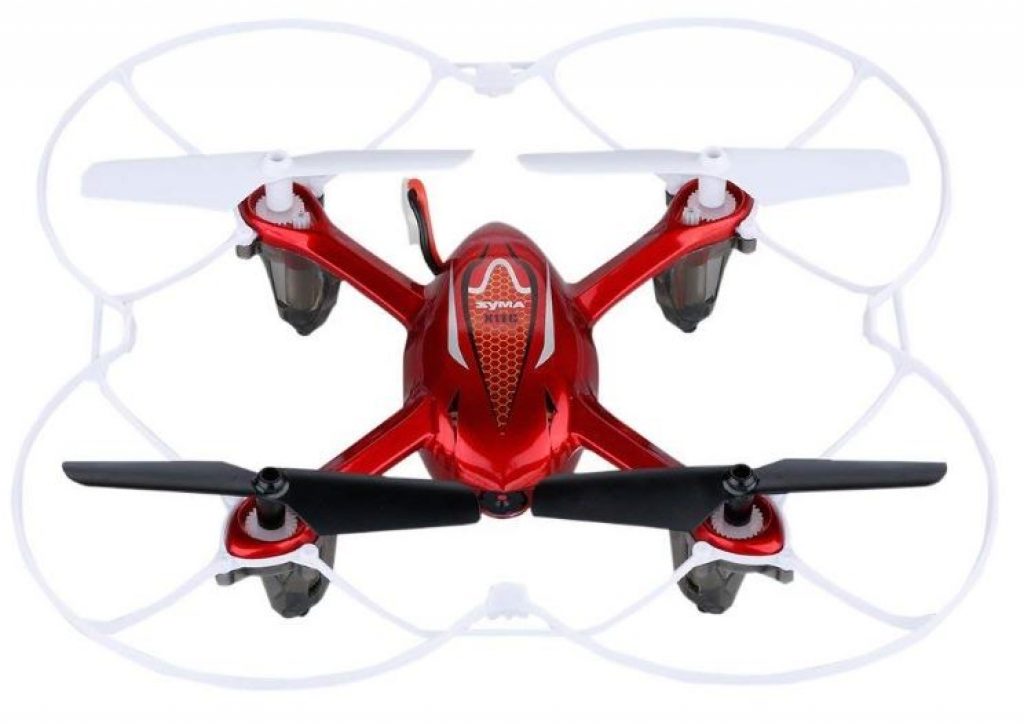 If there ever was a drone designed specifically for the beginner, then this must be the Syma X11 RC. Syma is currently one of the largest producers of consumer drones. That fact alone speaks volumes. What you get with the Syma X11 RC is a cheap quad of high quality. With quality, I mean design, brushless motors, flight performance, and user-friendly functions. There is not much quality going on with the cheap plastics that are used in the construction. Do not let that put you off too much. After all, this vessel costs only about 26 dollars and it gives every beginner a lot of fun and flying experience. I would say that the Syma X11 RC is probably The Best all-beginner drone that is now available.
It is light, easy to fly, does some nice maneuvers and looks great in the air. It also comes with prop-guards to protect it from those inevitable crashes. So despite those cheap plastic materials, the X11 is still a crash-resistant small drone. There is even a spare set of propellers in case. If I found any criticism with this drone, that would be the absence of a headless mode. If that were the case, it would be the undisputed beginner instead of one for the Best student drones out the re. On the other hand, it is not that bad to have no headless mode. It ensures that the user concentrates more and thus becomes a better pilot. You get 8 minutes of flight time in ideal conditions and the battery is charged in just 40 minutes.
Pros:
Good beginner craft
Two flight modes/stable flyer
Performs intricate stunts
Takes off without a platform
Intuitive controller
Fast recharging time
Cons:
Cheap plastics
Not very wind-resistant
Flimsy blades
EACHINE Mini E010
The EACHINE Mini E010 is an RC toy drone that pleases everyone who flies with it. It comes with a tunneled fan, just like the JJRC H36 Mini or the more expensive Tiny Whoop. It is also an Amazon Best Seller. The first thing you should notice about the EACHINE Mini E010 UFO Quadcopter is that it is almost indestructible. That makes it a great gift for children who are just learning how to use a drone indoors. And spare parts are easily available if something breaks down. There are even four spare parts in the box. I do not know how EACHINE can offer so much for so little. After all, this is one of the cheaper quads in this price category. For the money, you get two speeds, headless mode and a lot of luxurious flight functions. And the colorful LED lighting makes night flying a fun experience.
Compass mode is a great addition for student pilots. It works by changing the flight direction of the drone simply by changing the direction of the remote control (RC). The only problem I have with the RC is that it can find so small, larger hands that it is difficult to use. The thumbsticks are especially short. Apart from that, the controls are quite intuitive and well organized. The maximum flight time of 5 minutes is average for a cheap drone. The charging time of the battery is below average for only 30-50 minutes, depending on the power source used. The flight range for the Mini E010 UFO is about 30 meters (98 ft.), Which is more than enough for a small vessel.
Pros:
Indestructible—well almost
Compass mode/one-key return
Easy to fly/control
Stable self-level mode
Duel speed rates
Memory function
Cons:
Short flying time
Not resistant to wind
Transmitter too small for some hands
Eachine H8 Mini Drone
Here we are again with an affordable drone from Eachine. This time it is their H8 Mini-ready-to-fly (RTF) that costs just over $ 20 at the time this review was written. The Eachine H8 Mini RC Quadcopter has all the functions of most other drones in this guide. There is a thin line between my top choices because they all offer an excellent price-quality ratio. Choosing one has as much to do with personal preferences as everything else. The remote control (RC) that comes with the Eachine H8 Mini is also small, but it is not as difficult as the Mini E010 above. Another nice side effect of the RC is that you can change the stick tops with something bigger.
That makes handling it much easier for users with larger hands. Headless mode is an increasingly familiar feature with these smaller crafts. It means that it is not necessary to adjust the position of the drone before it flies. This makes operating the quad a lot easier for novice pilots. The return function with one key is still a nice key that you do not see on any model. The Eachine H8 Mini is a stable kite and easy to operate. The two speeds of 40% and 100% are welcome modes. The slower gives you more time to practice and build trust. Once in the air, you can use all the usual fancy moves. You have to fly sideways and roll 360° to name a few.
Pros:
Strong and lightweight
Headless mode
Stable flight performance
Battery protection
Short battery recharge time
Cons:
Spare props an optional extra
Cheerson CX-10 RC
The Cheerson CX-10 is a nano (very small) recreational quadcopter. It helped raise the popularity of low-cost small drones. Let's look at what it has to offer and why it is in this guide. I'm not sure if the Cheerson CX-10 is the smallest drone there is. If it is not, it is close to it. Do not let the small size scare you off. This is a fun craft that is perfect for developing indoor flight skills. You can fly it out, but watch out. It is easy to lose because of its small size. I mean it. A sudden gust of wind can erase it forever. It happens! This is ideally an inland vessel. Despite a weight of just over 8 grams, the CX-10 quad is powerful for its size and very versatile. When I first went up in the air, I could not believe how versatile it was.
The intuitive remote control (RC) gives a lot of freedom and control to perform a few pretty handy tight flips. I did think that the starts were smoother in advanced mode. If you are still learning, you can only use this mode to take off and then switch back to intermediate or beginner mode. It is all very simple. Anyone who is familiar with using a PlayStation can capture the CX-10 within minutes. The maximum flight time is a little less than 8 minutes and that defies a lot of competition. The control distance is also impressive at about 40 meters. My advice, however, would be to keep the CX-10 much closer than when you fly out. Seriously, it is just as easy to lose in foliage as a small coin.
Pros:
Stable, fast, robust quadcopter
Good vertical lift
Intuitive remote controller
Three-speed modes
Fast recharge time
Decent flight range
Cons:
Not good for outdoor flying
Blades can break easily
Prop guards cost extra
Blomiky DM003
The last quadcopter in my best drones under $30 list is the Blomiky DM003. The Blomiky DM003 is not as well known or rated as the other drones in this manual. However, it still has a lot to offer, so a lock at the end of this review page. It is a stable and capable flyer that beginners can easily master. It also offers a lot of dexterity and speed for more experienced pilots. The powerful motors make it one of the better drones for outdoor use.
It also has a durable construction that makes it crash-resistant. The maximum 10 minutes flying time is the most impressive of all drones here. However, the charging time of the 90-minute battery is the least impressive. I could not find the control range at an authoritative source, but it is thought to be in the vicinity of 100 meters.
Pros:
Nice design, easy to fly
Steady flight, flight control options
Headless mode
Long flight time
Robust/crash resistant
Cons:
Not as popular as other brands
Long battery recharge time
Control range not specified
Conclusion
So, these are the Best Drones Under $30 that you can buy right now. I have also clearly stated which are the most beginner-friendly, which cameras are on, etc., so it should be a good tool for most beginners. If you have any experience with the aforementioned drones, make sure you leave a comment below for your fellow drone newbies.
Read More: The Best Drones Under $200