The Best Voice Recorders depends on a number of factors, such as budget, desired extra functions, and memory. There's nothing like a pocket-sized and handy tool when we have to make a number of shots in the field. We remember that we made music a lot more often, with a recorder in our pocket in case we ever had a tune to make a song later, that was always useful. We understand that some may wish for another recorder with regard to their exact needs. That is why we took the time to view some of the highly valued and preferred models of many users. Let's see the ten best voice recorders that you can buy right now.
List of the Best Voice Recorders
Sony ICD-PX333
To begin with our list of the Best voice recorders on the market, we have the Sony ICD-PX333. If you are looking for a popular model in the field of technical quality and sound clarity at a very affordable price, then this is the most top model. Thanks to the capable 300 mW speaker on the front of the recorder, you get precise recordings without having to worry about the direction you are referring to. You can record more than 1,000 hours of audio material (1073 hours exactly), and the quality of the recording is equally clear, whether you are recording a meeting, music, a dictation or an interview – just choose the settings for the specific recording type.
The ICD-PX333 also comes with a handy 'noise canceling' function that will improve sound quality while minimizing background noise, which never really hurts with any intended use. In addition, you can add bookmarks to each recording so that you can easily find a particular recording when you need it. Finally, it comes with an LCD display for convenient use and ease of searching through recorded content. It is solid, not only because of the great price tag, but also the great quality and extra features it offers. Overall, this is one of the best audio recorders that you can buy right now.
Last update was on: October 22, 2021 4:11 pm
Olympus VN-7200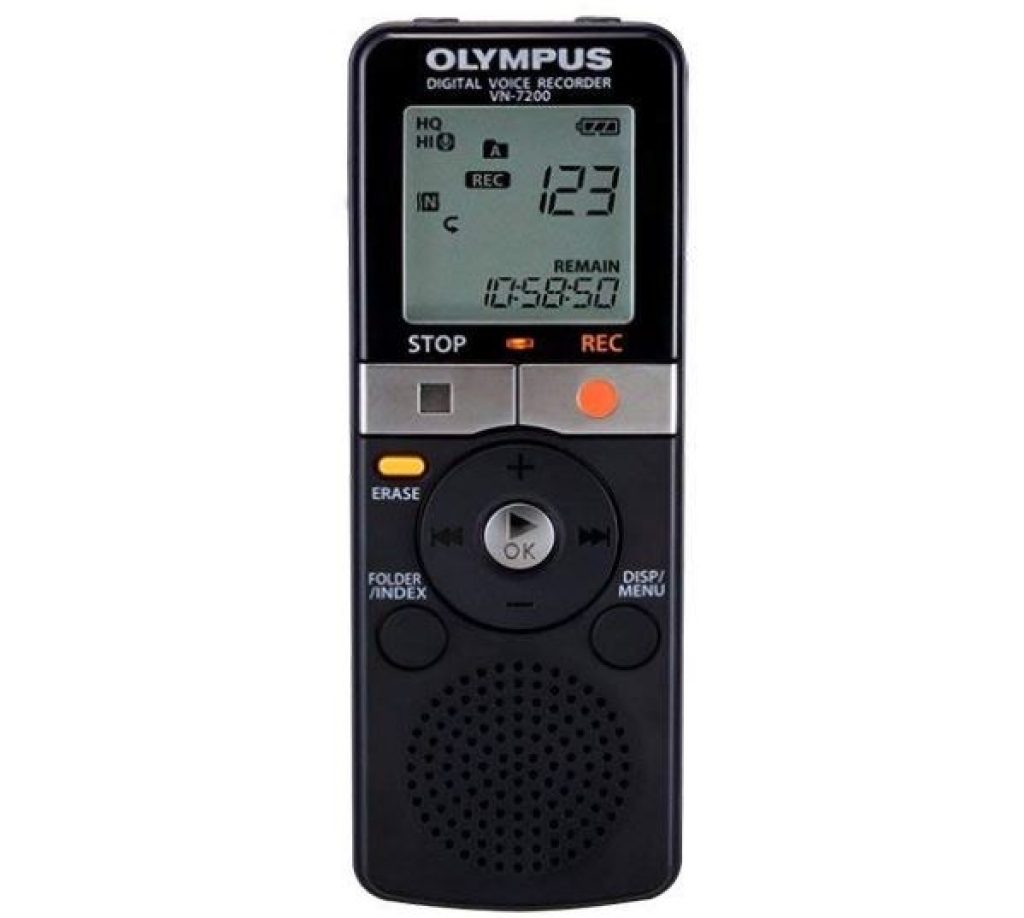 The next step is that the Olympus VN-7200 is definitely one of the best voice recorders on the market if you're looking for something cheaper than the previously recommended model. The main features are 2 GB of storage for more than 1,100 hours of recording, content indexing for easy tracking and processing and 3 frequency response modes. The sound quality is not necessarily studio quality for accurate recording of music, but it gets the job done for smaller applications such as lectures, interviews (which will be written down later) or voice memos for that golden idea that you get while you are lying in line at the bank.
This VN-7200 also comes with a user-friendly slow and fast play mode, which is not a must in itself, but very useful if you feel the need to use it. It allows three different recording modes: SP, LP, and HQ, which allow you to independently select the sound quality for a particular recording and to intelligently consolidate storage space. In addition, there is a voice activation feature that allows you to start recording with a voice command. We would say that you can take this voice recorder if you're looking for something that's a bit easier in the wallet, but still offers quite a few bells and whistles while we're busy. Overall, this is one of the best audio recorders to buy right now.
Last update was on: October 22, 2021 4:11 pm
Olympus VN-722PC
The Olympus VN-722PC is certainly one of the best voice recorders and is an easy-to-use voice recorder that falls within the middle price level. The VN-722PC is a versatile voice recorder for most of the different types of recordings that you will encounter yourself: meetings, interviews, sound effects for music. You have the options of WMA and MP3 format. It comes with a fairly large and easy-to-read LCD screen (black and white) and a speaker that guarantees ease of use, even for complete beginners.
It comes with 4 GB of memory and an option for additional storage of MicroSD memory cards, which means that the initial 1600 recording times can be extended considerably. Another great feature with this one that we really like is that it also comes with a built-in stand so you can use it while you hold it or put it on a desk (absolutely preferable to just lay beside you). The voice activation feature completes the great list of additional features and allows you to easily activate the recording function by using your voice (helps you save both battery and storage). Overall, this is one of the best audio recorders to buy right now.
Last update was on: October 22, 2021 4:11 pm
Sony ICD-UX533
Here is another of Sony's top models in The Best audio recorders world. If you're looking for a versatile and multifunctional pick, then the Sony ICD-UX533 is definitely an eye-opener, because it's a 3-in-1 device that can record music, play an MP3 music player and can serve as a USB -stick memory. The unique 'S-Microphone system' and the noise reduction ensure high-quality recording with minimal background noise – and there is enough internal memory for up to 1073 hours of recording on top.
The ICD-UX533 comes with a large LCD screen and various recording options, including music recordings, interviews and meeting dictation, and playback in MP3, AAC, or WMA formats. Thanks to the USB function you can easily transfer content to a computer and share it online. For a few extra features, it comes with a handy bookmark technique so that you can mark recordings for easy tracking and jumping in between. This is certainly one of the best voice recorders to consider.
Last update was on: October 22, 2021 4:11 pm
Sony ICD-BX140
Yes, another one of the Sony voice recorders in this guide, but it is all for a reason. The Sony ICD-BX140 is definitely one of the best voice recorders for people with an extremely strict budget. Recording meetings, interviews, and other applications, where the sound quality is not so important, is central here. It is one of the cheapest models here, and it is all enabled in MP3 and HVCX formats; playback is easy and functional thanks to the built-in loudspeaker of 300 mW. The battery has a lifetime of up to 45 hours, while 4 GB of internal memory makes it possible to record more than 1040 hours of material.
The noise reduction minimizes the background noise and guarantees the quality of the recorded material. You can bookmark recorded files to make them easier to find when you need to play them back later, and it comes with a built-in stand for convenient use on a desk and when used by hand. If you choose, you can adjust the direction and quality of the sound to ensure the sound is optimal, depending on where you are. If you wanted a simple device to record voices and sounds for a super low price, this is one of the best audio recorders that should go for.
Last update was on: October 22, 2021 4:11 pm
Olympus WS-853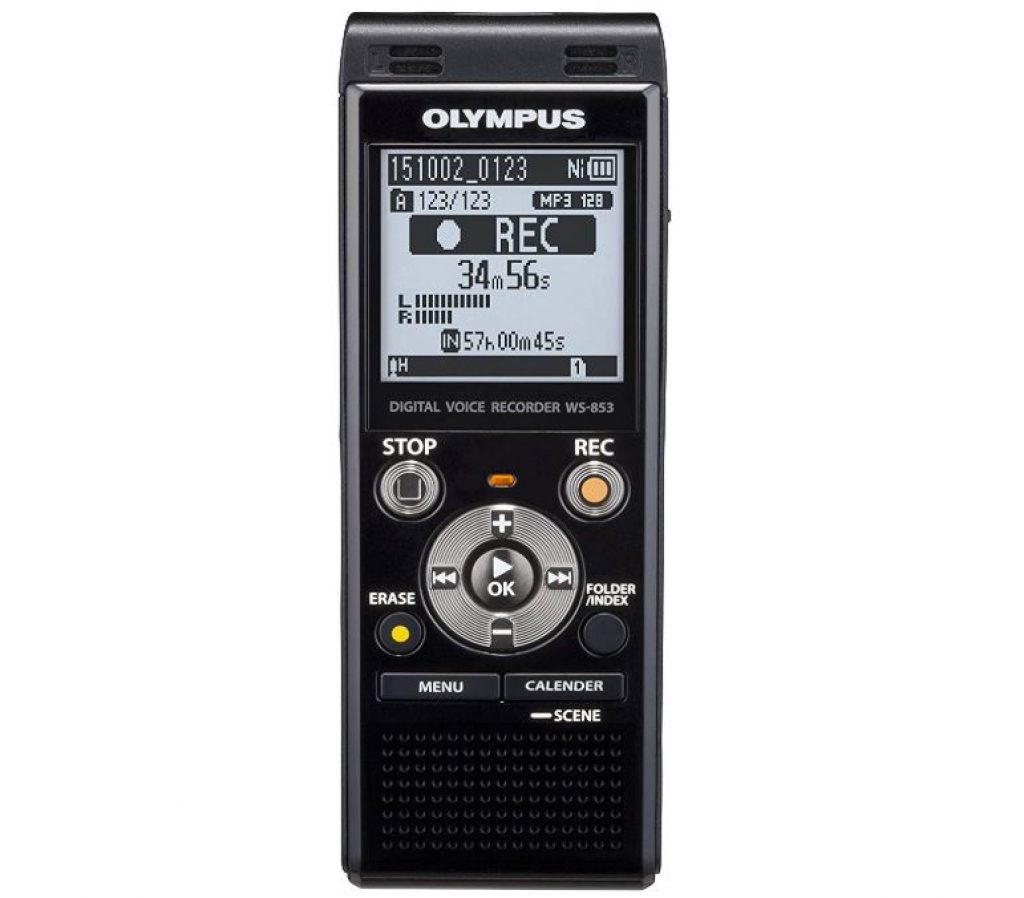 Thanks to the abundant extra functions and the super-bright recording quality, the Olympus WS-853 is definitely one of the best voice recorders when you choose between all these models. This particular Olympus model comes with something called "Intelligent Auto Mode" that automatically adjusts the volume of the recording source to the recording level. It is equipped with 2 directional microphones to easily record with excellent quality, no matter from which direction the sound comes.
The WS-853 is also equipped with a 'simple mode' for beginners that easily limits the number of menu functions to the most frequently used menus (even ideal for experienced users who do not have time to mess around with everything). The built-in stand makes it easy to use whether you are holding the recorder in your hand or on a desk and it comes with a direct USB connection for easy transfer of recorded files to a computer (this can also be loaded via this USB port). Such specs make it one of the best audio recorders on the market.
Last update was on: October 22, 2021 4:11 pm
Tascam DR-05
To complete our list, we have a very high-quality portable recorder that offers many more functions than our average voice recorder here. The TASCAM DR-05 is a lot cheaper than the previous higher model (the Yamaha) so if you were looking for a bit cheaper option, but still wanted high quality, this is a great choice. With this, you can easily record various types of audio material, including music, sound effects, interviews, meetings or lecture notes. It will record in WAV and MP3 formats, and thanks to two built-in microphones (that memorize up to 125dB SPL), this voice recorder will record sound reliably regardless of where it comes from.
It is not as high as the XY microphone, but it comes close. At the same time, it will minimize background noise and ensure a stunning quality of recorded material. With unique voice recording features such as Quick Menu, Variable Speed Audition, and Peak Reduction, it is definitely one of the best voice recorders on the market in terms of bells and whistles. With the DR-05, you can also provide bookmarks with recordings so that you can easily follow them when needed.
Last update was on: October 22, 2021 4:11 pm
Conclusion
There are a number of reasons why you might need one of the Best Voice Recorders. Maybe you want to use it to capture ideas like the businessman in the above story. Or maybe you are a journalist and you use a voice recorder to record ideas for your next article. There is no shortage of voice recorders on the market, and this list is just the tip of the iceberg. Because we know that you have a busy life, we hope that this guide has helped you find and choose the right voice recorder that suits your individual needs.