The Romanian CyberGhost will be familiar to you if you have ever searched for the best VPN services online before. Founded in 2011, it has been offering high-quality privacy software for almost a decade and has collected more than 10 million users since then. However, all that history doesn't mean anything if the current product doesn't meet your needs, so here we'll take a closer look at CyberGhost's current performance in all the areas that matter in our CyberGhost VPN Review, so you can decide if this is the VPN you should entrust to your online security.
CyberGhost VPN review: What's new?
We have seen some remarkable changes in recent months, the most exciting of which is the introduction of WireGuard on Linux systems. We've noticed that the servers are fluctuating, with a peak of over 7,000 in October; however, you can usually expect around 6,500.
For an additional $5 per month, you can now purchase your dedicated IP address. This is great for business users and also means that there's no chance of using an IP address that's blacklisted due to someone else's mischief. Finally, in the long run, prices have dropped dramatically. We are not sure if this is due to limited sales (the site says so, but we are not convinced), but whatever the reason, CyberGhost is cheaper than ever.
CyberGhost VPN review: Privacy
CyberGhost stores your account information or personal information, including your name, address, email, username, and payment information. They also keep your IP address, which they claim to store in an anonymized format, your approximate location by country, as well as some anonymous information regarding which browser you are using, your devices, and when you are using the VPN. Although they claim that this "non-personal data" is not associated with data in the encrypted tunnel, I still think it is unnecessary to keep it.
Unlike account information, which they need for your subscription, there is no need to keep information about which device you are using, or when you are using the VPN, so I don't like CyberGhost's "no-logging" policy, even though they don't keep anything about your VPN traffic.
CyberGhost VPN review: Kill Switch
CyberGhost has implemented a kill switch so that whenever you lose connection to the VPN, your IP address is not temporarily exposed. This feature disconnects you from the Internet and shuts down all the web pages you were connected to protect your identity from your Internet Service Provider (ISP) and government agencies.
The only problem here is that you can't disable the kill switch if you want to. Let's say you are tampering with a large file or downloading it: The moment you lose the connection to the VPN, you lose the connection to the internet and therefore interrupt your download. This can be annoying, especially if you're not worried about your security right now.
Can you access Netflix using CyberGhost?
Yup! Feel free to watch The Office whenever you want. CyberGhost users click freely through all content of Netflix US and specific localized versions. However, there is a small catch. CyberGhost users wishing to access content exclusive to Netflix UK may have to pay extra. The media streaming giant has recently released a new policy regarding streaming their content from different locations. According to the new policy, Netflix UK content can only be accessed through accounts purchased by UK IP addresses.
Furthermore, streaming Netflix with CyberGhost is very easy. You will also have access to Hulu, YouTube Red, Amazon Prime Video, ESPN, Crunchyroll, and other streaming services. You can even download torrent files by clicking the "Torrent Anonymously" button. Super easy.
CyberGhost VPN review: Encryption
If we look at the tunnel options, we should also look at the next layer of security of the VPN: Encryption. Just think about it: The type of encryption can be compared to the quality of the lock you want to put on your house's door. The only people who should have access to the person you entrust the keys to. But if your lock is too easy to grab – or in the case of encryption – if the code is also easy to crack, you will be exposed. High-quality encryption ensures that your VPN client and server can only read your data.
Fortunately, CyberGhost uses AES-256, the highest standard used today. When using AES-256 encryption and their domain name server (DNS), CyberGhost will connect you to the server of your choice. Although you do not get your private IP address, you will be connected to an anonymous, static IP address that you share with many other CyberGhost users who have chosen the same server. This makes it extremely difficult for anyone to determine your identity, just by the IP address.
CyberGhost VPN review: Performance
Measuring VPN performance is difficult because there are so many factors involved. Still, we've tried to get an idea of CyberGhost's speed by testing the local UK and US performance with benchmarking websites such as SpeedTest and TestMy.net.
Performance from a UK data center to our nearest servers delivered good results at a solid 160-180Mbps. That's competitive with big names like ExpressVPN (160-170Mbps in our latest UK tests) and IPVanish (150-220Mbps), although still lagging behind the speeds we saw from NordVPN's latest NordLynx protocol (330-350Mbps).
Our U.S. test results confirmed CyberGhost's performance at a capable 180-240Mbps. Again, not quite leading, but unless you plan to spend the whole day downloading torrents, you're unlikely to notice this. It is also sometimes interesting to look at download speeds in the worst-case scenario, so we have also performed checks on our most remote server, and the one that has identified CyberGhost as the one with the highest load.
CyberGhost's client identified New Zealand as a different location from the UK, with a distance to the server of about 11,400 miles. We connected, and the average speed dropped to 10Mbps, pretty much use for browsing and streaming HD video, but far behind the 40-50Mbps we routinely see from Hotspot Shield.
The most overloaded server at the time of the review was the Isle of Man with 95%. That's close to our UK location, so it should generally be close to our regular 160-180Mbps, but average 35Mbps. If that's the worst result of even the most chronically overloaded local server, it still looks pretty good to us.
DNS Leak Test
We also want to test if there are DNS leaks when using CyberGhost. DNS – which stands for Domain Name Server – is the address you type when you want to go to a website, such as Facebook.com. In the VPN world, the DNS is there to protect you. Ideally, you connect to a private server through which your traffic travels to get where it needs to go. I want to ensure that all your data remains encrypted in the VPN tunnel while they cross the web so that no one can interfere with your business. I have some good news for you: CyberGhost had no leaks on Windows or Mac.
CyberGhost VPN review: Pricing
Of all the VPN subscription services I've checked out, CyberGhost is a very affordable option if you plan on using it for a few years. They offer subscriptions for one month, one year, two years, and three years. I think the latter is the best deal, especially if your work requires you to protect your privacy online. For a three-year subscription, you only have to pay $2.50 a month. It seems almost too cheap when you consider that VPN subscription packages can range from free up to $13 a month.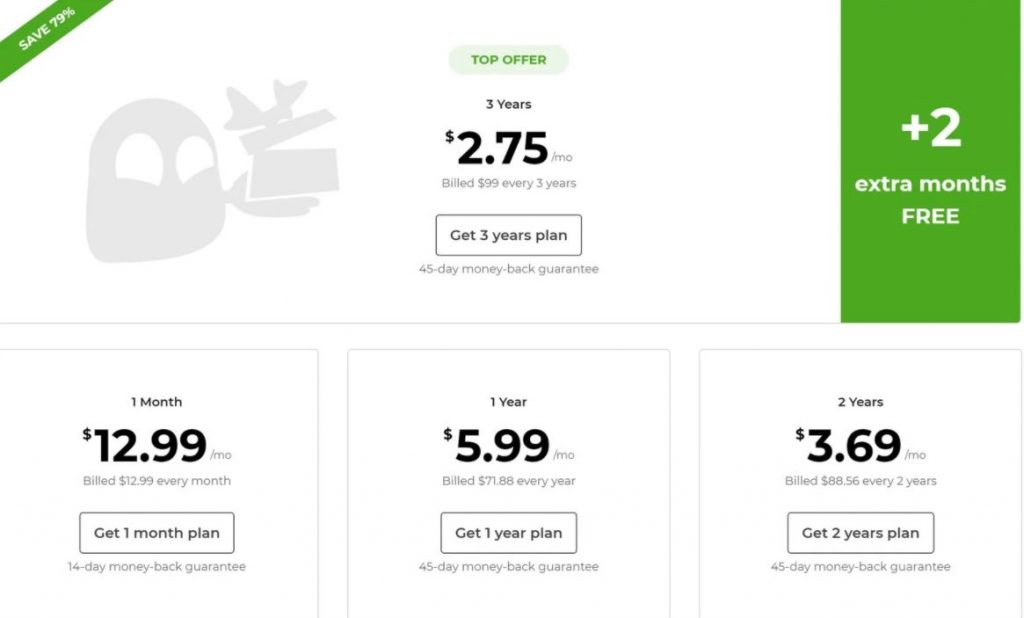 But for quality encryption, the ability to connect up to seven devices, and the ability to stream and torrent, I think CyberGhost is an excellent service for the amount you pay. Plus, if you hate it, there is a 45-day warranty, no questions asked.
Customer support
The other thing I liked about CyberGhost is their customer service. When it comes to VPNs, I always check if there is good customer service because I want to know if I can get help if I get into trouble. Now I have submitted a lot of questions to other VPN services. Some have been slow to email me back. Some haven't answered at all. CyberGhost, on the other hand, has this super convenient 24/7 live chat with very responsive customer service agents.
CyberGhost also has an extensive blog and FAQ section if I want to read more to learn more. I can also email them with feedback. With all that said, I give CyberGhost's customer service an A!
Mobile App
Both the iOS and Android apps support OpenVPN and beta WireGuard, a promising future development. On Apple devices, however, your other options are a bit limited. You'll get a simple app with a full replenishment of locations, a favorites list, and a handy feature that lets you control what the app does when connecting to specific networks. So when you go to work, your favorite bar, or the library, CyberGhost will automatically do what you want.
The Android app does all this and much more and competes with the desktop apps in power. You can specify whether you want to use any port when connecting, which is useful for bypassing VPN blocking tech – found in Netflix and other streaming services. You will also get split tunneling, which is super helpful if you want to make sure that one app is protected while all your others are using your regular connection, plus ad and tracker blockers and data compression – arguably more useful when using mobile data than on your desktop on Wi-Fi.
So, while the iOS app is pretty bare, CyberGhost's mobile VPN apps are pretty useful, and WireGuard support plus the powerful Android option will be a big selling point.
CyberGhost VPN Review: Final Words
As a desktop VPN, CyberGhost impresses, and apart from the disappointment about the iPlayer, there's not much we can complain about. However, if you are a large mobile user – especially on iOS – you might find CyberGhost a bit limiting. But for this price, it's an excellent option that we can recommend without any problems.
Our Verdict
CyberGhost is well known and enormously popular and delivers excellent performance in addition to some powerful desktop software. With handy special streaming features - although no iPlayer support - it's great for TV fans, and although the mobile apps are not polished, they're perfectly usable. Overall, it certainly deserves its reputation as one of the best.
PROS
Excellent support
Feature-packed Windows client
Great for Netflix, Prime, and Disney+
Good speeds
CONS
Only 24-hour trial for desktops
Didn't unblock BBC iPlayer
Basic iOS client
Windows kill switch issue