So you want to know everything regarding the NordVPN, including how good – and fast – a VPN provider is, and all the news about the service? Then you have come to the right place because this article contains a comprehensive overview of NordVPN with a whole range of performance tests, combined with a summary of news about the service and an extensive FAQ that answers the most frequently asked questions about this VPN. This is our NordVPN Review.
What's new with NordVPN?
It hasn't been long since we last dealt with NordVPN, but the company has been very, very busy. Its fast WireGuard-based NordLynx protocol now offers near-instant connection times and quicker downloads across all platforms.
Infrastructure improvements include higher security standards for the data centers used by NordVPN and audits, confirming that these standards are being met. All servers are now diskless RAM-based systems without persistent local memory, and a second audit by PWC Switzerland confirms that NordVPN does not log.
Applications on all platforms can now automatically connect whenever they access unsecured Wi-Fi networks. Switching between servers is as easy as choosing a new location (no need to close the existing connection first), and all applications can now better select the fastest available server. There are also several platform-specific improvements, from dark mode on iOS to reduced battery consumption on the Mac, split tunneling in TV mode for Android, and a kill switch for Windows.
On the website, NordVPN, their password manager NordPass and the cloud storage service NordLocker are now all part of the NordSec umbrella brand. The products do not change – NordVPN is still called NordVPN – but they can direct all be accessed through a single Nord account, making them easier to manage.
This is an impressive list of improvements, especially since NordVPN had so many features before. We will take a closer look at some of them later in the review.
NordVPN review: level of privacy
The privacy value of all VPNs begins with the support of encryption technologies. NordVPN scores here with its strong AES-256 GCM encryption and supports perfect forward secrecy for regular key changes (this time with 4096-bit Diffie-Hellman), ensuring that even if an attacker manages to break into one session, it will be excluded from the next.
Once connected, NordVPN can use other tricks to enhance your privacy. These include Onion over VPN, which routes your traffic first through NordVPN's network, then through the Onion network, and on to its final destination.
This double layer of obfuscation slows down the service and makes it extremely difficult for anyone to trace an action back to you. Best of all, you don't need to know or understand anything about Onion for this to work. There is nothing to install or set up; you need to use your client to connect to one of Onion's NordVPN specialists via VPN routers, and the system will do it all automatically.
NordVPN also offers a double VPN system where your traffic goes to one VPN server, then is re-encrypted and sent to a second NordVPN server before being forwarded to its destination. This will not be necessary or even useful for most people, but it is there when you find a reason to use it, and the technology doesn't slow you down as much as you might expect. A quick review of our verification system showed download speeds of 70 Mbps when there is no connection and 55 Mbps when we use the best double VPN for us (from the UK to France).
Servers Around the Globe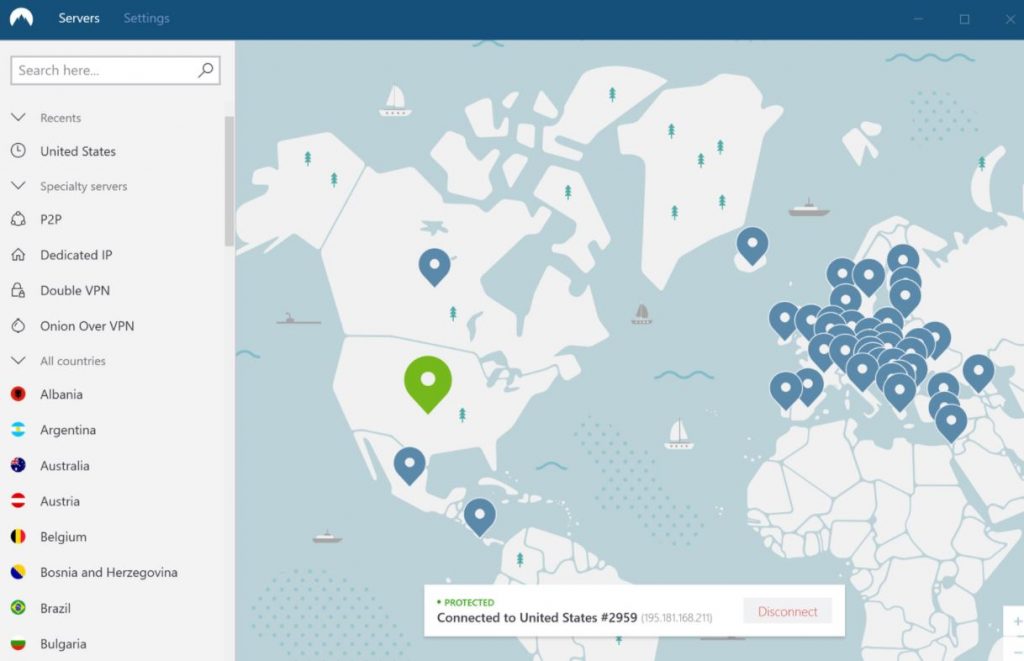 With more than 5,000 servers in 59 countries, we felt comfortable that we never had to look too far for a server to use. For us, this means that we don't have to worry about slow Internet speeds. You see, the closer we are to a server, the faster our internet speeds are. Whether we are at home in California or traveling the world with our friends, we knew we would always be safe.
NordVPN review: Kill Switch
The NordVPN also had a kill switch, a VPN mainstay that we always look for. This came in handy when we had to download a massive file during a storm, and our VPN connection failed for a moment. The Kill Switch automatically stopped our download and terminated our applications so that our activities were not even visible for a split second.
Data Usage
NordVPN is one of our favorite VPNs that we can fall back on: We loved the fact that whenever we wanted to be couch potatoes and watch one of our favorite shows, we didn't have to wait for our shows to be buffered continually. There are no data limits, which means that some VPNs limit our monthly network bandwidth and only allow us to download a certain amount of data. With NordVPN, we were able to treat ourselves to as much online content as we wanted. Best of all, we could watch Netflix. With the comprehensive collection of servers in other countries, we could even watch broadcasts from other countries.
NordVPN review: Minimal Logging
If we do not use VPN, our online traffic goes to our Internet Service Provider. This provider has access to all of our activities and may share our information with advertisers, government agencies, and other types of third parties. If we connect to the Internet through a VPN, our Internet service provider cannot see our activities, but our VPN can. Therefore, they mustn't log more than they need to.
Fortunately, NordVPN has not logged our visited websites, downloaded files, software used, our IP address, time spent in the VPN, or the amount of data we used. NordVPN did log some information such as our email address, payment information, the time stamp of our last session status, and customer service information, but this is normal and necessary to maintain our account. They also keep track of how we have used the NordVPN website to improve their customer experience.
Split Tunneling
NordVPN does not offer split-tunnel construction. If a VPN offers this feature, we may use both the VPN's private network and a public network. We could either use NordVPN and surf the Internet privately or be unprotected on a public Wi-Fi network.
NordVPN review: Strong Encryption
When our data is encrypted, our data is modified so that it is not visible to anyone but authorized users.2 This is a significant reason why we use VPNs, and NordVPN has impressive standards. The company used IKEv2 and IPSec, which confirmed that our VPN connection was maintained in case our Internet connection failed. This was especially helpful when we switched from Wi-Fi networks to mobile hotspots or used our data. IPSec further increased security by encrypting either the data packet message or the entire data packet. NordVPN also uses AES with 256-bit keys, the same encryption standard that governments and cybersecurity experts recommend worldwide.
Double VPN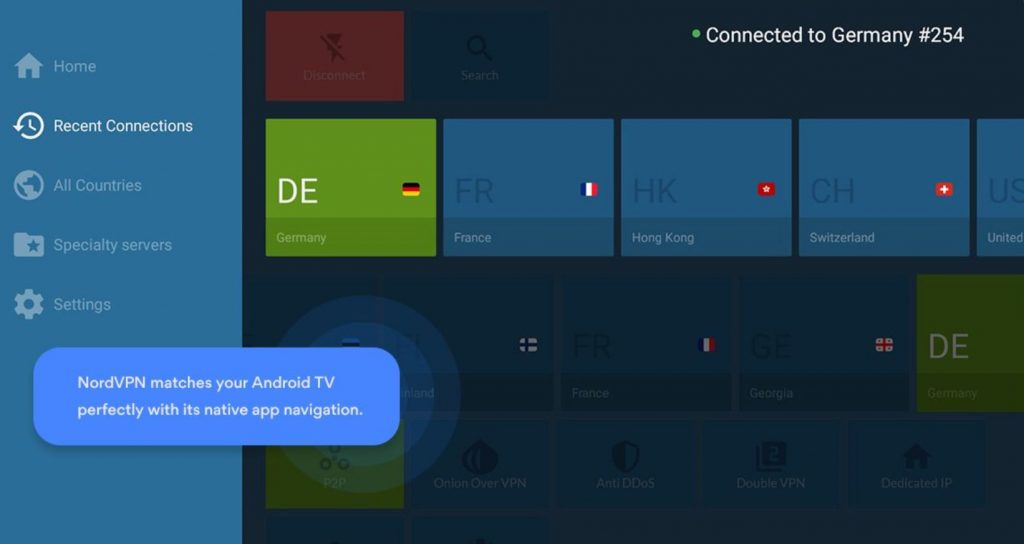 NordVPN also used a double VPN, which means that our data passed through several servers to be encrypted several times. This concept, known as VPN server chaining of multi-hop, increased our security so that not even our ISP (Internet Service Provider) knew what we were up to. Most VPNs use only one server, so we felt good knowing that our data was encrypted twice as well before it reached its final destination.
Static IP Addresses
Of all the things we loved about NordVPN, static IP addresses were not among them. We got the same IP address every time we used the VPN, which is not ideal. We did share this IP address with other users, which meant that our specific activity was harder to track down, but in the best case, we would have an IP address that changes each time we use the VPN, also known as a dynamic IP address.
NordVPN review: Performance of NordVPN
While privacy features are usually the top priority for a VPN, performance is almost as important. Unbreakable encryption is not nearly as attractive if it reduces your Internet speeds to a crawl. That's why we subject all VPNs we review to some intensive performance testing.
Our testing began in the UK by connecting to a sample set of 25 North VPN servers spread worldwide. In each case, we wanted to check how long the connection took before we ping tested to check for latency issues and used geolocation to confirm that the server was where NordVPN claimed it should be. None of these tests provided us with specific information about download speeds, but they are all crucial factors in the experience of using NordVPN.
We connected to 24 of our servers for the first time in two consecutive runs. The 25th did not respond to either of the two connection attempts, but anyone can occasionally drop a server, and since NordVPN usually has a 100% connection record, we will not count this as a big black mark.
The OpenVPN connection times were fair, with typical 6 seconds. Some of the top competitors are a bit faster – ExpressVPN averages around 4 seconds – but others are much slower, and overall, NordVPN did well. (If you are particularly concerned about connection times, you can get better results by switching to NordLynx, but we will talk more about that later).
The positive news continued elsewhere, with minimal latency, and each server seems to be in its advertised location. Our speed tests started with the help of Ookla's SpeedTest and TestMy.net to measure the OpenVPN peak performance of NordVPN from a European data center with a 600Mbps line. The results were reasonable, but no longer at an average speed of 140-160Mbps.
To verify the OpenVPN performance, we performed the same tests from a US site, using a 600Mbps line. The results were disappointing at about 75 Mbps, a fraction of the 125-300 Mbps we saw in the last review. Fortunately, this is not the end of the story. When we returned to our data center and switched to NordLynx, the speed jumped to an impressive 340-350 Mbps, well ahead of most competitors.
While this is a great result, you won't necessarily see the same improvements across all sites. For example, when we tried to connect from the UK to Australia over a 70 Mbps connection, both OpenVPN and NordLynx averaged about 40-50 Mbps, probably because the distance was the main limiting factor. But even this 40-50 Mbps is a reasonable speed for such a long-distance connection, and since NordLynx now accelerates more local downloads, NordVPN could be a wise performance choice.
NordVPN review: pricing
We know that the result is what counts when choosing a VPN, so we have gathered all the relevant information for you to compare performance. For NordVPN, we found the pricing structure relatively straightforward; we got the same discounts on all options, but the contract terms affected the prices. NordVPN offers four options, ranging from one month to two years. The option with low commitment from month to month costs $11.95, which is billed monthly. If we were to commit for two years and spend $89.04 upfront, it would come to only $3.71 per month. That's pretty affordable, and considering the number of features on offer, we wouldn't mind being included in a longer-term contract.
Customer support
NordVPN offered several options for its customer service, including 24/7 live chat, email support, and an extensive database of submitted user questions for browsing. When we wanted to see the logged data's details, we went to the company's privacy policy to read it for ourselves on the FAQ page. Although it is ideal if a VPN also has a telephone line to talk to an employee, we felt that NordVPN had useful resources.
NordVPN review: Final Words
NordVPN is one of the leading VPN providers with the best security. As you can see in this NordVPN report, the reasons for its popularity are valid. It is secure, fast, and easy to use, with some fantastic features to ensure that your data and information are always protected. That's why it ranks on our list of the best VPNs. With a customer support team like NordVPN's, you don't have to feel alone when it comes to ensuring secure surfing. I highly recommend NordVPN if you are looking for a great solution at an even better price!
Our Verdict
NordVPN surrounds with a clever client a strong collection of security features and a huge network of servers. It is an excellent VPN that has invested heavily in improving its security infrastructure and practices.
PROS
WireGuard VPN technology
Multihop and Tor connections
Easy to use
Numerous server locations
Strong customer privacy stance
CONS
Basic browser extensions
Some client UI issues