Hosting24 Review: Hosting24 is a web hosting provider from Lithuania that started in 2008. They are a subsidiary of hosting provider Hostinger, together with 000Webhost, Niagahoster, and Weblink. The Hostinger network, and Hosting24 by expansion, has more than 29 million users in 178 countries worldwide, with 15,000 new registrations daily. The company claims to have grown steadily in recent years, doubling the number of employees.
Hosting24 utilizes Hostinger's seven data centers: UK, US, Brazil, Netherlands, Indonesia, Singapore, and Lithuania, all of which are Tier III. Shared-hosting users can only select between the UK data center (Asheville, North Carolina) or European (UK). All of them offer high-level security and disaster recovery, and the features can be found both on their website and on Hostinger's own. This is our Hosting24 review.
Getting started
Signing up with Hosting24 is very simple: all they need is your name, email address, and a secure password to get you started. Once you've purchased your plan and made your choice between an EU or US data center, you'll get access to their so-called hPanel. Those who prefer a cPanel will need to buy a separate plan with the integrated CMS, and the price starts at $1.95/mo for a 48-month contract. From both panels, you can set up your website or browse their integrated store to upgrade your plan or add more features.
One of those features is the website builder Zyro. Basic access to Zyro is free, but you can also purchase a premium membership (with your first month free). WordPress, Joomla, Drupal, and many other scripts are available as a one-click installation. They also have PHP frameworks like Laravel, Phalcon, Zend, or Symfony and a file manager if you prefer to upload your website.
Other features available in the store include SEO tools, NordVPN, the NordPass password manager, Sleeknote, and G Suite. You can also buy a new domain name through the Hosting24 store. If you need help from the Hosting24 customer service on a relatively regular basis, you might want to purchase Priority Support, available 24/7 365 days a year, which will bring you back at least $1.99/mo if you go for the 48-month contract.
Hosting24 review: Performance
A GTmetrix speed test from Hosting24's main website states that it is significantly above average, with only 3.9 seconds needed to load fully (compared to the average 8.3 seconds), with 73 requests, while the average is 89. Given that you have the choice between data centers based on the location of the majority of your target audience, their hosted websites are likely to perform just as well.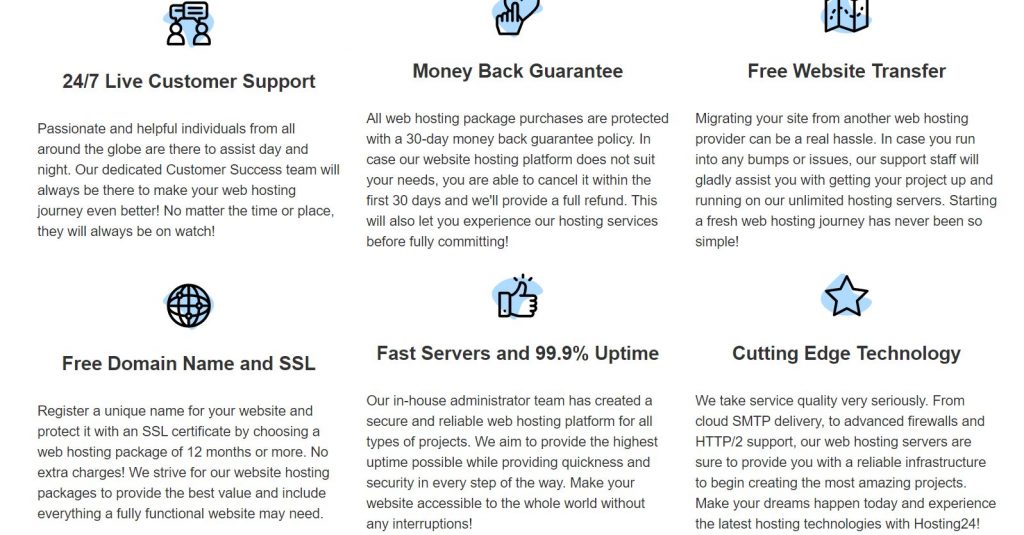 When it comes to uptime, Hosting24 guarantees at least 99.9% of uptime, which translates into approximately 8 hours and 45 minutes of annual downtime, or 20 minutes of fortnightly downtime. Our test, which lasted two weeks, did not register any downtime on Hosting24's main website. Although the test period is relatively short, it can often indicate a general trend – and Hosting24 seems to be doing well.
Hosting24 review: Pricing and plans
Hosting24 starts incredibly cheap: only $0.80/mo for the Single Web Hosting plan when paid for 48 months in advance ($2.15/month on renewal), but this basic plan is minimal, with only one website supported, 10GB disk space, 100GB bandwidth, a MySQL database, and an FTP user. The Premium Web Hosting plan ($2.15/mo initially, $3.49/month at renewal) removes most of these limitations (only disk space is limited to 20GB) and adds a free domain registration with their annual plan. They also offer a money-back within the first 30 days and accept cards, PayPal, and cryptocurrencies (but these are non-refundable).
Customer support
Hosting24 offers two main ways to get in touch with customer service: through their 24/7 live chat feature and a ticket submission form. Although they claim to be available at any time, customers who purchase Priority Support plans will get the same, while others may have to wait a little longer. The provider also offers a Knowledge Base with sections divided into Website, Domains, and General (this is just one place where you can access each section, including the first two).
Hosting24 Review: Final words
Hosting24 is a great hosting provider for people worldwide, with attractive features and prices, which, admittedly, require a long-term commitment. They perform the same way as Hostgator and Bluehost, making them an excellent choice for beginners and professionals alike.
Our Verdict
Good performance and some high quality shared hosting, but keep in mind that you usually have to sign up for four years to get the top prize.
PROS
30-day money-back guarantee
Very cheap plans
A choice between the US and UK data center
CONS
48-month subscription for cheapest prices
Priority Support costs extra
cPanel hosting sold separately