Speedify is a superb VPN that aims to supercharge your internet speeds by connecting all known internet connections. If you have numerous connections, such as Ethernet, Wi-Fi, tethered mobile, and more, Speedify works in the background to combine them into one fast connection. In this full Speedify VPN review, we put this ingenious speed solution to the test and also examine whether it can compete with the biggest, most established VPNs on the market today.
Features
Speedify has clients for Windows, macOS, iOS, and Android. The server network is relatively small, with only about 200 servers in 38 countries, which is a bit restrictive compared to some of the biggest hitters with 10 or 20 times that.
You will be treated to a transparent privacy policy that states that the company does not keep a history of the sites you visit or the content you view. However, it does save a log of your public IP address, the name of your WiFi network, the times you connected, and the amount of data you transferred. If you need absolute privacy and anonymity, controlled, anonymity-oriented VPNs such as ExpressVPN are a better choice.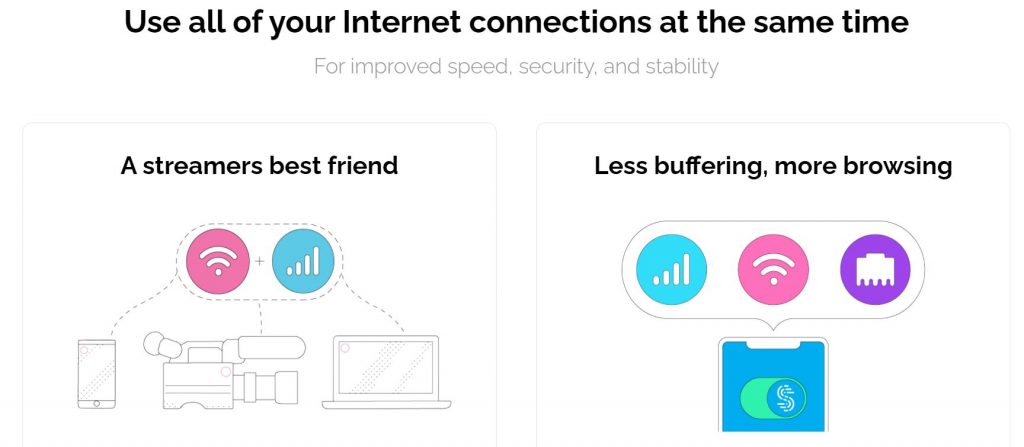 However, although that may leave a little to be desired, Speedify's free plan doesn't subject you to anything worse than the paid version. That means you won't see any limitations on connection speed, and, importantly, no ads will be injected into the pages you visit, as some other free providers do. In Speedify's own words: To be blunt, we try to make you pay for an unlimited account and will never do the creepy things the free VPNs do. Fair enough, then.
Speedify's most exciting features revolve around choosing the way your connections are handled. For example, you can specify whether you want to use Wi-Fi by default or only use Wi-Fi if all other options fail. The software allows you to link multiple connections together to make one fast connection, although it didn't make a big difference in our tests. However, we realize that this feature's usefulness and performance can vary drastically depending on the configuration of your network. You can also set daily or monthly limits per connection, which can be useful if you have measured the Internet.
Speedify VPN review: Privacy and logging
Speedify's privacy policy is much more transparent and more specific than most of its competitors and goes into detail about what it collects and what it does not. The good news is that the company claims that it does not keep a history of the sites you visit or the content of the data you send or receive.
The bad news is that it logs several sessions, including your network's wi-fi SSID, your public IP address, your device ID, the time you connected, the amount of data transferred, and the duration of the session.

This can be enough to approximate your location and generate a unique identifier for your device so that it can be recognized the next time. It's a little more logging than we would generally expect, but it's necessary to manage Speedify's free plan. (The company needs to keep track of the data you use and the device where you use it to adhere to the 2GB per device limit).
While this is not necessarily a problem, we can be confident that this is all Speedify does. Other VPNs are increasingly subjecting themselves to independent audits – TunnelBear now audits its apps, website, and infrastructure every year – to confirm that they are keeping their promises, and we would like Speedify to follow suit.
Speedify VPN review: Performance
In our tests, the performance of Speedify from the UK was good, with the service typically giving us 68-70Mbps, as much as we could expect from a 75Mbps test connection. To find out how fast Speedify could go, we then tried it from the US over a 600Mbps connection. And the results were excellent, with median speeds of 250-325Mbps. Some VPNs don't reach 100Mbps; most are somewhere between 100-200Mbps, so Speedify tramples most of the competition in terms of performance.
If speed is your top priority, there are some competent contenders. NordVPN's NordLynx protocol peaked at over 380Mbps in a recent UK test, for example, and performance champion Hotspot Shield beat 400Mbps in a single session.
However, Speedify is clear with the best, and keep in mind that we didn't use the channel binding feature during our speed tests. If your device has access to multiple high-speed connections simultaneously, you may see even faster results.
Speedify VPN review: Streaming support
Speedify claims that it allows you to view regionally locked content from home while traveling.
However, dig into the support site, and you'll find an article, 'Does Speedify work with Netflix?' which explicitly states, 'Speedify doesn't give you the ability to access other Netflix countries or unblock Disney+, HBO and Hulu .'The company doesn't joke either. The apps now have a Streaming Bypass feature that allows you to connect directly to Netflix, Disney+, HBO, and Hulu, instead of going through the tunnel to avoid being blocked.
Maybe it would work, after all, we thought, optimistic? Nope: we tried Netflix, Disney+, and (as Speedify didn't mention it) Amazon Prime Video, but all three services detected and blocked our VPN. However, there was one success with BBC iPlayer, a better result than we saw in our last review. And although Speedify performed poorly with the best-defended platforms, we had no problems accessing targets with less protection, including YouTube.
If you need to unblock a service we didn't mention, at least there is a chance that Speedify can help. And of course, the company doesn't expect you to hand over money to find out: all you have to do is download and install the app and use the free plan to access whatever site you want.
Speedify VPN review: Pricing and plans
Speedify has a free single-device starter plan with a slightly too low data limit of 2 GB/month – recently reduced from a more generous 10 GB. However, you don't even have to provide your email address to get started. The data limit is the only limitation – you still have access to Speedify's flaming connections (which will make burning those 2GB even easier) and the server's full selection.

With an individual plan, you can release unlimited data and use five devices at the same time. Prices start at $8.99 of the monthly rolling contract and drop to the equivalent of $5.99 per month if you stump up a year in advance. Shell goes on for two years, and you get the equivalent of $3.99 per month, and the most extended three-year plan comes to a tempting $2.99 per month.
The Family Plan is also impressive, with five people connecting up to five devices. It starts at $14.95/month, but you can get an annual plan for $8.95/month, a half-year plan for $6/month, and a three-year plan for $4.50/month. That's an excellent $0.90/month/person if you're willing to hold on that long. However, you could quite reasonably go for a single plan with a provider that offers unlimited connections like IPVanish or Surfshark and cover everyone in your household as well.
Speedify VPN review: Customer support
Speedify has a separate desktop and mobile support sites. Both have a searchable knowledge base of common questions with good short videos explaining each software function. Speedify also has email support open from 6 AM to 6 PM EST Monday to Thursday and 8 AM to 4 PM EST on all other days. We sent a simple query asking how to use some of the Linux client features and received guidance within an hour.
Although that's not bad, we would like to see 24/7 support provided by the leading providers. Getting responses in minutes – or even seconds – is just so convenient when you are stuck with a problem that stops you from getting on with what you are doing, and waiting half an hour seems a bit archaic now that we are spoiled for live chat.
Final words
Although Speedify's channel bonding feature didn't make a noticeable difference in our tests, the VPN's server speeds are excellent. We were also impressed with the well-developed free plan. However, Speedify has almost no regional content unblocking, so if you want to stream content intended for another country, look elsewhere. Otherwise, Speedify is a well-rounded service that is easily recommended – make sure you are willing to sacrifice streaming support for speed and that you can live with its limitations.
Our Verdict
With a great free plan and blistering connections, Speedify is an excellent choice if speed is your top priority. However, small network size and a lack of streaming support will certainly be missed by some.
PROS
Super-fast performance
Excellent free service
Good pricing, especially on family plans
Fairly simple to use
CONS
Can't unblock services like Netflix and BBC iPlayer
A small network of around 200 servers
Some minor logging concerns