Best Car Speakers Under $100: In today's world, where traveling by car takes a large part of our daily lives, the right kind of music and the right device to listen to music is essential to make our journeys happy. Music has always been part of the history of mankind and technology has given us high-quality devices to meet our auditory preferences. Although the cars had only one speaker in older days, we now have many options to choose from, thanks to rapidly evolving technologies.
Car speakers become popular from day to day and people opt for upgraded speakers with amplifiers and higher sound quality. However, buying a set of car speakers can always be a confusing job due to a large number of available options. We are here to help you decide which car speakers are best for you. Today, we have compiled a list of some of the Best Car Speakers Under $100.
List of the best car speakers under $100
If you are looking for good bass, you should consider the performance of the speakers in the low-frequency profile. Also, we'll be updating this list of best car speakers under 100 dollars regularly. So, we suggest you bookmark our web for future suggestions.
JBL GTO638 6.5-Inch 3-Way Speakers
JBL is not a new name for lovers of sound, music, and loudspeakers. This brand under Harman Corporate has made its mark as one for the Best in the market and its products have been built to guarantee maximum customer satisfaction. They offer numerous varieties of speakers and sound systems for cars, and the JBL GTO638 6.5-inch 3-way speaker is one the best car speakers under $100. Like many other JBL speakers, this model features the excellent subwoofers that have been patented by the company.
With a larger surface, this subwoofer enhances the bass effect and overall sound quality that makes the listening experience fun and memorable. These are some notable features of the JBL GTO638 6.5-inch 3-way speakers: the quality of the tweeter is simply fantastic. The textile dome tweeter provides high bandwidth and produces a sound with excellent quality, making you feel like you are using a home theater. The crossover network is designed with advanced high and low pass filters. This makes the sound even clearer and avoids background noise. The durable plastic housing prevents scratches and retains shape and functionality.
Last update was on: September 20, 2021 9:45 am
Kenwood KFC-1665S 6.5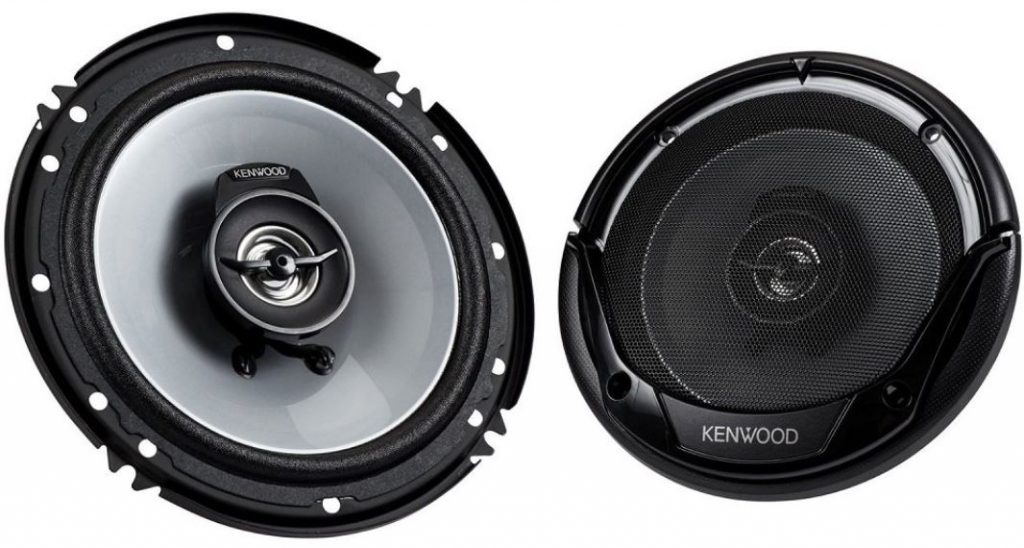 When it comes to manufacturers of high-quality car radios, Kenwood is a very respected brand. They produce speakers, amplifiers, receivers, and various other materials needed for car radios. The KFC-1665S series is the result of Kenwood's years of technological enthusiasm and research. Kenwood KFC-1665S is an excellent option to replace most car radios. It has a coaxial design with a full range and delivers a very high-quality bass with mid-tones and high frequencies. Overall, KFC-1665S 6.5 is certainly one of the best car speakers under 100 dollars.
Last update was on: September 20, 2021 9:45 am
Infinity Reference 6032CF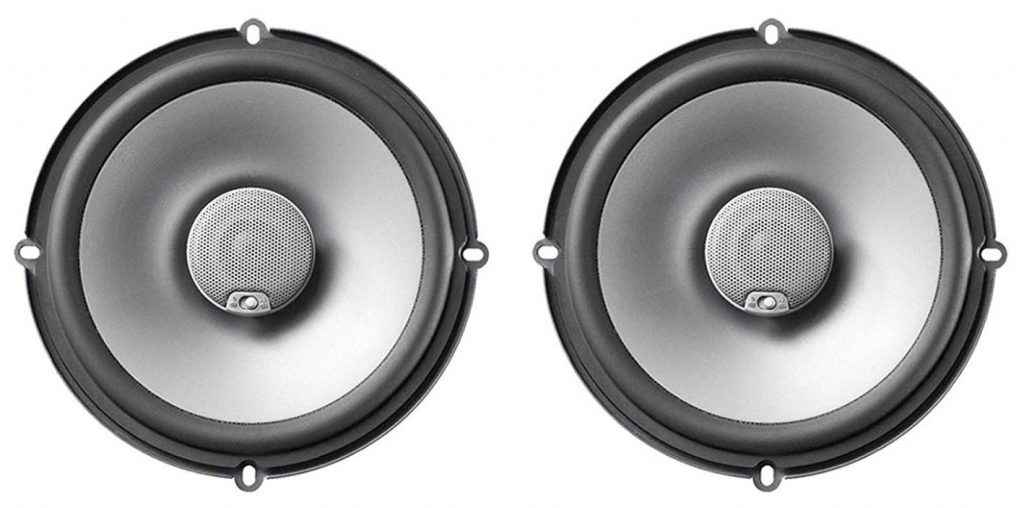 Infinity, a brand revered for its excellence, is a product of Harman Corporation, a Samsung company. Infinity products have always been leaders in the car market because of their innovative design and effective engineering. If you want high-quality sound with accuracy and intricate detail, the Infinity Reference 6032cf 6.5-inch 180-Watt high-quality 2-way speakers are The Best option for you. The output quality is extreme and worth the price.
Infinity Reference 6032cf 6.5-inch 180-watt 2-Way speakers is an excellent combination of affordability and craft. At a reasonable price, the performance of this speaker is worthy of appreciation, and it is certainly one of the best car speakers under $100.
Last update was on: September 20, 2021 9:45 am
Pioneer TS-A1686R A-Series 6.5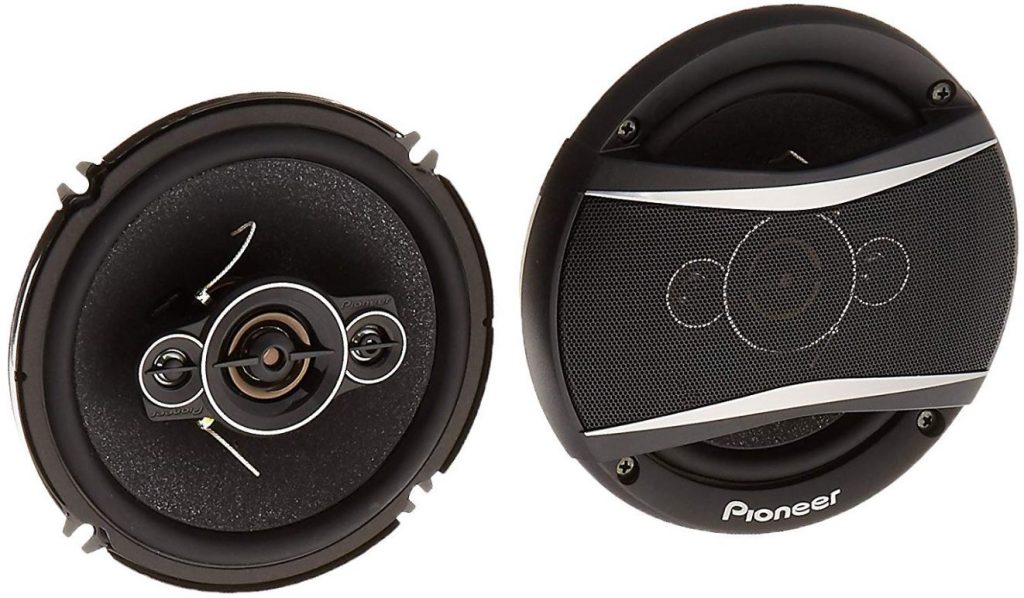 Pioneer is a well-known brand among manufacturers of vehicle sound systems and this brand is established as a reliable name for high-end devices. Pioneer TS-A1686R A-Series is a brilliant option for budget buyers who still want optimal listening pleasure and optimal sound quality in their cars. This speaker has a power of 350 watts and the sound quality is clear and bright. Because it is a four-way loudspeaker, the TS-A1686R gives a sufficiently deep sound.
The Best thing about owning this device is that you do not need to install any other expensive components for the system. With these great features, this is one of the best car speakers under $100. With deep, rich bass and easy adaptability, we would recommend this speaker to anyone who loves the great sound and want to create a nice sense of interiors in his vehicle.
Last update was on: September 20, 2021 9:45 am
Rockford Fosgate R165X3
If you're looking for the best budget speakers on the market, you can't beat a set of Rockford Fosgate's Series R165X3 speakers. Equipped with a ribbed polypropylene woofer cone, silk dome tweeter and piezo super tweeter, these 3-way speakers produce powerful bass along with nice clean mid and high frequencies. They also have an excellent built-in crossover network that distributes frequencies between the speaker components, so you can be assured of fantastic sound quality, and for less than $100 you can't get better.
They can handle 45 watts RMS (90 watts peak), and they have a frequency response of 52 – 20,000 Hz. They sound great when connected directly to your factory or aftermarket stereo system. But they will perform even better with a boost from a mid-power amplifier, which means that, should you wish to do so later, you can upgrade your system and get truly excellent sound.
Last update was on: September 20, 2021 9:45 am
JVC CS-J620 300W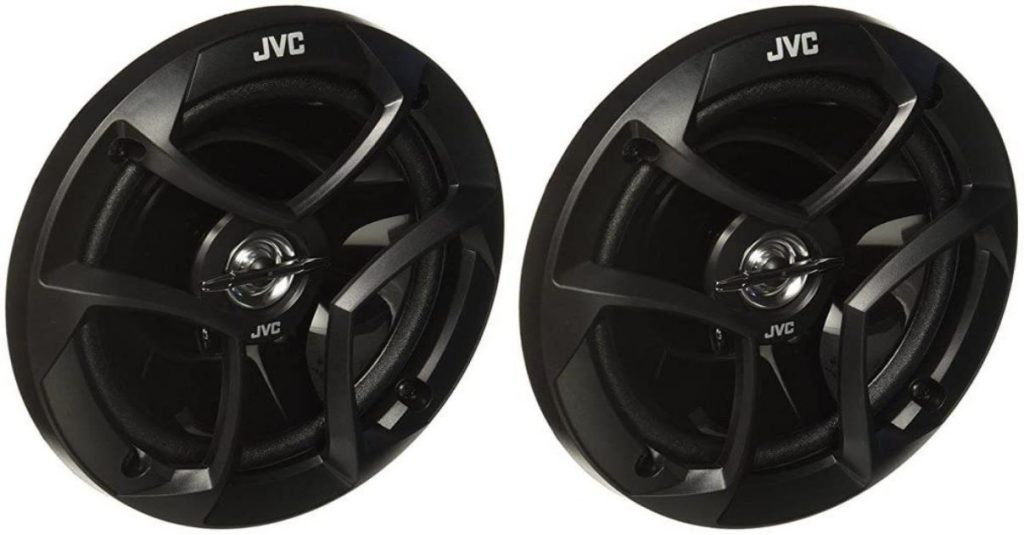 Looking and sounding great, these JVC car speakers make great replacement speakers for your car. They have a very respectable frequency response of 35 – 22000 Hz, and their sound is enhanced by a well-designed combination of a flexible mica cone woofer, a hybrid rubber and cloth surround, and one-inch balanced dome tweeters. These economical JVC speakers can handle 35 watts of RMS power (300 watts peak), so they can be powered by a modest amplifier, should you wish to install one.
In terms of build quality and overall sound quality, these speakers won't match what you get from our top-rated Rockford Fosgate's; but, since you're only paying half the price, we believe these are easily the best car speakers under $100 for the money.
Last update was on: September 20, 2021 9:45 am
BOSS Audio Systems CH6930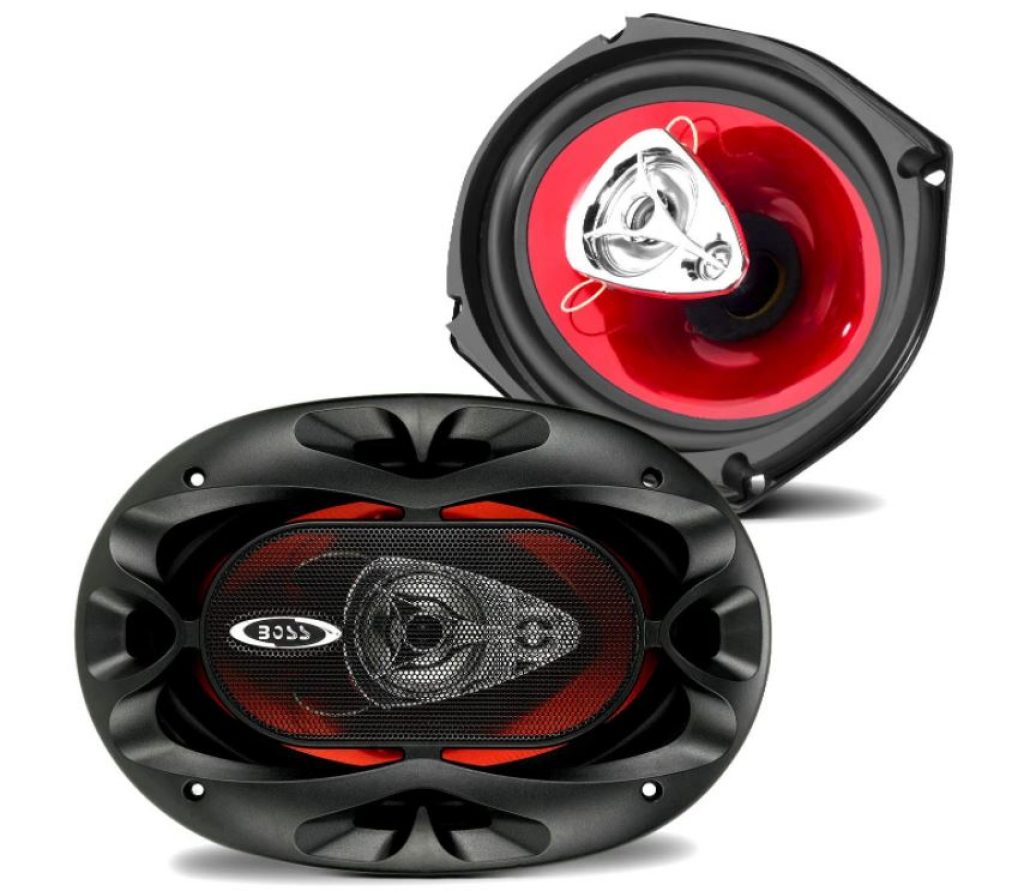 Boss Audio Systems, a well-known and respected brand in the field of in-car audio systems, has launched a nice set of budget speakers with the CH6930s. With their rigid polyurethane cone, rubber surrounds and piezoelectric tweeters, these speakers produce a wonderfully clean sound with a solid bass. They can handle a peak power of 200 watts RMS and have a frequency sensitivity of between 50 – 20,000 Hz. Boss is so confident that you will like these speakers that they come with a three-year platinum online dealer warranty.
Last update was on: September 20, 2021 9:45 am
JBL Stage 9603H
If you're looking for an affordable way to purchase good quality speakers, you should take a closer look at these 3-way speakers from JBL. Sure, they're more expensive than many of the speakers on our list, but you can get them for well under $100. These speakers feature an injection-molded polypropylene woofer cone, a balanced dome PEI tweeter, and a piezoelectric supertweeter.
They can handle 70 watts RMS (210 watts peak) and have a frequency range of 45 – 20,000 Hz. In your car, these speakers will sound great, with clear and crisp mids and highs and a solid low-end bass that would be lacking in your old factory speakers.
Last update was on: September 20, 2021 9:45 am
BOSS Audio Systems CH6530
When it comes to buying budget car speakers, these three-way speakers from Boss Audio Systems are another good choice. They can handle 150 watts of peak RMS power and have a frequency response of 100 to 18,000 Hz. Thanks to their three-way speaker design, they deliver a nice full-range sound, clear and crisp highs and mids with a solid punchy bass. Overall, this is one of the best car speakers under $100.
Last update was on: September 20, 2021 9:45 am
Pioneer TS-A1670F
An excellent choice of car speakers if you want to replace your damaged or deteriorated factory speakers with toned speakers with better sound and more robust bass. Pioneer's TS-A1670F speakers feature a carbon and mica reinforced woofer cone with an elastic polymer surround, as well as 11 mm PET dome tweeters, and can produce wide sound dispersion with deep, powerful bass. They can handle 70 watts RMS (320 watts peak) and are well suited to being powered by an amplifier. They have a frequency response of 37 – 24000 Hz.
Last update was on: September 20, 2021 9:45 am
Kicker 46CSS674 Car Audio
Kicker has a reputation for producing speakers that are easy to mount and install, and with these speakers they have delivered again. These 46CSC654s are a very popular car door speaker that many see as a natural step up from their poor quality factor speakers. While they are not the most expensive speakers on our list, they are not the cheapest either, and for the money you may find some of our other suggested speakers to be better value. They can handle 100 watts RMS (300 watts peak) and have a respectable frequency response of between 40-22,000 Hz.
Last update was on: September 20, 2021 9:45 am
Infinity REF6532EX 165W
These are well-built and very good sounding speakers. They have plenty of punch with solid bass, but as far as we are concerned their strength lies in the quality of their mids and highs, which are clear and lively and an absolute pleasure to listen to. Infinity's REF6532EX speakers can handle 165 Watts and work well with an external amplifier or directly from your stereo headphones. These stylish speakers have a noticeably larger cone than most speakers of the same size, and this undoubtedly contributes to the solid bass these speakers produce.
Last update was on: September 20, 2021 9:45 am
Things To Know Before Buying Best Car Speakers Under $100
Buying a car speaker is always a bit of a process because we all have personal choices and individual preferences for the type of hardware we want to use and the kind of music we listen to. Some of us like to listen to good old country songs while we drive while some of us like to rock and roll on the wheels. Before you invest your hard-earned money without a car speaker, it is wise to do some research and learn what we need to know about these devices. Here are some of the most important points that you should consider before you buy The Best car speakers under $100:
Quality Of Sound
Our listening experience is directly dependent on the quality of the sound that our audio devices offer. For each car speaker, the sound quality is determined by the frequency range of the loudspeaker. A wider frequency range means that your speaker can repeatedly reproduce sound. Usually, the frequency of speakers varies in the market from 10Hz to 20kHz, but some advanced manufacturers may offer an even better range.
Another factor that determines the quality of the sound is the sensitivity of the loudspeaker of your car. Sensitivity in simpler words refers to the loudness of each audio source and is measured in decibels (dB). Because the sensitivity can be inflated at 2-3 dB at room temperature, buying a speaker with more sensitivity is an advantage when traveling.
Power Handling
For every device that operates on electricity, the ability to handle power is the size of that device to withstand the power (measured in watts) of that circuit. If your car has a low-power system, you may not have to work with high power. However, under a high-power system, the capacity of power handling becomes a crucial factor that determines the performance of the car loudspeaker.
The main point that determines the capacity-handling capacity is the RMS-quadratic (wattage), not the peak. RMS shows the average power that the speakers can use for a long time and the power must match the power system of your car.
Car Speaker Materials
For any car speaker that performs well and is durable, it must be made for the Best material available. Before a system is purchased, everyone has to think about the different material for each part of the car loudspeakers. These are some of the car speakers that are well worth the price and are less than $ 100. You should carefully consider the online reviews while you buy a good car speaker. As I said before, the speakers with high sensitivity can be great for cars because they can easily become loud.