Camera drones are there to stay and are getting better and cheaper. That means new models that meet the specific needs, budget and expectations of users. This guide gives an overview of the best pocket drones for those who want a quad with a small footprint. A good quality drone is small enough to fit in a decent size bag or small bag but big on features.
List of the best pocket drones
DJI Mavic Air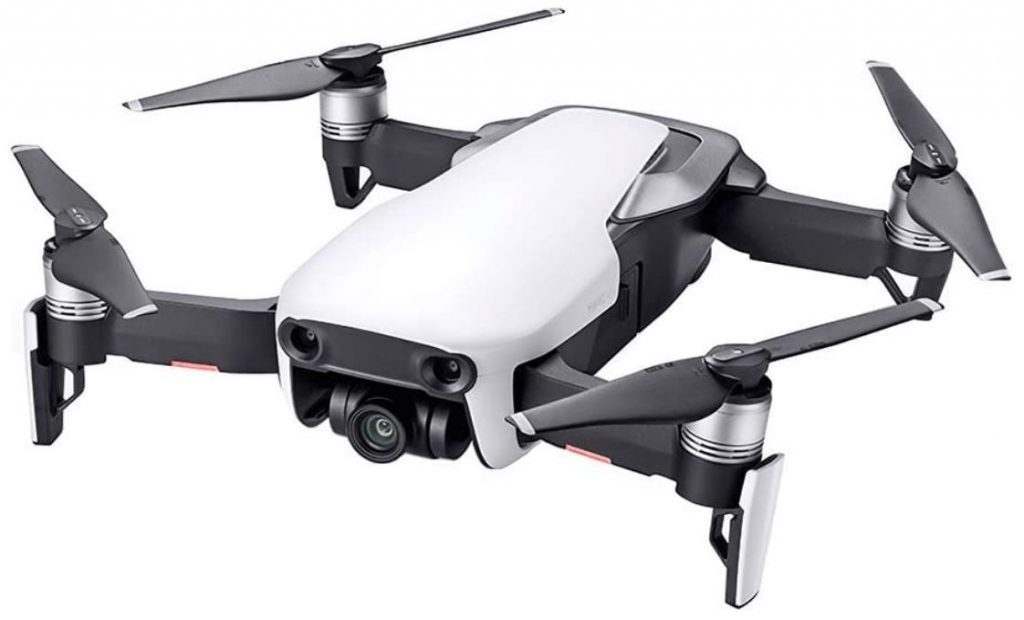 The DJI Mavic Air is, at least in my opinion, the best pocket-sized drone currently on the market. Yes, it doesn't really fit in a pocket, but it's still small and compact, especially when folded. A real backpacker, that's for sure. DJI Mavic Air brings a ton of features and a solid layer of functionality and reliability that make it suitable for consumers and prosumers alike.
The features available on the DJI Mavic Air are absolutely amazing. Not only does this bugger have the basic features you would expect from it (e.g. altitude control and GPS), but it also has a solid dose of features for the more advanced user. By that I mean primarily obstacle avoidance, object tracking and autonomous modes, including the very popular DJI QuickShots.
As for the camera, the DJI Mavic Air can record 4K resolution at 30 fps. The end results are smooth and crystal clear, definitely worthy of the original DJI Mavic Pro! The previously mentioned camera-based flight modes bring the final grade up a notch. DJI Mavic Air is truly the best mini air camera you can get your hands on right now. Overall, this is one of the best pocket drones.
Last update was on: November 29, 2021 12:34 am
DJI Mavic Mini
DJI Mavic Mini is certainly among the very best pocket-sized drones out there. In fact, if we look at things from a performance/size/price perspective, DJI Mavic Mini takes the title with a clean sweep across the finish line. DJI Mavic Air may deliver superior camera performance and obstacle avoidance combined with image tracking, but the size and price increase just can't handle it in this particular category.
The numbers of the DJI Mavic Mini are absolutely amazing! Thanks to its lightweight design and small form factor, this bugger can fly for a whopping 30 minutes. Yep, you read that right! Combine that with a range of over 3 kilometers (some users report almost 4 km) and you begin to realize what a powerhouse the DJI Mavic Mini is.
In terms of features, the DJI Mavic Mini has access to several camera-based flight modes, as well as all the basic functions. We're talking about things like return to home, GPS, altitude hold, and the like. It really is a well-equipped drone that fits in your pocket and doesn't fail to deliver on specs and features…. But wait, that's not all – we haven't even started talking about its camera yet!
If there's one thing that is constantly pointed out as the biggest downside of the DJI Mavic Mini, it's the camera. Don't get me wrong, we're talking about a hardware-stabilized CMOS sensor with 2.7K maximum resolution. That equates to superior sharpness in the photo department and smooth images no matter what the weather conditions. Overall, this is one of the best pocket drones.
Last update was on: November 29, 2021 12:34 am
Hover Camera
The Hover Camera Passport is an interesting pocket-sized drone thanks to its unconventional design with safety as its main focus. But, besides safety, this little bird boasts other great features like GPS and an excellent camera that is great for shooting aerial videos and taking brilliant drone selfies. With all that in mind, let's keep the introduction here short and check out the accomplishments of this little friend!
First of all, I'd like to get the only drawback of the Hover Camera Passport out of the way … and that would be its range. You see, Hover Camera Passport is one of those smartphone-controlled drones, and I'm sure most of you know that these types of drones usually don't have the best range. Unfortunately, though, Hover Camera Passport takes that to the extreme with only 20 feet of operational range.
Hover Camera Passport features face (and body) recognition software and is further supported by multiple movie modes. If I have to be more precise here, this little bird sports orbit, 360 spin and much more. In terms of design, it has a fully enclosed carbon fiber body that is lightweight and durable at the same time. Moreover, it can be folded in half, which means it can easily fit in your pockets.
And finally, we are approaching the brightest point of the Hover Camera Passport – the imaging solution (AKA camera). We're talking about a 13MPX CMOS sensor whose angle is adjustable on-the-fly. We don't see that often in mini drones, don't you think? Nonetheless, this seems like a great addition! Furthermore, the Hover Camera Passport can record videos in 4K and FHK. To be exact, 4K at 30 fps and FHD at 60 fps. Overall, this is one of the best pocket drones.
Last update was on: November 29, 2021 12:34 am
DJI Spark
Next up we have the DJI Spark…. a hugely successful drone that has taken the market by storm and doesn't look like it's waiting to be knocked off the throne. This beautiful drone offers the best that current technology has to offer and manages to cram a whole plethora of features (as well as insanely powerful hardware) into a ridiculously small package! But enough praise, let's see this little bird in action!
Starting with the basics of performance, it's only natural to look at the DJI Spark's battery. It's a pretty good one, don't worry … We're talking about a 3S LiPo pack with 1480mAh. In terms of flight time, you're looking at roughly 15 to 16 minutes, depending on the type of use you're going for. While not exactly on point with full-sized models, it is the best airtime you can find with pocket-sized drones. The range, when used with the dedicated controller, reportedly goes from 500 to 2000 meters. However, that depends on whether you get the FCC or CE compliant version.
If you want to take selfies or aerial videos with the DJI Spark, you'll be happy to know that it has a brilliant FHD camera mounted on a 2-axis gimbal. By having a hardware stabilization system on board, the DJI Spark really sets the tone for other high-end mini-drones in the future. Overall, this is one of the best pocket drones.
Last update was on: November 29, 2021 12:34 am
Zerotech Dobby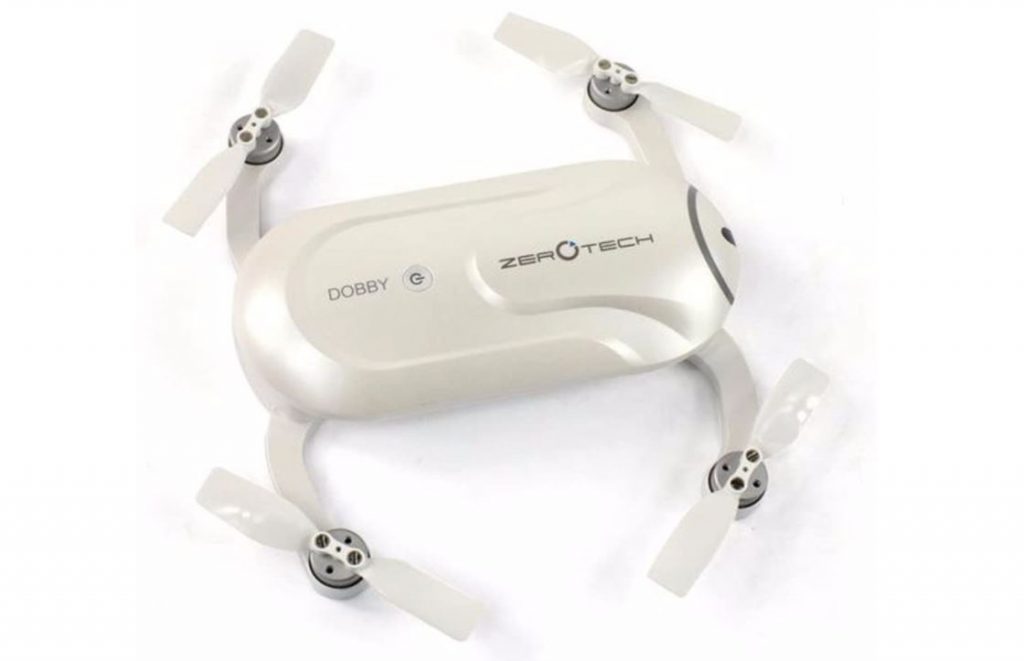 Zerotech Dobby is an absolutely stunning mini pocket drone whose main focus is on its foldable design and sleek appearance. But don't let that fool you – Zerotech Dobby also has great hardware. It doesn't fall short in terms of features either. But, let's take it one thing at a time. Before we jump to the features and all that good stuff, let's take a look at the performance and see if it meets your needs or not!
Powered by a quad-core Snapdragon processor, 2 gig of RAM and Adreno 330 GPU, there is no doubt that the Zerotech Dobby is a beast. This is further enhanced by the rest of its hardware as well. Take the battery as the perfect example – 970mAh 2S LiPo pack that brings roughly 7 to 9 minutes of airtime. The operational range is also not too far off – up to 100 meters in clear and unobstructed areas.
The camera (AKA DOBBY Module) offers unparalleled image quality thanks to its 13MPX CMOS sensor. It is equipped with electronic image stabilization (EIS) that smooths videos admirably. Unfortunately, it only works in FHD. What do you mean, only? Oh, I forgot to mention that the Zerotech Dobby's camera is capable of recording in 4K resolution at a solid 30 fps. Lower that to 1080p and you get buttery smooth 60fps. Overall, this is one of the best pocket drones.
Last update was on: November 29, 2021 12:34 am