Today no doubt there are lots of app today that take place of traditional messaging app but still in some places in world people love to use this messaging service. But SMS are always private credentials of the respective owner and must be private in your smartphone like android.
I've been searching through Google Play for the Best tool that can take care of this task and The Best one to reach my hand was the SMS Lock app. I'll show you how to properly use the same and also I'll show you from where you can download it. This app having a friendly interface which makes it easy to use and handle by any type of users. So, In this article we learn How to hide a message on android by just following the below Steps.
Step 1. First of all download and install SMS Lock app.
Step 2. Now launch the app in your android and you will see the list of messaging apps that's being installed in your android device.
Step 3. Now click on a round button and the draw the pattern you want to set to the message app.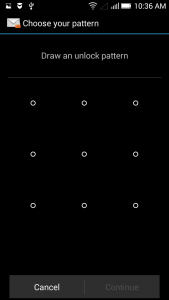 Step 4. Now at right corner click on the settings button.
Step 5. Make sure that Notification Bar there is turned on as this will save your message being read on the notification area.
Step 6. Now your SMS get secured and no one except you can access it.
//BUT, WAIT…THERE're PROBABLY MORE TIPS & TRICKS SO BE SURE TO FOLLOW US ON TWITTER  & GOOGLE+ or LIKE OUR FAN PAGE FACEBOOK.