The Dell Precision 3551 (starting at $939.00, $2,692 tested) is a practical workstation with retro appeal. But just because its styling seems outdated doesn't mean it's missing under the hood. Equipped with Intel's Core i9-10885H processor and 32GB of RAM, the Precision 3351 delivers fast performance for business users who perform demanding tasks. Combine this with minimal screen frames and a full-size keyboard with a pointer, and the Precision 3551 shows that it is meant to be a serious workstation. This is our Dell Precision 3551 Review.
$1,825.00
in stock
2 used from $1,699.95
Last updated on October 18, 2021 3:21 am ⓘ
Apart from that, some shortcomings go beyond the design. The worst offense is the dark and dull display on a cheap laptop rather than an expensive workstation. Also, the speakers are at a low point, and the chassis is bulky, which is why this is not one of the best workstations.
Specifications
Dell Precision 3551 specs
Price:
$2,692
CPU:
Intel Core i9-10885H
RAM:
32GB
Storage:
512GB PCIe SSD
Display:
15.6-inch, 1080p
GPU:
Nvidia Quadro P620
VRAM
4GB
Battery life:
11 hours and 20 minutes
Size:
15.0 x 10.8 x 0.8 inches
Weight:
4.2 pounds
Dell Precision 3551 review: Design
The Precision 3551 is a particular workstation. It is a little hoarse and round due to its intended use; a silver aluminum case reminds me of a generic Brooks Brothers business suit. When you open the lid, you see a full-size keyboard is chiclet-style, with the space bar slightly to the left of the center and the touchpad centered just below. The fingerprint scanner also serves as an on/off switch, located below the right display hinge. On the front lip of the laptop are the two small speaker holes located at the bottom.
The Precision 3551 is equipped with a healthy number of ports that offer consumers great versatility. On the right side is a micro-SD card reader, a 3.5mm audio jack, two USB 3.2 ports, one HDMI, Gigabit Ethernet, and one Noble Lock slot. On the left side, we find the power input jack, a Thunderbolt 3 input) and USB-A 3.2 Gen 1.
Measuring 14.1 x 9.3 x 0.9-inches and weighing 4.2-pounds, the Dell Precision is thicker but lighter than the other peer group members. The HP ZBook Create G7 is more elegant and thinner, but heavier (4.3-pounds, 13.9 x 9.3 x 0.7 inches), as is the Apple MacBook Pro 16-inch (4.3 pounds, 14.1 x 9.7 x 0). 6 inches), followed by the Razer Blade 15 Studio Edition (4.8 pounds, 14 x 9.3 x 0.7 inches) and the stately Asus ProArt StudioBook Pro W700G3T (5.5 pounds, 15 x 11.3 x 0.7 inches).
Keyboard and Touchpad
When opening the Precision 3551, the large, full-size, island-style keyboard is visible with generous spacing. The keys are nicely clicking and have a relatively large key travel, which allows for comfortable typing. The Precision's 2.9 x 3.9-inch touchpad is good. It does an excellent job of performing Windows 10 gestures, such as three- or four-finger swipe movements and comfortable fingertip typing. The bottom corners of the touchpad are clickable and very responsive.
If you want to bypass the mouse altogether, there's a touchpoint pointer in the middle of the keyboard with 5 buttons surrounding the touchpad. The top three buttons work together with the pointing stick and act as a mouse so that you can keep your hands on the keyboard as much as possible. It takes some getting used to, but it works well.
Dell Precision 3551 review: Display
The 15.6-inch display with a resolution of 1920 x 1080p does an excellent job of displaying images. However, the anti-glare touch panel is optically outdated, with muted colors and low brightness. It is not suitable for games or heavy graphic work that requires high color accuracy.
While watching the "No Time to Die" trailer, Precision did a stable job playing the trailer, although I found it a bit dark because the colors were so saturated that I could watch a movie on it if necessary. The explosions were colorful enough to arouse my interest, but they did not dazzle me. I found some of the skin tones a bit off; for example, Daniel Craig's rough, handsome face looked a bit bitter in tone.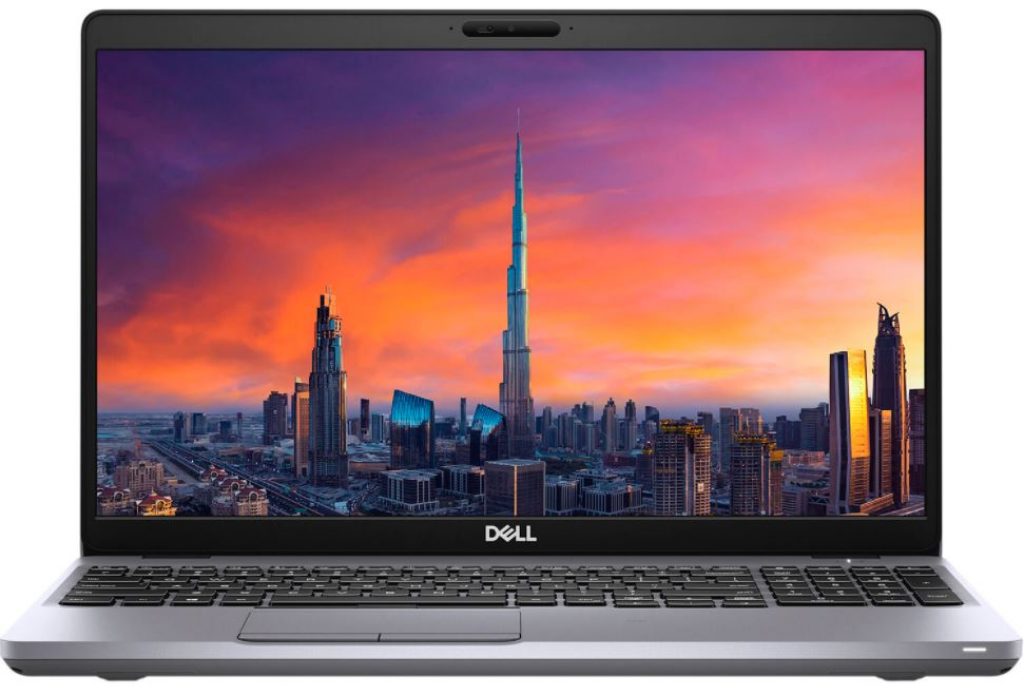 In our DCI P3 color space test, Precision scored poorly on the screen's color reproduction capabilities, at 43.3%, well below the workstation average of 130.4%, putting it at the bottom of its group. The Asus ZenBook scored 148.2%, followed by our top performer, the Razer Blade Studio, with 153%. The Asus ProArt achieved 115%, while the MacBook Pro reached 80.7%.
The Dell Precision 3551 has an average brightness of 245 Nits below the average of 393 Nits. The MacBook Pro achieved an astounding 429 Nits, followed by the ZBook with 357 Nits, the Blade with 336 Nits, and the Asus ProArt with 292 Nits.
Dell Precision 3551 review: Audio
Whether I was watching a YouTube video, watching a movie, listening to music, or playing a game, Dell Precision's speakers produced a tinny sound without depth. I spent my afternoon listening to music., and sometimes the vocals seemed metallic without an iota of bass. While watching the latest James Bond movie trailer, the machine-gun fire was tinny, explosions seemed to distort, and the vocals were just passable. The sound is so loud that you can hear it in a small, quiet room, but the sound lacks warmth. Like other aspects of the Dell Precision 3551, the sound experience is not overwhelming. I highly recommend investing in a pair of wireless headphones.
Dell Precision 3551 review: Graphics and Gaming
Featuring an Nvidia Quadro P620 graphics processor with 4 GB VRAM, the Precision 3551 is designed for smooth gaming and video editing. When playing Sid Meier's Civilization VI Gathering Storm in 1080p, our device averaged 34 frames per second below the 68 fps workstation average, but above our playability threshold of 30 fps. The Create G7 achieved significantly more frames per second at 79 fps than the competition.
I have played "Batman Arkham: Origins" on the device, and I have to admit that the display seems to show games better than video. I did not notice any stuttering or delayed frames. The performance was admirable, and the lack of brightness on display worked well for the "Batman Arkham: Origins," rendering nice dark shadows and depth with passable colors.
In the 3D Firestrike benchmark, the Dell Precision 3551 achieved a poor result of 4,382 points, well below the workstation average of 12,615 points. The Razer Blade Studio scored 16,771 points, followed by the HP ZBook Create with 14,260 points. The ProArt scored 12,075 points, also below the workstation average.
Dell Precision 3551 review: Performance
With a 2.4 GHz Intel Core i9-10885H processor, 32 GB RAM, and a 512 GB PCIe SSD, our review model of the Dell Precision 3551 is a reliable device. It held up well when I had 30 to 40 Google Chrome tabs open, some of which were running videos and editing documents simultaneously.
To get to our synthetic benchmark tests, The Precision 3551 scored 7,350 points in the Geekbench 5.0 overall performance test. This was above the average of 6,661 workstations. The HP ZBook Create (Intel iCore 19-10885H CPU) led our group with 8,003 points, while the MacBook Pro (Intel Core i9-9980HK CPU) achieved 7,201 points. The Blade Studio (Core i7-9750H CPU) reached 5,104 points, followed by the StudioBook (Intel Xenon E-2276M CPU) with 5,396 points.
The Precision 3551 took 9 minutes and 35 seconds to convert the 4K video to 1080p resolution in the handbrake test. It was only a tad slower than the category average (9:04). The ZBook Create achieved a faster time of 7:21, followed by the MacBook Pro at 8:00. The slowest times were achieved by Blade Studio and StudioBook, which arrived at 10:12 and 10:30, respectively.
During the file transfer test, the Precision' SSD averaged 988.7 Megabytes per second when transferring 5GB of mixed media. The MacBook Pro achieved 1,017.9 MB/s, followed by the 922 MB/s of Blade Studios. We were rounded off by the HP ZBook Create with 639.9 MB/s and the Asus ProArt (1,272 MB/s).
Dell Precision 3551 review: Battery life and heat
The Precision 3551 delivered an excellent 11 hours and 20 minutes in the battery test, consisting of continuous web surfing over Wi-Fi at 150 nits brightness. This time is above the average of 6:52 for workstations. The Apple MacBook Pro came in with a time of 10:55, the StudioBook followed at 6:23, the Razer Blade Studio at 6:02, while the Create G7 came in last at 5:57.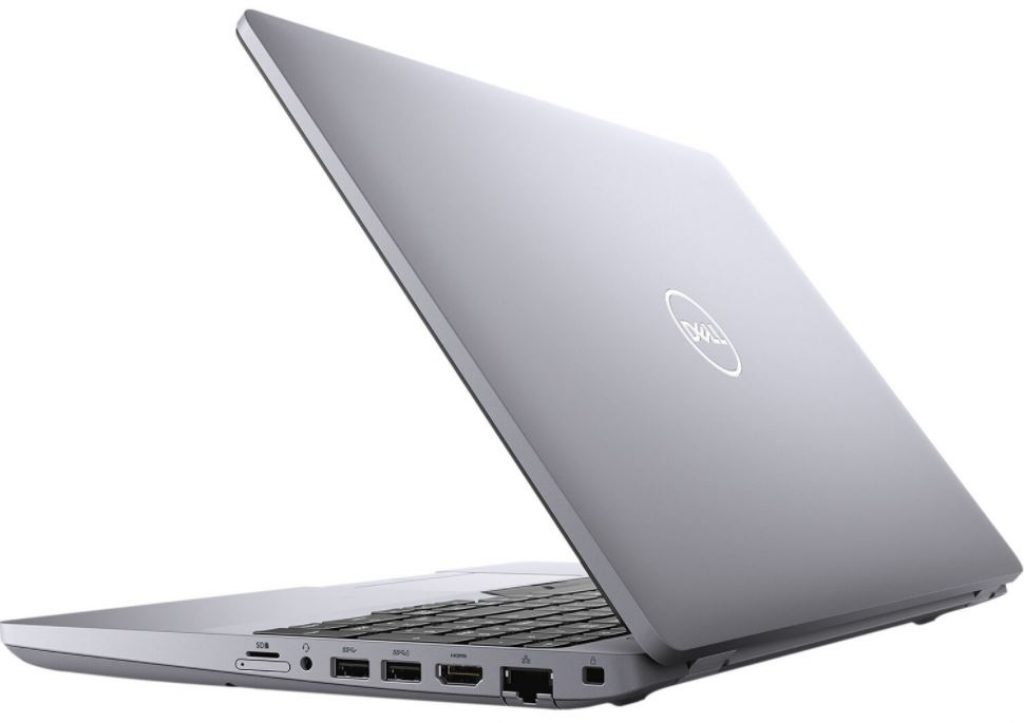 The Precision 3551 does a solid job and stays cool all day long. During the video heat test (15 minutes playback of an HD video in full-screen mode), the touchpad measured 72 degrees Fahrenheit while the keyboard registered 83 degrees. The base of the laptop reached 96 degrees, which is slightly above our 95-degree comfort threshold.
Price and configuration options
The Dell Precision 3551 I tested costs $2,692 and has a 2.4 GHz Intel Core i9-10885H processor, 32 GB RAM, a 512 GB PCIe SSD, an Nvidia Quadro P620 graphics processor with 4 GB VRAM, and a 15.6-inch screen with 1920 x 1080 pixels. The basic model costs 929 US dollars and lets you do without a 2.6 GHz Intel Core i5-10400H processor, 4 GB RAM (yikes), a 512 GB PCIe SSD and an Nvidia Quadro P620 GPU with 4 GB VRAM and a 15.6-inch screen with 1080p resolution.
Dell Precision 3551 review: Conclusion
The Precision 3551 is a decent workplace that meets the daily needs of business professionals. The Precision is a great document drawer that allows users to work with basic graphics requirements for most office settings.  You won't be disappointed with it unless you try to use it as a content creation device or constant play, as the screen is dull and dark. Also worth noting are the low-quality speakers, which contribute to the fact that the Precision 3551 cannot be used as a multimedia machine for creative professionals.
For these users or anyone who wants a well-rounded product, we recommend the Asus ProArt StudioBook Pro or the Lenovo ThinkPad P1. Overall, the Dell Precision 3551 has a lot of performance but fails in other areas, so it should be used exclusively for business purposes.
Our Verdict
The Precision 3551 from Dell is a decent workstation that is let down by an outdated design and a bad screen.
PROS
Solid performance
Excellent battery life
Comfortable keyboard
CONS
Dim, dull display
Tinny audio
Outdated design
Bulky