Hide.me VPN review: When testing a virtual private network, or VPN, we always consider the service's price, privacy, and technology. Hide.me is doing well in all of these areas and is best known for its advanced features such as Split Tunneling. However, it's expensive compared to the competition, and if you don't need those advanced features, the price is hard to justify. On the positive side, Hide.me is a full-featured, flexible VPN provider with many attractive features, and it might be worth considering as a paid service.
But we would postpone using his free offer until we used up Windscribe's 10GB of free monthly allowance, which we think offers the best free VPN service.
Hide.me VPN review: Privacy
Hide.me has a strict "no logging, ever" policy; the company says: "Logs can easily link actions to you, and some VPN providers pass them on to law enforcement officials when they need to. We can't do that, because we don't have them. Simple."
The Privacy Policy excludes both activity logging and session logging. It explains that: "We do NOT keep logs of your VPN sessions, browsing habits, websites you visit, or any activity related to your VPN connection. Besides, we NEVER store VPN connection logs and timestamps that match your incoming and outgoing IP address or session duration.
Hide.me does track the total usage of data transfers, but that's no surprise for a service where some plans have bandwidth limitations. It also keeps track of your email address, but that's also to be expected. No data is shared with third parties. The company does make use of Google Analytics on its website, but it also points out that "to increase your anonymity, Hide.me has chosen to let Google only collect part of the IP address".
Hide.me does say that it will comply with court orders received by recognized legal authorities with jurisdiction over them. But because this is a Malaysian registered company, it may not apply that often, and even if it does, the logs won't show much.

This all looks and sounds good, but there is still room for improvement. Bigger VPN names such as TunnelBear, NordVPN, and VyprVPN have verified their private data with public audits. It's an effective way to reassure potential customers that a VPN delivers on its promises, and we hope other providers will follow suit.
Hide.me VPN review: Streaming support
Most VPNs claim they can help you access an obstructed website, and Hide.me is no exception, promising that you will 'avoid nasty censorship .'This was not the case with BBC iPlayer. The website suggests that Hide.me should be able to unblock it, but this didn't work for us, and all three UK servers let us look at a 'this content is not available in your location' error.
The story improved when we moved to the US and were given instant access to US-only content on YouTube. Unfortunately, the bad news came back when we tried US Netflix and could not get in with any of our test servers.
Performance
Our Hide.me speed tests got off to a good start, with UK speeds of 60-65Mbps on our 75Mbps test line and European locations averaging a very useful 50Mbps. US speeds were above average at 50-60Mbps. If you're not so lucky, Hide.me's a wide selection of American locations (California, Florida, Nevada, New York, Utah, Washington, more) means you need to find a decent server nearby.
Even the long-distance servers delivered more than we expected, averaging 32Mbps in Hong Kong, 30Mbps in Australia, and 24Mbps in Singapore. Hide.me also passed our privacy tests, hiding our IP, blocking DNS leaks, and adequately disguising our online activities at all times.
Hide.me VPN review: Pricing and plans
Hide.me's free plan provides a reasonable 2GB of data per month if you register with your email address, 500MB if you don't. Still, you only get access to five locations (USA, Canada, Netherlands, and two in Singapore), and there is support for connecting only one device at a time.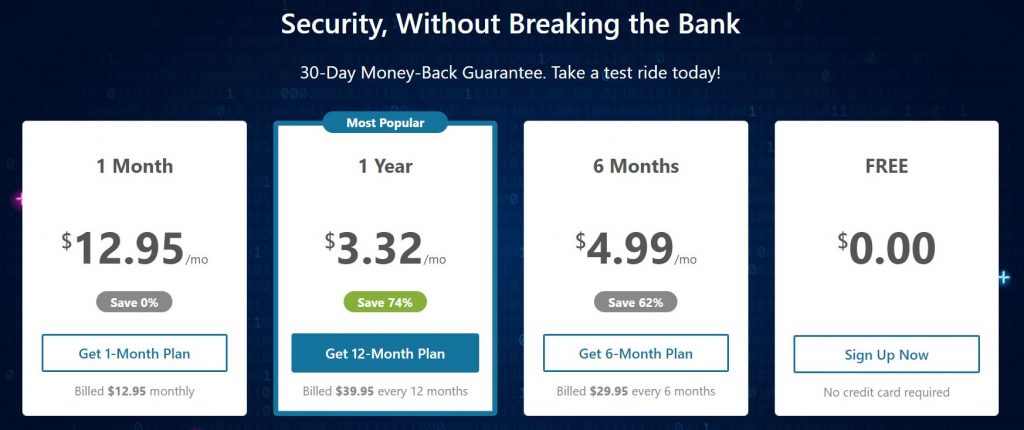 The Premium plan provides unlimited data transfer and increases the concurrent connection limit to five. The monthly subscription is expensive for $12.95, and annual subscriptions of $9.99 per month are also more costly than most subscriptions, but you pay two years in advance, and the price falls to a more reasonable $4.99. Still, if you're willing to sign up for two or three years, you can withdraw a CyberGhost or NordVPN account for less than $3 a month.
Payment options are at least good, including Bitcoin, PayPal, and many other providers along with credit cards. There is also a 14-day refund, although it has an unexpected limitation – it will not apply if you have "consumed a significant amount of your transfer data." The company doesn't say what a 'significant amount' could be, which means the policy isn't as clear as we would like it to be.
Final words
Hide.me has some enviable strengths. Its privacy policy is comprehensive and transparent if it has been for a long time. It supports the best VPN technology, delivers ten simultaneous connections, and has a fair distribution of servers worldwide. Hide.me also offers a relatively generous free option, which is a rarity. Most importantly, it's packaged in several advanced features that the competition often ignores, but it's packaged in a simple app that most people will understand how to use.
The biggest drawback of Hide.me is that it charges well above the industry average per month – enough to reduce the value of this otherwise impressive service significantly. That's it for our Hide.me VPN review.
Our Verdict
This is a capable VPN with some of the best expert-level options we have ever seen. The price is a bit high, but if you need this level of power, it will be worth it.
PROS
Above-average speeds
2GB/month limited free plan
Easy to use
Hugely configurable
CONS
High prices with some plans
Baseline plans only support one connection
Some potential kill switch issues