Hide My IP is a VPN service that enables you to change your IP to "surf anonymously, prevent hackers from locating your IP address, send anonymous email, and encrypt your Internet connection ."When you purchase the service, you also get full access to Hide My IP Smart DNS Proxy, enabling you to use the platform on any Internet-enabled device without having to download or configure any software. Today, we are here with our Hide My IP VPN review.
The provider is affordable, allows torrenting, unblocks Netflix and BBC iPlayer (and more), and our tests have revealed some surprising speeds. We've also met some of the best customer services in the industry. That said, this provider still has some room for improvement if the goal is to become as famous as one of the best VPN products. The improvements are especially welcome in terms of the size of the network and the features offered.
Hide My IP VPN review: Privacy and logging
To protect your privacy, the vendor uses 256-bit AES encryption with a 2048-bit key. It also indicates that it can protect you from IP leaks such as the WebRTC IP leak in Chrome and Firefox. It supports torrenting, although, for Windows, you need to enable the Hide My IP in All Applications in the app's settings.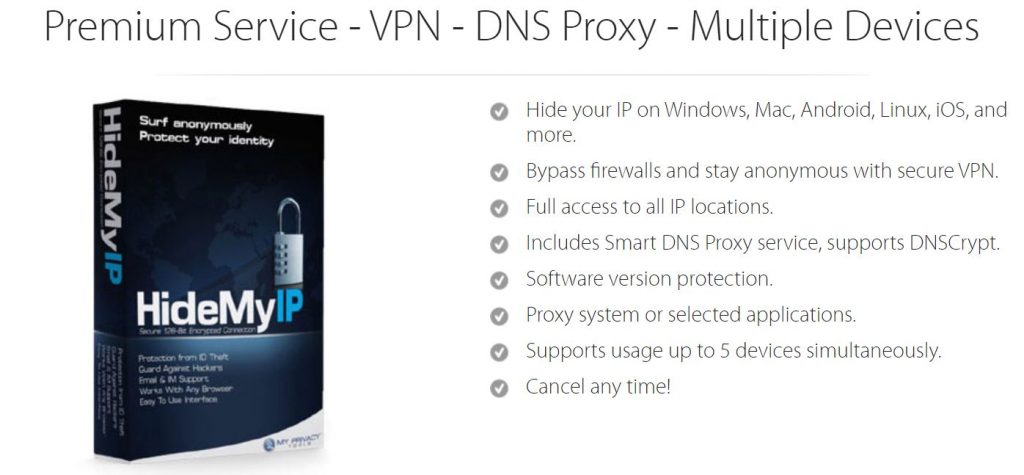 In its Privacy Policy, the provider states that it may collect your personal information when you purchase its services, contact it, or "use or access any of our products, services, websites, or networks." However, he also says that he "does not monitor or record your Internet traffic or activity while using the service."
That said, we are not told what exactly is considered to be "logs of your Internet traffic or activity," and the vendor's terms of service states that "while we do not keep any content logs of usage or share your private information with third parties, we will disclose any information we do have if required to do so by law." My Privacy Tools, Inc. may monitor certain aspects of the network to manage abuse, maintain and improve the service. So caution is advised.
Hide My IP VPN review: Performance
The app is very easy to install and use. It has a few options to tinker with – IP rotation, clearing cookies on IP change, launch on startup, and require US-based IP. Additional settings include selecting whether the app should only work for web browsers, for all internet apps, or only for selected apps, and choosing always to use the same IP from the last session. There are also advanced settings such as DNS protection, masking user agents, smart IP rotation, and encrypting the connection with SSL.
We tested the premium platform (the free trial version is a bit slower) on a server in New York, and it gave us 18Mbps on a 44Mbps test connection, which is very fast given the distance. The next location we tested was Vienna, Austria, and it performed great, with a range of 34Mbps. We also wanted to see how Hong Kong would perform, and it yielded only 4.2Mbps, but this is understandable because Hong Kong is so far away from our physical location.
Hide My IP VPN review: Streaming support
Unblock the popular geographically limited streaming platforms such as Netflix, and BBC iPlayer is a desirable feature for any VPN service. Hide My IP has this kind of capability because, in its own words, it changes your IP location "to unblock sites such as Hulu, Netflix, BBC iPlayer, Pandora, or other sites that can be censored by your ISP or in your country." Just turn on the Firefox or Chrome extension, and you're ready to go.
Pricing and plans
This provider offers you the possibility to purchase its services under different pricing options. The cheapest in the long term is the annual subscription for $2.91 per month. The quarterly (3 months) option is followed by $2.93/month, and monthly at $4.95/month. All this is considered very reasonable in the VPN industry. Regardless of the plan you choose, you get a 30-day money-back guarantee, although you should have a good reason to request a refund. The provider accepts payments via credit/debit cards, PayPal or Bitcoin.
If you don't want to create an account with Hide My IP, you can choose to go "accountless," i.e., buy a full Premium license per day for $0.25/day. Only Bitcoin payments are accepted for this option. There is also a 7-day free trial period, but it offers limited functionality – no server selection and lower speeds. With a Premium account, you can connect up to 5 devices at the same time.
Hide My IP VPN review: Customer support
If you need help, you can consult the provider's FAQ page and knowledge base, which contains articles on a purchase, usage, common problems, and the affiliate program. Another option is to contact the team via online chat, email, ticket submission, or using a toll-free phone number in the U.S. (1-866-343-6722), available between 9:00 a.m. and 4:00 p.m. PST (Monday – Friday), as well as checking their Twitter and Facebook channels.
Our email request received a response around 5 pm after we sent it (which may be expected because our questions weren't very urgent). Still, the support engineer was exceptionally polite and helpful.
Final words
Hide My IP is a trustworthy VPN service that delivers exceptional speeds, unblocks all major geo-restricted streaming content, offers straightforward and easy-to-use apps, friendly customer support, and a flexible and reasonable price. It doesn't have as many servers or extras as the top VPN providers such as ExpressVPN don't (yet) have, but it certainly has a lot of potentials.
Our Verdict
Hide My IP doesn't have many servers or advanced extras, but it's very reasonably priced, delivers amazing speeds, unblocks the popular geo-restricted VOD platforms, has a 30-day refund policy and great customer service.
PROS
Flexible and affordable pricing options
Excellent speeds
Unblocks Netflix and BBC iPlayer
Friendly customer support
CONS
Not many servers
A bit modest with features