HideMyAss VPN review: One of the well-known names around the world in the VPN business, HideMyAss! (a.k.a. HMA) has been protecting its users' privacy for over 15 years and has been owned by security giant Avast since 2016. The company offers an extensive network of more than 1,100 servers in more than 290 locations in more than 190 countries. That's lesser servers than some of the top providers, but many more locations and countries (NordVPN has 5,500+ servers in 59 countries, ExpressVPN has 3,000+ servers in 160 locations and 94 countries).
In our HideMyAss VPN review, we have extensively tested this VPN service to help you decide if it's the right privacy solution for you.
HideMyAss VPN review: Features
HMA has some relatively unique features hidden in the Preferences menu. You can make the VPN connection when you access the Internet, and you can also set your IP address to change automatically at a specific interval – from every ten minutes to every day.
HMA has not one but two kill-switches. The default kill switch blocks all Internet traffic if your VPN fails for any reason. Our tests worked perfectly to prevent our real IP address from leaking when the application was forcibly shut down.
Setting up an app kill-switch will also terminate specific apps if the connection is lost and start the VPN automatically when you start those programs. That's a handy feature if you use it as a torrenting VPN but can't rely on yourself to remember to boot your VPN for each session.
In that respect, HMA does have a few dedicated P2P servers, but they are just a few. With five in Europe and three in the US, you don't have a big selection. However, we are happy that there is torrenting support, so this is still a plus.
You will also be able to set up split tunneling, allowing you to choose which apps will be routed via the VPN and which will use your regular internet connection – great if certain apps don't play along with HMA.
HideMyAss VPN review: Privacy
HideMyAss! has so many small prints that the Legal section has a sidebar with no less than 12 separate sections. Many of them are also very long (the privacy policy alone has almost 5,000 words). This is not as bad as it sounds at first. The main reason for the cluster of documents is that HideMyAss! has divided the essential sections into separate articles, making them easier to find, and most of them are clearly structured and well written. (If you are allergic to the small print and want the basics, take a look at HMA's no-log blog post).
The privacy policy explains no logging of original IP addresses (a possible way to identify you), exact timestamps (when you connected or performed a particular action), DNS queries, browsing history, or transfer data. There is some general logging of usage of the service, including the date of connection and whether it is AM or PM, and a very approximate idea of the data transferred (the service only logs whole 100Mbs, so 379Mb of data transfer is logged as 300).
HMA justifies this minimal data collection to argue that it helps in troubleshooting, customer service, and understanding network capacity, which makes sense to us. However, if you are the skeptical type, there is no need to trust these words. In August 2020, HMA announced in a blog post that security consulting firm VerSprite had audited its no-logging policy.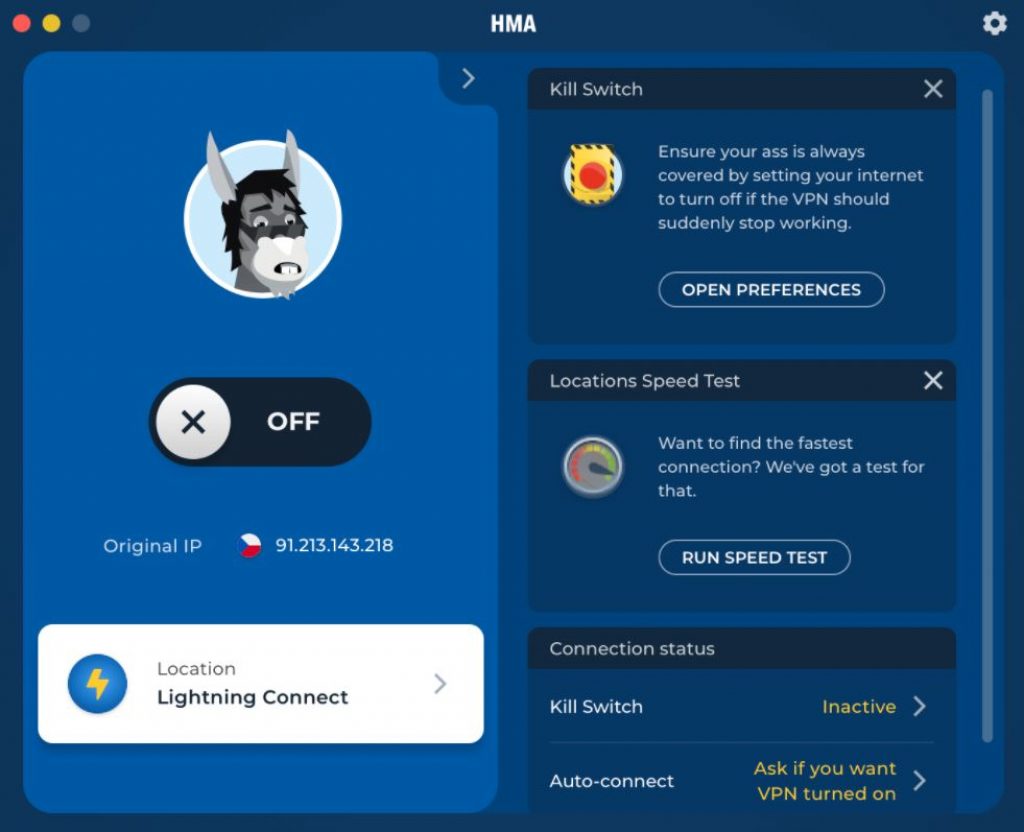 The assessment 'included data analysis, traffic, and storage on both the client and server-side, and breaking user identities with data containing information about online user activity.' And HMA succeeded, the company explained, giving VerSprite the minimum possible 'low risk' impact on user privacy.
The HMA site only provides broad details about the scope of the audit, for example, by talking about it, including "analysis of data, traffic, and storage on both the client and server-side, and disconnecting user identities from data containing information about online user activity. Since the report is not public, there is no way to assess how meaningful the results can be. Nevertheless, we should welcome any VPN that allows itself to be guided by this type of expert and independent research, and we hope that HMA will conduct more audits in the future.
HideMyAss VPN review: Performance
We started our HideMyAss! performance checks by selecting a small group of test servers: three in the US, three in the UK, two in Europe, and locations in Australia, Hong Kong, and South Korea to represent the rest of the world.
Our tests started with connecting to each server, recording the connection time, performing a ping check to look for latency issues, and using geolocation to check if the server was at the advertised location.
There was positive news in each area. All servers turned out to be where HideMyAss! Claimed to be. Connection times were right at about six seconds, even for the most remote locations (some VPNs are twice as long, or more), and ping times were extended for remote servers, but no more than we expected, and they showed no problems.
We continued to check the best download speeds and connect to our nearest server from both the US and the UK and measure download performance using Ookla's SpeedTest and TestMy.
UK speeds were usable but slightly below average at 100-130Mbps, perhaps partly because HMA does not support the more efficient WireGuard protocol. Private Internet Access reached 150-160Mbps via OpenVPN, but connecting to WireGuard and PIA reached 370Mbps in its best session.
We made our US controls from a super-fast 600Mbps connection, but speeds were only marginally better at 140-150Mbps. Of course, that's still more than enough for most purposes, but Hotspot Shield reached 330-410Mbps in our final tests if performance is a priority.
HideMyAss VPN review: Pricing and plans
Strangely enough, the full details of the HMA price plans are hard to find. When visiting the price page, you may think that the company only offers a free trial subscription, a 12-month plan, and a 36-month plan, but deep down on the website, you will also find monthly plans and 6-month 2-year plans, business plans, and family plans.
You can start with a free seven-day trial, but you will need to provide your payment details in advance before you can try the service. If you do not cancel the subscription within seven days, a 12-month plan will automatically be charged. Fortunately, it's easy to cancel your trial subscription, and you can still use the VPN for the full seven days.
The monthly subscription is priced at $11.99, which is more expensive than most subscriptions. Similarly, the six-month plan is a little more expensive for $7.99. Paying one year in advance costs the equivalent of $6.99 a month, two years $4.99 a month, and three years a competitive $3.99 a month.
The family plan doubles the number of devices you can connect simultaneously from five to ten, but it starts for $12.99 a month, a minimum of $5.99 a month for a three-year plan.
Business plans extend this to even more concurrent connections ($23.99/mo for 20, $32.99/mo for 30), and customized quotes are available upon request.
While the more extended base plans offer decent value for money, HMA turns the price of its family plans up to increase the number of connections. In the big scheme where some providers offer unlimited connections on base plans cheaper than HMA's, it's hard to justify paying almost double, only for additional connections.
Customer support
The HMA website offers setup guides, FAQs, a community forum, and a searchable knowledge base. It is not the most comprehensive support site (ExpressVPN, for example, has much better guides and documentation), but it is useful for most users. For more complex questions, live support is available 24 hours a day, seven days a week. We got answers to our questions from a support employee within minutes, which is in line with the best providers. We are happy that HMA offers this because now that we are used to live chat, we are not sure what we would do without it.
Final words
HMA is an established, reliable VPN with an extensive network. The connection speeds are right, the technical support is fast, and the various apps are well set up – but it doesn't offer enough to guarantee the premium price. However, we can certainly recommend HMA to those who want a VPN with servers in many different countries, as HMA's servers in more than 190 countries far exceed the competition. That's it for HideMyAss VPN review.
Our Verdict
This VPN is easy to use with an extensive network of servers and an independently verified no-logging policy, but it couldn't do much more than unblock Netflix for us and cheaper services are available.
PROS
Servers in 190+ countries
Responsive live chat support
Unblocks Netflix
No logging policy
CONS
Cheaper comparable VPNs exist
Content unblocking isn't up to scratch