JBL is a famous name in the world of wired/wireless headphones and Bluetooth speakers, and rightly so. The consumer is reliable and knows what to expect from the brand: decent sound quality for a reasonable price. That's what we found with the JBL's Live 650BTNC last year – and now, ready to take their place are the Tune 750BTNC, a superior successor to the JBL 650BTNCs as a high-specification and well-priced set of over-ear headphones. This is our JBL Tune 750BTNC Review.
$129.95
in stock
10 new from $129.95
8 used from $99.99
Last updated on June 13, 2021 6:12 pm ⓘ
We've used them in a variety of scenarios, from training to the daily commute, and found the experience quite remarkable for the price. A comfortable fit and excellent sound quality make them a bargain in their field.
JBL Tune 750BTNC Review: Design
As we said, the JBL Tune 750BTNC wouldn't look out of place next to the Apple ownership headphones. Pick them up, and their plastic design feels sturdy and secure; while some plastic headphones feel cheap and thin, the JBL Tune 750BTNC is comfortable to hold. The plastic is smooth, and they feel premium than their price suggests. The only place the JBL Tune 750BTNC feels a little brittle is when the hinges are exposed while manipulating the ear cups or folding the headphones for storage.
The hinges look a bit cheap, although they look relatively stable. It's worth noting that this headphone doesn't come with a carrying bag of any kind, so you'll almost certainly want to buy some sort of case to store them safely when you're on the move. The headphones feel quite balanced when it comes to weight distribution. Though they're not super light, if you have them on your head, you won't feel like they're dragging you down. Comfortable fabric ear cups also make sure you don't feel restricted during long listening sessions.
Somewhat annoying is that the JBL Tune 750BTNC doesn't have an excellent IP-based waterproofing here, nor any other confirmation that it can withstand light rain or splashes. We assume it's nothing to worry about when the occasional raindrop comes, but it's clear that these are designed for indoor use. The daily commute or the sports session, yes. An outdoor ride in the pouring rain – probably best to leave the 750BTNCs at home.
All the controls you need are on the right side. That includes the micro-USB charging port on the top of the ear cup (hidden until you fold it down) and a 3.5mm input to plug in the included audio cable, which means you can use it in wired mode when the battery runs out. As you have noticed, the JBL Tune 750BTNC doesn't have USB-C support, but still charges reasonably quickly. More about that later.
Beneath the right auricle is the physical controls. The re's the on/off button that also serves as the Bluetooth pairing button, a button for activating/deactivating active noise cancellation, volume buttons, and a button to call up Google Assistant or Siri. Buttons may not feel as modern and fresh as touch-sensitive enclosures, but they do the job with a satisfying click when you press them. When you're traveling, you won't accidentally activate anything and don't have to adapt to the beautiful gestures some manufacturers make.
Connectivity and Features
The JBL Tune 750BTNC only supports Bluetooth 4.2 instead of the latest Bluetooth 5 standard. This may not sound like a significant problem. Still, it means that in addition to offering shorter pairing distances than the Bluetooth 5 supporting headphones, the 750BTNCs are also not as smart with battery power. The active noise cancellation provided by the JBL Tune 750BTNCs is, therefore, quite useful. It blocks out a lot of external noise around you and is a striking feature of these well-priced looks.
You can't adjust it via an app or an on-board control – another concession that's evident given the price tag – but it's not a big problem when you often just want to silence all the ambient noise. The JBL Tune 750BTNC also comes with something called 'Multi-Port Connection,' which is an excellent way of saying that you can connect to two devices at the same time – meaning you can switch between devices at your convenience.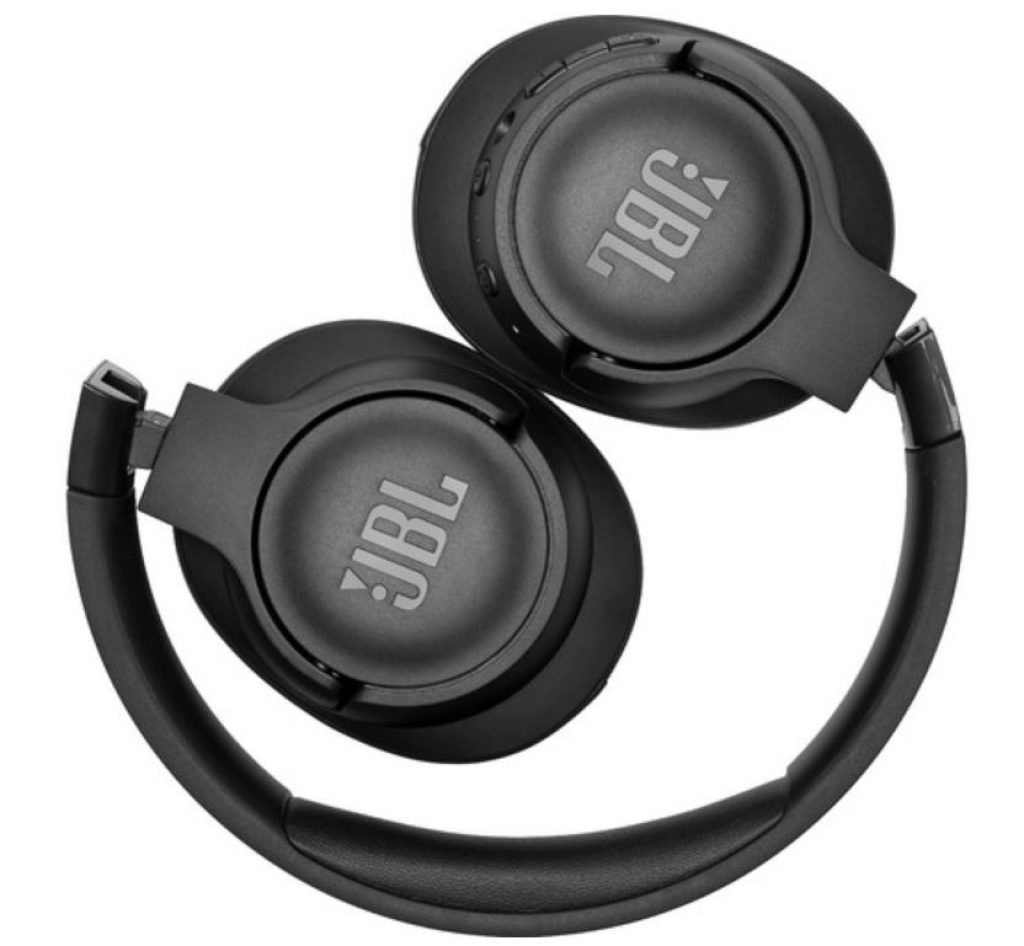 The re's also hands-free call support with a correctly functioning microphone and that vital voice assistant button that allows you to call Google Assistant and Siri. But the re's no app support, which means there's no chance of an equalizer or anything like that. It's a strange omission, as JBL itself has to point out that the My JBL Headphone app does not support these headphones – there may be support in the future, but for now, you'll have to do without it.
JBL Tune 750BTNC Review: Performance
The JBL Tune 750BTNC is spicy and exciting to listen to. Stick to something that needs to be played hard, like The Cardigans' My Favourite Game, and you'll feel trapped at the moment, with just the right level of thumping on the bass without blurring the other details in the song. This doesn't come at the expense of sound quality either, because the middle of songs like Billie Eilish's No Time To Die still sounds smooth and clean.
When we felt the urge for a classic, we switched to Whitney Houston's I Will Always Love You and found that every high note sounded positive and without any kind of harshness. The active noise cancellation ensures that you can nestle in the sanctuary of these cans in the right way so that you won't miss a single precious moment of your favorite songs. They sound pleasant and warm. Admittedly, the JBL Tune 750BTNC misses one crucial detail a much more expensive pair of headphones like to brag about. There is no support for aptX Low Latency, which prevents a delay between video and audio.
Instead, they use a standard SBC codec that can eavesdrop on audiophiles and those who want to use these headphones for gaming and watching videos, but it's to be expected at this price. In the same way, without app support, you won't be able to fiddle with the equalizer to your heart's content. Even so, the JBL Tune 750BTNC, as an example of 'one size fits all,' still sounds great for those who don't mind adjusting the settings.
JBL Tune 750BTNC Review: Battery Life
The JBL Tune 750BTNC provides approximately 15 hours of battery life, which increases to 22 hours if you turn off the noise cancellation (which is enabled by default). That's fine, but nothing out of the ordinary in a world of wireless headphones that can provide more than 30 hours with noise cancellation enabled. Throw in the fact that the re's only Micro-USB support instead of USB-C, and it takes two hours to charge. Still, these are the sacrifices you make for the low price of the 750BTNC.
Price and Availability
The JBL Tune 750BTNC comes with a recommended retail price of $130/£120/AU$200, although discounts are already available. At the time of writing, the 750BTNCs sell for $99 on the U.S. JBL website, so chances are you won't have to pay the full price for these already budget-friendly noise-canceling headphones. There are four different colors available, including black, coral, blue, and white. They all look pretty stylish; with the white model, it seems like JBL has taken a few hints from the Apple Headphone School.
JBL Tune 750BTNC Review: Conclusion
The JBL Tune 750BTNC offers the same standard of sound quality and noise cancellation from rivals that cost much more than this. Only when it comes to the finer details such as battery life, app support, and lack of adaptive noise cancellation does this lower price become apparent. Despite these shortcomings, the JBL Tune 750BTNC is a simple recommendation. They sound good, they feel good, and they cancel out the sound enough, even if it is not adaptive like our more expensive favorites, the Sony WH-1000XM3.
When it's even possible to compare a pair of $130/£120/AU$200 with dual price headphones, you know you're looking at a winner. The JBL Tune 750BTNCs are those winning headphones – good quality at a better price than most competitors. Read our article on Best Noise Cancelling Headphones
Our Verdict
The JBL Tune 750BTNC sounds great, looks great and fits well. The Tune 750BTNC is reliable and easy to use. Though it misses on a few features like waterproofing, however, for this price, this is one of the best deals.
PROS
Comfortable design
Good sound quality
Strong active noise cancelation
CONS
No waterproofing
No Bluetooth 5 support