Mullvad is a famous privacy-focused VPN headquartered in Sweden. Where other VPNs make an overture to user anonymity, you can connect through Mullvad's 663 international servers without ever providing your name, email address, or additional personal information. In our Mullvad VPN review, we look at what makes this provider different, whether the company's claims about complete user anonymity are true, and whether it's an excellent VPN to choose as your first line of defense online.
Mullvad VPN review: Features
Mullvad has a network of 663 servers in 36 countries. This is a lot smaller than, for example, NordVPN, which has about 5,200 servers, but it is sufficient for most needs. Client software is available for Windows, Linux, and Mac, and it's all open-source – an advantage for security-conscious users who want to know what's going on under the hood of their software.
On Mullvad's website, the company records its stores on the server down to the smallest detail. In short, it does not log anything, and it only actively monitors the number of simultaneous connections per account. We noticed that when we switched between the servers, our real IP address was hidden at all times, something that many other VPNs overlook. Here, too, the company has made an extra effort to ensure user privacy.
Mullvad also has a 'kill switch' function that automatically blocks internet traffic if the VPN fails for any reason. We tested it several times by forcing the connection in different ways. Each time, the software immediately noticed the problem and blocked our internet connection until the VPN was reconnected.
On 25 June 2020, Mullvad released the results of its independent audit. The results appear to be generally positive, and the minor problems discovered by the Cure53 company have been addressed. This is good news because Mullvad can only increase its credibility as a secure provider by joining fully audited VPNs such as ExpressVPN and NordVPN.
Mullvad VPN review: Privacy
Figuring out a VPN's logging policy is often a real challenge, but here too, Mullvad is different, with an excellent policy page. The most crucial point is that nothing is logged that can be linked to a specific account. No traffic, DNS requests, IP addresses, even connection times, data, or bandwidth used.
Mullvad explains that it monitors the current number of connections to each account to ensure no one can use more than the five allowed connections. But this is not stored, so there is no way to tell how many you used five months, weeks, or even minutes ago. The result of all this is that you don't have to worry about how Mullvad handles requests for access to your usage data, as there are none.
Mullvad has not subjected itself to a public audit of its infrastructure to confirm that it follows these procedures, unlike some competitors. The company had its desktop client audited as early as 2018, which is a welcome step. But others have gone further, and TunnelBear now has annual audits of its apps, backend systems, and even its website.
But if a company gives us this level of detail about its procedures and offers genuine privacy benefits elsewhere (no need to hand over your email address, open-source desktop client), these are very positive signs. Audit, or no audit, finds that Mullvad looks much more reliable than most of its competitors.
Mullvad VPN review: Performance
Our performance tests started with an authentic look at Mullvad's kill switch. We forcibly shut down both OpenVPN and WireGuard connections in different ways. Still, the app handled every situation perfectly: a 'Reconnecting' message was immediately displayed warning us of the problem, our internet connection was blocked to prevent IP leaks, and seconds later, when the connection was restored, a 'Secured' message was sent.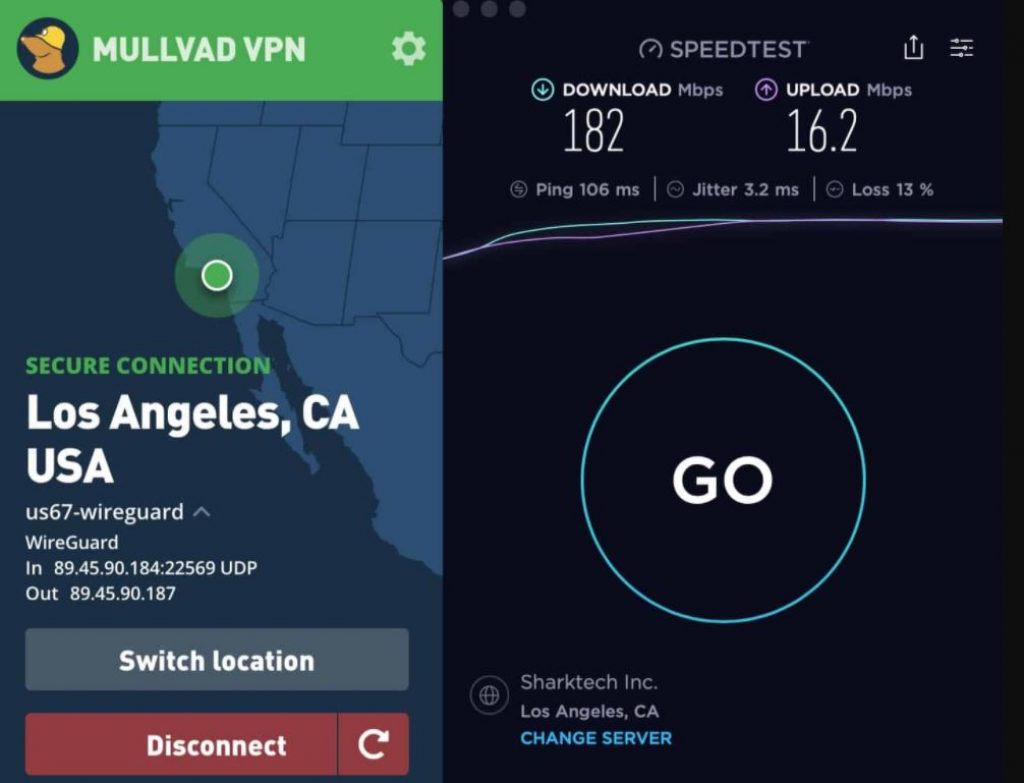 Mullvad is more focused on privacy and security than unblocking any website in the world, but our tests revealed a little bit of good news. Sure, it didn't get us into BBC iPlayer, Amazon Prime Video, or Disney+, but Mullvad did unblock US Netflix, along with YouTube and the less well-defended sites.
The service scored full figures in our privacy tests, with the Windows client successfully blocking DNS and WebRTC leaks. Positivity was maintained until the end, with our performance tests showing excellent download speeds of 68-69Mbps on our 75Mbps UK test line and up to 270-310Mbps on an ultra-fast US connection. That's behind the speed champion Hotspot Shield (450-580Mbps), but it's a great result and puts Mullvad well ahead of most VPNs in performance.
Pricing and plans
Mullvad has only one tariff plan for €5 ($5.40) per month. This is about half the price of most monthly VPN plans, but because Mullvad doesn't offer a discount for more extended contracts, VPNs like Surfshark ($1.99/month if you pay two years in advance.) Not everyone likes to be locked into an extended contract, though, and we imagine many users would pay the reasonable €5 per month for the luxury of being able to cancel on their terms.
Getting started with Mullvad starts by generating an account number and buying some time. You don't need to provide your email address, name, country, or any personal information. With payment choices like Bitcoin and Bitcoin Cash, you never need to identify yourself to the company.
If this seems too much of a hassle, the company also accepts PayPal, bank transfer, Swish, and credit card payments. Most impressive, however, is the option to pay cash – yep, you can send Mullvad an envelope with bills via snail mail to a real mailbox. Of the large VPN providers, this is unique, and for the paranoid, it is an excellent option.
Mullvad VPN Review: Customer support
The Mullvad website has extensive installation guides for the VPN apps and examples of using each of the features. Although there are only about ten additional guides for using SOCKS5, Tor, BitTorrent, and split tunneling, they are well written and supplemented with many searchable FAQs. You can also email Mullvad support, and we appreciate that a GPG key is available so you can use PGP-encrypted email if you want to maintain absolute privacy. However, live chat is not open, and now that we are used to our top-rated VPNs, we miss it.
Final words
There is much to enjoy about Mullvad, especially the company's dedication to protecting your personal information. Independent audits are encouraging, and the company seems to have done everything in its power to ensure the privacy and anonymity of people using the VPN. We have much more confidence in the reliability of Mullvad than most other companies.
Connection speeds are also excellent, but Mullvad does not have the best regional content unblocking, and the apps are somewhat basic. However, if you're looking for a reliable VPN that does the basics well, Mullvad is a solid choice.
Our Verdict
Mullvad's commitment to safety and the anonymity of users will increase safety awareness, but it lacks a number of functions. The long-term pricing is a bit expensive, but the ongoing contract will be attractive for those who do not want to sign up for years to get the best deal.
PROS
Excellent connection speeds
Truly anonymous accounts
Functional kill switch
CONS
Lacks the advanced features of leading VPNs
Can't access much geo-blocked content