Are you looking for the Best Over Ear Headphones Under $50, but have you found nothing so far that you would like to buy? In this buying guide, you have plenty of opportunities to make an informed purchasing decision. We searched the marketplace to find the best options in this category, and they all come in at a budget price of $50. We've added a section on the main buying factors to consider to help you decide which headphones you want to buy. This allows you to become familiar with headphone functions such as Bluetooth, noise-canceling, and microphones to make calls.
By understanding the different headset functions, you know what you buy. We are confident that you will find all the information you need in this buying guide to make the right choice. The best over ear headphones under $50 can be found here, and you will be hard-pressed to find better options in the budget headphones industry for over-ear designs.
Best Over Ear Headphones Under $50
Our list of the Best Over Ear Headphones Under $50 justifies the price for a high-quality sound result. Take a look at them, and you will realize how easy it is to shop for decent gadgets that fall within your financial possibilities.
August EP650
The August EP650 headphones are one of the best over ear headphones under $50 and for a good reason. It provides crystal-clear powerful sounds that allow you to listen to music in a way you have never heard before. The frequency range is wide (60 Hz – 20k Hz), and you hear all bass notes clearly and the treble with more clarity. Besides, these headphones combine comfort, style, and durability with excellent sound quality, all within a small package. The lightweight, thick sponge padding on the ear pads and headband makes the headphones comfortable to wear for a long time.
You can also remove the earmuffs and replace them for other materials, keeping the style fresh and new. There is also an integrated remote control and a built-in microphone that allows you to make calls without having to grab your mobile phone. With the remote control, you can change songs and increase/decrease the volume while you lean and do not have to grab your phone. What is even more impressive is the lifetime of the battery. With one recharge, you can listen to music for up to 10 hours.
Pros:
Premium materials used
Stable Bluetooth connections
Budget price tag
Pros:
Challenging to tune the headphones correctly yourself
No active noise cancellation
Mpow 059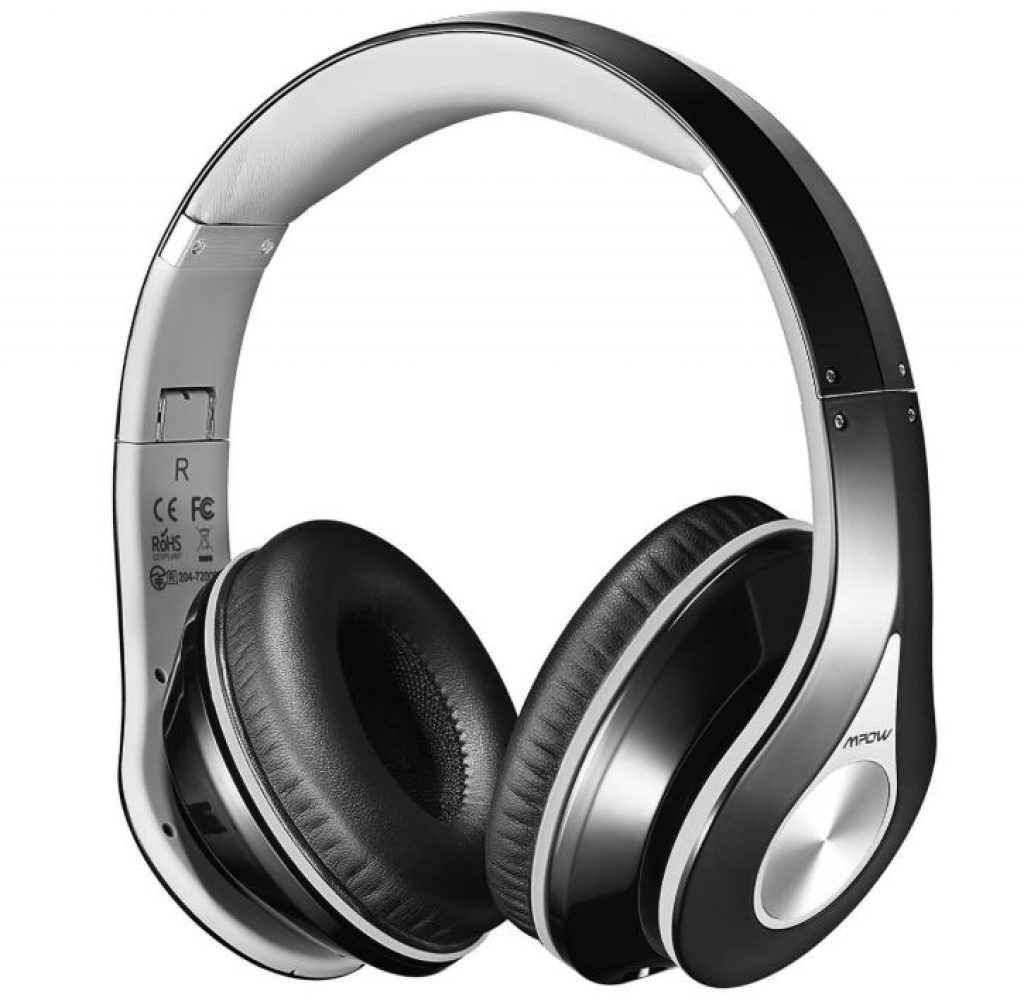 The Mpow 059 Bluetooth headphones with over the ear can be easily and quickly connected to smartphones, tablets, TVs, and other Bluetooth devices within a radius of 30 meters using NFC coupling. Besides, the updated Bluetooth version ensures stable connections, giving you a crystal-clear listening experience at all times. Also, the foldable design makes it easier to store them when not in use or during long journeys. They are also easy to set when you want to use them again, and finding the perfect fit is super fast, due to the stainless steel slider with a headband.
Moreover, the earmuffs are also super comfortable, because they are made of first-class materials that do not burden your ears after prolonged wearing. Besides, there are two ways to use these headphones with AUX and without. Both methods have their advantages, for example, with the wireless mode you can travel without any fuss. With the AUX wire, however, you do not need to use Bluetooth, which extends the life of the battery and increases the playback time.
Pros:
Foldable design
Can attach AUX wire
Long battery life
Cons:
Audio-Technica ATH-M20x
The Audio-Technica ATH-M20x professional monitor headphones sound excellent with clear highs, perfect mid-tones, and depth all thanks to the 40 mm drivers that use rare-earth magnets and copper-clad wire coils made of aluminum wires. Both drivers are manually tuned to improved low-frequency performance (bass), which ensures a more lifelike listening session. Besides, the design is rounded off for excellent sound insulation, especially in loud environments, which means you can concentrate more on the rhythm and not on what is happening around you.
However, this can be dangerous if you are in a noisy environment, so to prevent this, you can wear an earmuff while resting on the other side of your head. Although the Audio-Technica ATH-M20x professional monitor headset is not wireless, it comes with a 3-meter cable that is more than necessary in most cases. This makes them ideal for studio waves and mixes or for watching TV because the long wire is essential for comfort.
Pros:
Great noise isolation
Perfect for studio users with a budget
Long AUX wire
Cons:
Ear padding could be softer
Skullcandy Crusher
When it comes to best over ear headphones under $50, Skullcandy is different from what you've experienced before. Powered by built-in amplifiers and unique acoustic drivers, they deliver amazing beats with clear-cut lows. Skullcandy even has a slider built into the ear cup so that you can adjust the bass intensity if it gets too high, because the cushioning seals the ears and directs the beats directly to the ear canal. Moreover, the ear filling is super comfortable, because it is provided with three panels of damping wrapped in high-quality synthetic leather that even creates a sound-insulating seal.
Thanks to the sound insulation, you can concentrate more on the rhythm and hear every note, unlike an open earphone, where you can listen to the unnecessary noises around you. Besides, you can even take calls with the headset and enjoy HD audio calls, making the whole process more convenient because you no longer need to take your smartphone. With the 1-button remote control, you can play and pause music, browse tracks and find the beats you want to listen to.
Pros:
Great noise isolation
Comfortable to wear for long durations
Comes with many designs
Cons:
Requires AUX wire to establish connections
NewRice Bluetooth Headphones
This wireless Bluetooth headset uses 40 mm drivers that offer a frequency response from 20 Hz to 20 kHz and an extraordinary sound that resembles an orchestra in your head. To further enhance the experience, these headphones are passively sound-insulating, meaning they can block most sounds without using battery power. The battery can provide a playback time of up to 15 hours on a single charge. However, if you use the AUX, you can save the battery and enjoy music until your device loses power.
Best Over Ear Headphones Under $100
The Bluetooth headphones from NewRice provide stable and fast connections via the faster system, allowing you to connect directly to devices if they have previously made connections. Moreover, the ear cushions of the memory protein simulate the skin structure of the human being, ensuring long-term comfort. With the stainless steel slider and softly padded headband, you can find the perfect fit without feeling undue pressure. The foldable headband is not only comfortable but also foldable, which means that they are ideal for traveling because they occupy little or no space.
Pros:
Excellent passive noise isolation
Comfortable headband
Compact design
Cons:
Looks cheap
Water damage can significantly reduce the battery life
Mpow Thor
The Mpow Thor Bluetooth headphones can easily connect to smartphones, tablets, TVs, and other Bluetooth devices near the headphones. The foldable design makes it easy to store them while traveling or when they are not being used. Also, Mpow offers you a bag to place the headset in, so that it can not be scratched or damaged. Besides, the 40 mm lens opener and CSR chip combine faster transfer speeds and better overall audio quality.
Although powerful 40 mm drivers are used, the life of the battery can be up to 8 hours when the battery is fully charged. However, if you are no longer receiving power, you can connect the AUX cable to enjoy music until your device loses power. Moreover, the padding is super soft and comfortable to wear because it uses soft memory foam wrapped in protein leather. Also, the lightweight headphone design reduces pressure on your head and ears while maintaining a snug fit.
Pros:
Comfortable to wear
Lightweight, compact design
Retractable headband
Cons:
Mic quality is bad
Feels cheap in hand
FMLOVES Headphones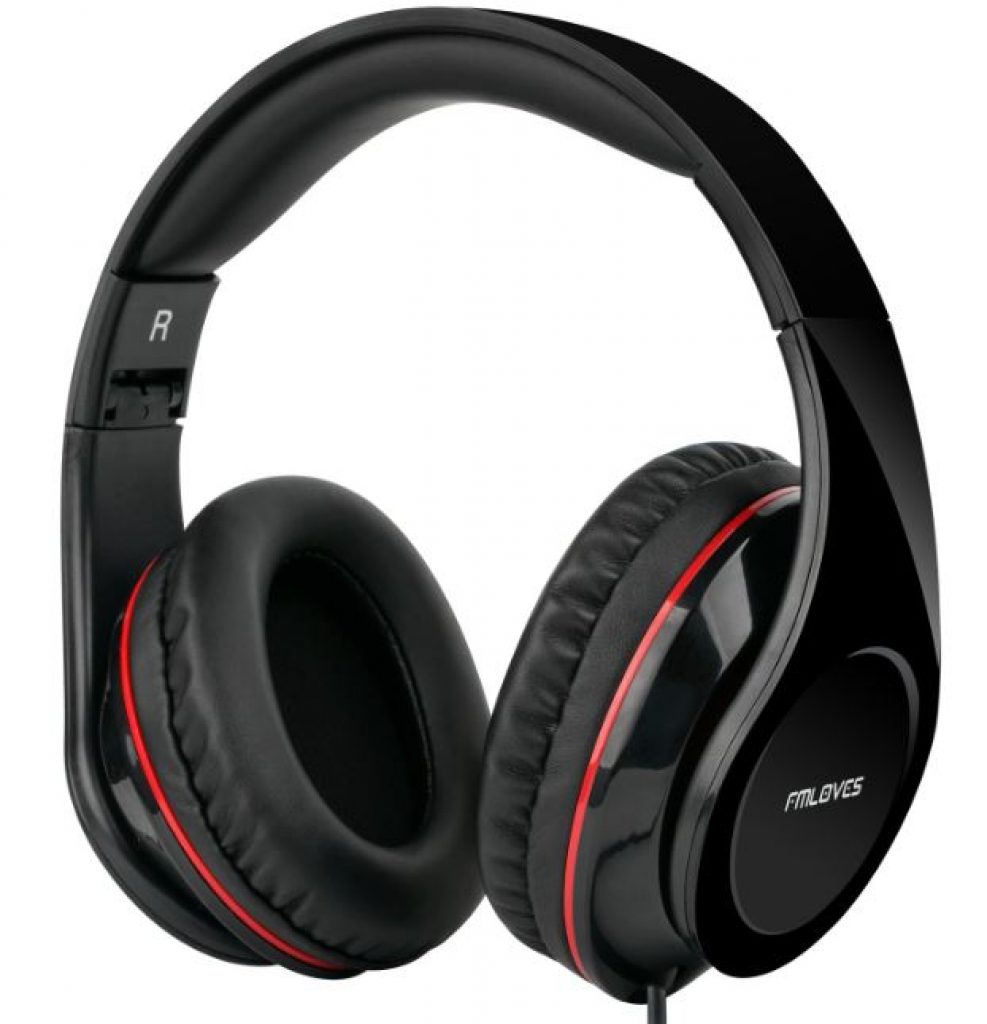 Active Noise Reduction in FMLOVES Over-ear headphones effectively eliminate up to 85% of background noise, so you can enjoy the music undisturbed. The noise reduction is ideal in loud environments such as offices, airports, and train stations. However, noise reduction can prevent you from hearing moving cars, trains, and other transports, so you should always keep up to date. Also, premium stereo drivers with a diameter of 40 mm provide a high-quality listening experience with rich bass, epic mid-tones, and crisp highs.
The super-soft, lightweight ear cushions are super comfortable and do not provide any tension after hours of wearing, making them ideal for long journeys, or watching TV. Besides, you can use the headset without draining the battery by connecting your device to the headphones with a cable. The included wire has a built-in microphone that allows you to make calls on the go without having to touch your smartphone. Also, you can use the same keypad to disconnect calls, play/pause music, and even skip beats.
Pros:
Noise-canceling
Comes with a cable cord
Sound quality is great
Cons:
Microphone quality is not good
Batteries are not durable
Barsone Hi-Fi Stereo Headphones
The active noise reduction in the Barsone headphones is designed to block surrounding distractions, allowing you to focus on music. However, if you walk in the street and want to hear what is happening around you, you can switch off the noise reduction, and you are therefore always safe. Also, the foldable ear cups can turn into a small, compact housing, making it easy to transport. The angle of 90 degrees with which you can fold them, also transfers them to mini speakers while still delivering high beats.
Thanks to the hi-fi stereo drivers, the sound quality is excellent when used as mini speakers. Besides, protein ear cushions offer more excellent durability and long-lasting comfort, which does not burden your ears with prolonged wear. The headset also has buttons on the sides that can be used to increase or decrease the volume. There is also a built-in microphone that allows you to make calls, making the whole procedure faster and hands-free.
Pros:
Noise-cancelling can be switched off
Long battery
Sound quality is excellent due to the drivers inside
Cons:
Microphone quality is not as good as other budget headphones
Noise cancelation doesn't block out all sounds
Nakeey Wireless Headphones
Nakeey has created an excellent budget headphone that uses 40 mm drivers that offers a wide frequency response of 20 Hz to 20k Hz, which allows you to hear even the deepest of bass. Moreover, the drivers provide excellent sound reproduction and have been tuned to go well with almost every genre of music. Besides, the playback duration of the headphones is excellent, lasting up to 6 hours per single charge and up to 10 hours of talking time.
Also, these headphones support TF cards and Micro SD cards up to 32 Gb. However, make sure that you are using MP3 files; otherwise the headphones cannot read the data. The incredibly soft memory protein ensures long-lasting comfort and makes them ideal for taking on the road. The stainless steel headband is padded softly to provide zero strain on the top of your head, while still being comfortable for long durations. Also, the snug fit seals your ears in tight, reducing the surround sounds, and the active noise cancelation further enhances the experience.
Pros:
Great noise cancelation
Can be used with Micro-SD cards and TF cards
High-quality audio that sounds lifelike
Cons:
Can't use SD or TF cards that are over 32 Gb
Noise cancelation doesn't block out all unnecessary sounds
August EP640
These Bluetooth headphones combine quality, convenience, and comfort in one package. It uses 12 mm ear cushions and an adjustable headband that offers superior comfort during prolonged wear. The connectivity technology used is Bluetooth version 4, which provides stable connections unless there are objects in the way of the transmitted waves. Moreover, you can use the remote control of the earpiece to browse your tracks much faster, so that you can quickly find the beats you want to listen to.
Inside is a built-in microphone that you can use to make hands-free HD audio calls. The microphone can also be used with software such as Skype and AOL, making it ideal for internet calling or PC gaming. Besides, the internal battery offers up to 10 hours of playback time between each charge, and the 3.5 mm AUX input allows you to listen to beats throughout the day without the need for a charger. In the box, you will receive headphones, a USB charging cable, a 3.5 mm audio cable, and a user manual.
Pros:
Feels nice in the hand
Can be used with a 3.5mm cable cord
Budget price
Cons:
Water can damage the drivers inside easily
Noise isolation doesn't block out all unnecessary sounds
Things To Know Before Buying Best Over Ear Headphones Under $50
Comfort
The comfort of over-ear headphones is exceptional and is one of the main attractions of the product. If you look at the convenience of a product, here are a few things to keep in mind before buying best over ear headphones under $50:
Size of the ear cup: the size of the ear cup determines how easily the ears fit in the ears. If it is too small, there is the problem that pressure is applied to the ear. Over time, this can cause some discomfort and possibly pain.
Weight: to reduce the load on your head, the weight of the headphones must be relatively low. Heavy and bulky headphones can be difficult to carry when you are outside. However, if you plan to use them at home most of the time, this is not a concern.
Material: Soft materials ensure that the headphones feel good on the skin. It is also logical if the materials are reliable so that they will not wear out after a few months of use.
Headband: the headband should be easily adjustable so that you can adjust the fit to the specific size of your head. The material must also be soft so that it feels comfortable on your head if you adjust it tightly.
Bluetooth
A Bluetooth connection is ideal if you want a portable solution for your audio. Nowadays, most smartphones have Bluetooth connectivity, which means that you can enjoy music and other audio products on the go without additional devices. The battery life of a Bluetooth-based headset should be considered, and you can assume that some last up to 20 hours. This means that you can travel all day and still have access to your audio. Keep in mind that the amount of battery life that you experience depends on the volume level you are listening to. The Bluetooth version is also important because an updated version offers an overall better experience. Version 4.0 and later should be searched, and this is usually in the product description on the purchase page.
Durability
It would be frustrating if the headphones were worn after a few months of use. That is why you have to pay attention to the material used and how well they have been implemented. Also, check the duration of the warranty period. An extended period indicates that the manufacturer has confidence in his product. The top brands usually produce the most sustainable design. However, when advanced technology is added, it can sometimes be counterproductive. This is because it has not yet been adequately tested and is wearing out faster than expected.
Noise Cancellation
To enjoy audio without being disturbed by the environment, you have to choose noise-canceling headphones. A design with over the ear allows noise reduction if the ear cups are adequately padded. Some headphones even have a function that will enable you to determine how much sound insulation you want to experience precisely. However, you will not find it in any of the budget products in this manual.
Microphone
Some headphones come with a microphone, which is useful if you want to use the product to play online or to call a few times. The quality of a headphone microphone is usually average at best, but you can use it without problems for phone calls. Moreover, there are often buttons on one of the earcups that you can use to control the experience, such as the volume of the microphone. A microphone can take the form of a boom that extends from the earcup or can be hidden in the earcup for a portable design.
Audio Quality
The audio quality of headphones can be excellent on the budget side of the scale nowadays, you just have to look for suitable options, and we have those in this buying guide. Here are some things to think about when it comes to the audio quality of best over ear headphones under $50:
Bass: The sound at low frequencies determines the quality of the bass. Bass is excellent for those who want impactful music – if you're of the type that loves rock and dance music, consider strongly to use this feature. Besides, the bass can be bad at louder volume levels in budget designs. Do not expect any bass that can blow you away in this price range.
Audio drivers: In the earcups, you will find the audio drivers that are responsible for making the sounds. Some of the headphones on this list have very competitive drivers that can compete with considerably more expensive products.
Frequency response: The clarity and range of the details that can be heard depending on the frequency response. It is a value measured in Hertz, and the human ears are limited to 20 Hz to 20 kHz.
Best Over Ear Headphones Under $50 Comparison Table
Best Over Ear Headphones Under $50
Headphone Name
Wireless
Noise Isolation
August EP650
Yes
Yes
Mpow 059
Yes
Yes
Audio-Technica ATH-M20x
No
Yes
Skullcandy Crusher
No
Yes
NewRice Bluetooth Headphones
Yes
Yes
Mpow Thor
Yes
Yes
FMLOVES Headphones
Yes
Yes
Barsone Hi-Fi Stereo Headphones
Yes
Yes
Nakeey Wireless Headphones
Yes
Yes
August EP640
Yes
Yes