Hello everyone, today I am here with a simple and cool trick that is How to set two-step authentication on windows PC. Yes, this is possible without login screen and another security can be set to your windows which make you logging style very cool with two-step authentication.
With this method you need your smartphone to unlock your computer after logging in into your windows login screen and for that you have to connect your smartphone with your PC to identify the right authentication to PC to unlock it.
Step 1. First of all download and install the Rohos Logon Key Software in your device which you want to pair out with a smartphone.
Step 2. Now you will see a screen like below.
Step 3. Now there click on Options there and set the settings as shown below.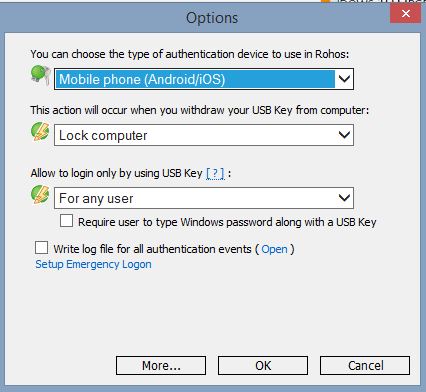 Step 4. After choose all the options click on OK.
Step 5. Now click on setup a key and the select the QR code method to verify your key the re.
Step 6. Now download the mobile app from the above link and scan the QR code.
Step 7. That's it! Now every time after unlocking from windows screen you will need your smart device to unlock the second authentication process.
So above is all about How to set two-step authentication on windows PC. I I hope you like it so please don't forget to share this post with others.
Read more: The best free WordPress SEO plugin
//BUT, WAIT…THERE'S PROBABLY MORE SIMPLE TIPS & TRICKS SO BE SURE TO FOLLOW US ON TWITTER  & GOOGLE+ or LIKE OUR FAN PAGE FACEBOOK.