A virtual private network (or VPN) is an easy way to improve your privacy online. Kaspersky Secure Connection carries one of the most recognizable names in the industry and offers customers a simple and affordable VPN. It's a bare-bones offering with few server locations, but Kaspersky users and anyone looking for a cheap VPN are likely to be satisfied. However, one of the reasons for this may be that there is not much to discuss. This is our Kaspersky Secure Connection VPN review.
Privacy and logging
It is always tricky to know whether you should trust a VPN provider with your privacy. This is especially true for Kaspersky after the U.S. government announced it would ban the use of Kaspersky software on sensitive government systems (Pentagon, GSA, NASA).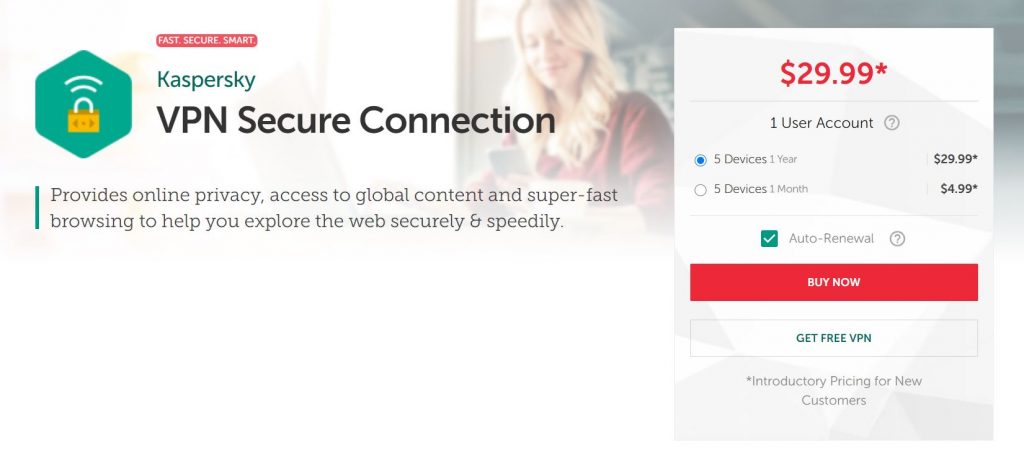 However, we have not yet seen evidence that Kaspersky has done anything wrong, and the main concern seems to be Kaspersky's antivirus software. Kaspersky Secure Connection does not have the same kind of file access, nor does it control the underlying VPN network: it is powered by California-based Hotspot Shield.
Need to worry? We can't say for sure, but since there are still no malpractices on Kaspersky's part, we won't allow these issues to affect our assessment. We are more interested in Kaspersky's logging policy. Even the website barely mentions the problem outside of a single line on the front page: "Kaspersky Secure Connection doesn't track what you do online and doesn't track which websites you visit.
That sounds definitive, but it's not the whole story. Hotspot Shield's Privacy Policy clarifies that while it does not keep track of where you go online, the service does save a lot of information about your connection sessions. For example, the product records the duration of VPN sessions, the bandwidth used, your estimated geographical location, data about your ISP or carrier, and a unique ID for the device, making it possible to build up a usage pattern over time.
Kaspersky Secure Connection VPN review: Performance
The Kaspersky website sells Secure Connection more in terms of privacy and security than any other site or service. There is a rule that explains that it "gives you access to more sites and content," but there is no mention of Netflix or any other site that you would particularly like to view. This silence didn't give us confidence, but Secure Connection did reasonably well in our tests because it failed with Amazon and Disney+ but gave us access to BBC iPlayer and US Netflix content.
Download speeds were acceptable virtually anywhere, with the service hitting 60-65Mbps of our 75Mbps UK connection and 40-50Mbps when connecting the UK to the US. Even the most remote locations did well, with speeds between the UK and Brazil, for example, reaching a creditable 25-30Mbps.
We reran our tests from a European data center with a 350Mbps+ connection to get a better feel for top speed, and the results were better than many others with a capable 110-120Mbps. The service also scored on our latest privacy tests, with multiple sites confirming that our customers had no DNS or WebRTC leaks.
Kaspersky Secure Connection VPN review: Pricing and plans
Kaspersky Secure Connection has a minimal free plan where you cannot choose your location and is limited to 200MB of traffic per day (300MB if you register or already have a My Kaspersky account). This is not as bad as it sounds. Even that 200MB per day translates to about 6GB per month without providing any personal data. But such a low daily limit means that you will have a hard time if you want to download or stream a lot, and if you are willing to provide your email address, there are better options (Windscribe's free account gives you 2GB per month, but rises to 10GB when you register).
Fortunately, the image improves significantly if you sign up for a paid monthly account. This gives you unlimited use of data, full access to all locations, and support for up to five simultaneous connections, all for the low price of $4.99. Buying a monthly account directly from Hotspot Shield costs $12.99.
Pay for one year in advance – a card or PayPal supported – and the price drops to an effective $1.67 per month. That's a fraction of what you pay if you go directly to Hotspot Shield, where the annual plan costs a hefty $7.99 per month. Hotspot Shield customers have more power and features, but Kaspersky Secure Connection gives you access to some of the same locations and all the same performance for a fraction of the price.
Kaspersky Secure Connection VPN review: Final words
Kaspersky Secure Connection has a lot to offer in terms of brand awareness alone. It stands on its own well enough with an attractive price tag and a par-for-the-course free version. It repackages an already strong product in Hotspot Shield but offers less than the original supplier. It has fewer server locations, no advanced features to help it stand out from the competition, and significantly worse speed test scores than Hotspot Shield.
As such, Kaspersky Secure Connection is a barefoot product at a bargain price. That can be nice if you're already in the Kaspersky ecosystem or need an inexpensive VPN right away.
Our Verdict
Kaspersky's offering is fast and of good value, if you only need the basic VPN rules, but power users will be frustrated by the lack of features.
PROS
Consistently good speeds
Low prices
Unblocks Netflix, iPlayer
Easy to use
CONS
Only 18 locations
Some session logging
Minimal features
Didn't unblock BBC iPlayer