OneOdio has been popular on Amazon for a few years now, with a wide range of headphones, all of which are incredibly affordable. They are all generally rated excellent on Amazon, but you never know how accurate that is. Meet the OneOdio A30 wireless headphones, which come with hybrid ANC and dual-connectivity modes. This is a sibling to the A70, part of the OneOdio's same A series of wireless headphones.
$60.99
$69.99
in stock
2 new from $60.99
3 used from $48.99
as of December 6, 2021 10:38 am
Last updated on December 6, 2021 10:38 am
The A30 is a wireless Bluetooth headphone with active noise cancellation. These headphones have a budget price of 69.99. Let's check what these headphones offer us in our OneOdio A30 review.
Gallery
Design
The OneOdio A30 Bluetooth headphones are big, black, and tough, a profound fashion statement. In simple words, this is a matter of function and form. The ear cups are made to cover your entire ear, making contact with your head from your jaw to the side of your skull. The result is a wide, flat set of ear cups. But OneOdio leans away from this design, with a headband that is wider and flatter than necessary. This accentuates the wide ear cups and creates a unique, fashionable design.
The physical design of the A30 is not unlike that of most wireless headphones in this price range. It is made of hardened plastic and has no color variation other than black. Aesthetically, it doesn't stand out from most other wireless headphones, but that doesn't mean the overall build quality is lacking. I'm surprised by the consistency of the construction.
It's simple and perhaps a little unoriginal, but it's lightweight and fully rotatable, so you can easily rest it on your shoulders. They do this without noise or twist, just a smooth and generally solid construction, which is all you need from a budget headphone like this. The leather headband and ear cups have a snug fit that provides a firm grip on your head, while soft cushioning provides comfort that never feels too tight.
Controls
Controls are present on the left and right earcups. On the left side, you will find the power button and a pair of volume buttons. These buttons also double as the hands-free calling, so they have different functions. You will also find the 3.5mm aux port for making a wired connection in this ear cup. The right earcup has the USB Type-C charging port and the active noise cancellation (ANC) switch. Be careful with this switch.
If you leave it on, the noise cancellation remains active even when the power button is turned off. That's fine if you want to take a nap. But if you put your headphones down and leave the switch on, your battery will drain further.
Along with the headphones themselves, you also get the accessories you need for operation. There is a USB Type-C charging cable, along with a charging adapter, which is a nice touch. Another excellent addition is the two-pin in-flight plug adapter. Combined with the 3.5mm aux cable, it lets you connect to airplane seats for in-flight entertainment. A drawstring pouch completes the package. It's not scratch-resistant, let alone crush-resistant, but at least it keeps all your stuff together.
Connectivity
The A30 headphones connect via the latest Bluetooth 5.0. This is a significant upgrade over Bluetooth 4.2 and is the current wireless standard. Among other improvements, it provides audio with lower latency. The audio will not lag behind the video in plain English when watching movies or playing video games. It also provides a more stable signal, reducing the chance of random disconnections. Finally, you can listen to music at a higher bit rate. This means you can experience all the benefits of your high-definition music library.
Alternatively, you can use these headphones wired. Also, you don't have to worry about your batteries since they won't run out. In theory, you can always use the A30 headphones in this mode and never charge them. However, you will need batteries if you want to use the controls on the headphones. More so, power is required for the ANC function. So for practical purposes, Bluetooth mode will generally be preferred.
Active Noise Cancellation (ANC)
One of the best features of the OneOdio A30 is its ANC. This system uses external microphones to detect ambient noise. Internal circuitry and speakers then eliminate that noise, so you only hear your music. The ANC feature is only marginally effective. It eliminates traffic, motorcycles, crowds, and other background noise, but they are still noticeable. It is equally effective when your music is off. If you want to take a nap on an airplane, you can mute the engine noise without needing music. But they will still be noticeable, at least to some extent.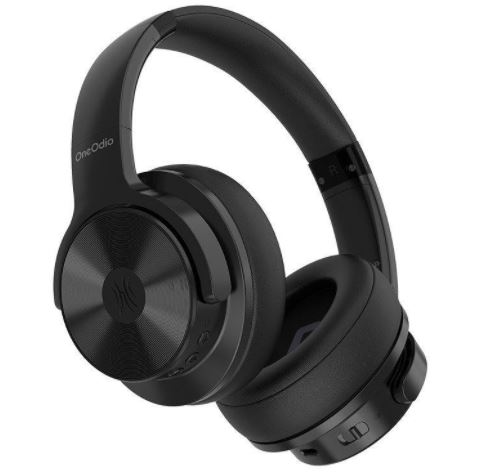 In addition to ANC, the A30 headphones also offer CVC 8.0 voice isolation for phone calls. This works similarly to noise cancellation but does not affect what you hear. Instead, the CVC circuitry focuses on your voice and eliminates background noise. It is designed to make it comfortable for the other person to listen to you during a conversation. However, this only affects your side of the conversation. If the other person uses a cheap headset, you will still have problems.
Audio performance
The OneOdio A30 are headphones with very, very powerful bass. Equipped with 40mm drivers, the highs and mids are not as clear, as they sound a bit muffled by the lows. But when you turn on ANC, the treble is boosted a bit, making for better audio performance. The headphones sound great with pop and EDM music but not so great with acoustic and instrumental. Sound isolation is decent at best, and specific frequencies drown out others. For listening to general music, the A30 is an excellent choice because you can feel the bass.
In addition to a clear, rich sound, you also get a wide soundstage. This is separate from the frequency response and refers to the sense of space you get while listening. With a wide soundstage, it feels like you are in an actual room with real music. In contrast, many affordable headphones have a more condensed sound. Even if you can hear everything, it sounds like it's compressed into one center channel. That's not the case here.
Battery life
As with most ANC headphones, the A30's battery life depends on use. This is because the ANC chipset and microphones consume a lot of power on their own. If you use the headphones purely, you can expect up to 25 hours of playback time. This assumes playback at medium volume, so your experience may vary. But even if you set the volume too high, you're still well over 20 hours. This drops to about 15 to 18 hours with ANC active, which is still pretty good for a single charge. When ANC alone is on, the battery lasts a whopping 45 hours. Any way you look at it, that's pretty impressive.
Charging the headphones is quick, easy, and straightforward. Plug it into a power source, and it's fully charged in about two hours. What's more, they can also be charged quickly. Plug in an empty pair, and within five minutes, they have enough power for two hours of listening.
Final words
I've used quite a few wireless headphones in this price range, such as those from Cowin and Audio-Technica. OneOdio has created one of the more consistently enjoyable headphones in this area, with its timbral clarity, good imaging in its sound signature, and solid build quality. It can get a little warm after a while, but I still appreciate the comfort. If you're just getting started with wireless ANC headphones, the OneOdio A30 is the perfect place to start.
Features And Specs
Active Noise Canceling – effectively reduce 90% of stable low frequency background noise in noisy environments such as airplanes, subways, cars, offices, factories, crowds, etc. ANC works well in both wired and wireless mode.
Bluetooth 5.0 – integrated QCC3003 Bluetooth chip allows lower latency, more stable connection with all Bluetooth devices and faster data transfer speed.
Hybrid Wired/Wireless Modes – equipped with a dual, high-resolution 40mm HD audio driver as well as 360° omnidirectional.
Quick Charge & 25 Hours Wireless Battery Life – with one full charge you get 25 hours of wireless music time (only Bluetooth on).
Built-In Microphone – A30 headphones utilize Qualcomm's cVc 8.0 technology for ultra-clear calls.
Advanced Technology for Premium Sound – using 40mm speaker drivers, OneOdio A30 offers you exceptional clarity for an enhanced listening experience.
Clear Calls and Voice Assistant – over-ear control buttons give ultimate convenience when you want to change volume, tracks, or answer.
Bluetooth Version: V5.0
Battery Capacity: 3.7V/500mAH
Bluetooth Chipset: QCC3003
Noise Reduction Depth: 26±3dB
Charging Time: About 2.5 hours
Using Time 1: 15 hours (ANC+BT)
Using Time 2: 25 hours (BT Only)
Using Time 3: 45 hours (ANC Only)
Bluetooth Profile: HFP/HSP/A2DP/AVRCP
Bluetooth Range: 10m/33ft
Sensitivity: 100±3dB
Impedance: 32Ω
Driver Diameter: 40mm
Frequency Response: 20Hz-20kHz