VPNTunnel is a Seychelles-based provider of anonymous services that, while not offering as many servers as some of its competitors, manages to perform exceptionally well. If you are using a Mac device, you won't find it very user friendly because you have to install third-party software and set up VPNTunnel's servers manually, but once it is up and running, it will show you everything it can do. Although this VPN service is pretty good, even better, and more user-friendly, VPN providers can be discovered among the best VPN services. This is our VPNTunnel review.
VPNTunnel Review: Privacy and logging
VPNTunnel supports a wide range of protocols and combinations, including OpenVPN, PPTP, WireGuard, L2TP, IPsec, and Stunnel+OpenVPN. You will be able to share large files via P2P and torrenting clients securely; as it says itself, "P2P is enabled in many locations (as much as we can) – your peering activity will not be followed by private or government agencies".
The company states that it will never ask you for personal information, nor will it ever "track online activity logs or store private information about individual user activities on our network." It also adds that it never "records IP addresses, times, or other details such as that." This always applies to our servers in Sweden.

When we read this, we began to wonder why the policy only mentions Sweden as it goes further: "With respect to our servers in Sweden and other countries where we do not keep traffic logs, it is impossible to provide details that could, for example, connect a specific user to a particular activity at a particular time, for the simple reason that we do not store this data. In other words, it is not an issue that we should consider when making such a request.
Things become a bit clearer (and a bit alarming) in additional text: "For countries where logbooks need to be kept, we will only provide information when required by law."
So logbooks are indeed kept for those countries where the law requires it, even though the VPNT tunnel is located in the Seychelles, which is all a bit odd. More things are buried deeper into VPNTunnel's privacy policy, which states that if a third party acquires VPNTunnel, users' personal information will be released to that third party, opening up several loopholes for anyone willing to exploit it.
VPNTunnel review: Performance
The website states that VPNTunnel's servers are connected to a 10Gbps uplink and that the company is continually adding the latest hardware to ensure that the network is never overloaded. This should guarantee excellent speeds and our tests yielded satisfactory results.
Specifically, we first let the app randomly connect us to "Any Country," and it chose Japan. Despite the distance, we were not disappointed by the download speeds, which averaged 35Mbps on our 45Mbps test connection. The results were even better when we connected to a server in the Czech Republic at 39Mbps. However, a server in New Jersey, USA, marked as ideal for Netflix, performed slightly worse (but still better than some) – 18Mbps.
VPNTunnel review: Pricing and plans
This seller's services are available through three subscription lengths – 1-month at $9.99/month, 3-month at $6.66/month (billed $19.98 every 3 months), and 12-month at $2.99/month (billed $35.88 annually).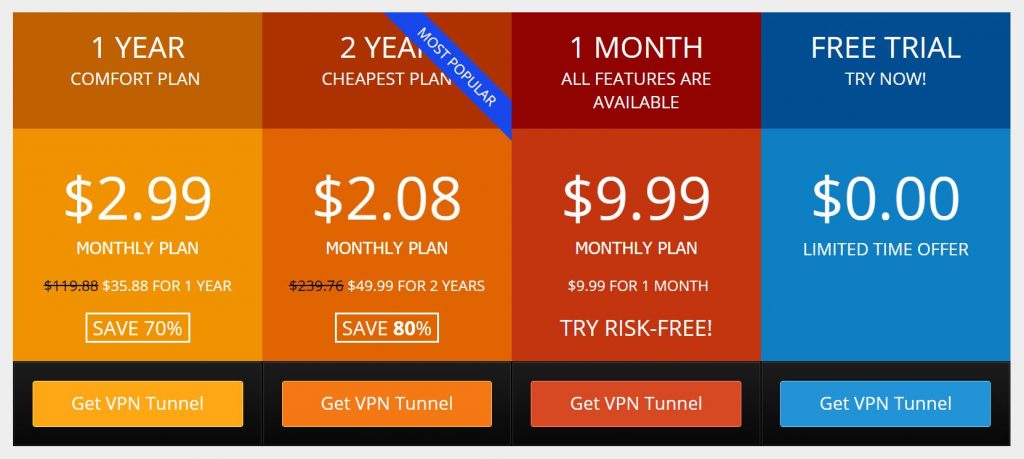 The annual package is on the cheaper side of the industry, although there are certainly less expensive VPNs. Accepted payment methods include credit cards (Visa, Mastercard, American Express, Discover, Diners Club), Mint, Sofort, PayPal, GlobalPayments, WebMoney, Perfect Money, as well as for cryptocurrencies such as Bitcoin, Ethereum, Litecoin, Monero, and many more, if you prefer to remain anonymous while paying. There is no free trial period, but there is a 7-day money-back guarantee.
Final words
VPNTunnel review does what it's supposed to do – hide your identity online, unblock Netflix and BBC iPlayer and allow safe turning. However, it only has about 150 servers, the customer support seems a bit sloppy, and the privacy policy has a few loopholes. Given these loopholes, a market leader like ExpressVPN could be a better choice, especially since its privacy policy is relatively straightforward and transparent, there is no room for different interpretations, and customer support is available at all times within seconds.
Our Verdict
VPNTunnel provides perfect privacy online, access to torrenting, and popular streaming channels, but has a limited server network, customer support is slow to respond, and the privacy policy leaves room for potential exploitation.
PROS
Unblocks Netflix and BBC iPlayer
Wide platform support
Accepts cryptocurrencies
CONS
A low number of servers
Loopholes in the privacy policy
No Mac client