The Best Noise Isolating Earbuds allow you to drown out the sound of the environment around you so you can hear the music with greater clarity. In previous years this function was usually found in premium-priced models, but nowadays it can even be found in the budget models. With so many options that you have, are you not sure which specific earbuds to buy? In this buying guide, we share the earbuds with top noise isolation that you should buy. With this, you can buy the noise-isolating earbuds that suit your budget. There is no need to spend time researching the different products on the market because we have done the work for you.
Best Noise Isolating Earbuds List
Earbuds come with many different functions, highlights, specifications and general types of "technology", and for today we wanted to concentrate on a specific type of function, the Best Noise-Isolating Earbuds. But what does it actually mean? Quite literally, noise-isolation (away from our ears as well as others, that is) is important for many reasons and use – whether you are in the library and need some privacy from those who listen to what you hear, or the opposite such as in the public bus to prevent annoying ambient noise in the outside world, does not affect your grooves, there are feasible solutions that can do the job.
Bose QuietComfort 20
If you are looking for a noise-isolating earbud, look no further, because Bose has made the ideal product. The Bose QuietComfort 20 not only isolates the noise but also reduces the background noise around you. The Stay Hear + tips also let you sink into your music and enjoy every beat in HD audio. In addition, the headset has an Aware mode, which allows you to completely disable or deactivate the noise isolation so that you can hear your surroundings.
The exclusive TriPort technology and active EQ provide almost lifelike audio quality. What's even more impressive is the built-in button, which is designed to work for all Apple and Android devices. With the keypad, you can skip, pause and play music without having to touch your device. Also, the advanced earbuds have the shape of a cone to better fit the inside of the ear, because of this feature, the ends completely close the ear canal, which contributes to the noise cancellation. Currently, this is the best noise isolating earbud that you can buy.
$249.00
in stock
9 used from $140.00
Last updated on October 20, 2021 3:15 pm ⓘ
Shure SE846-CL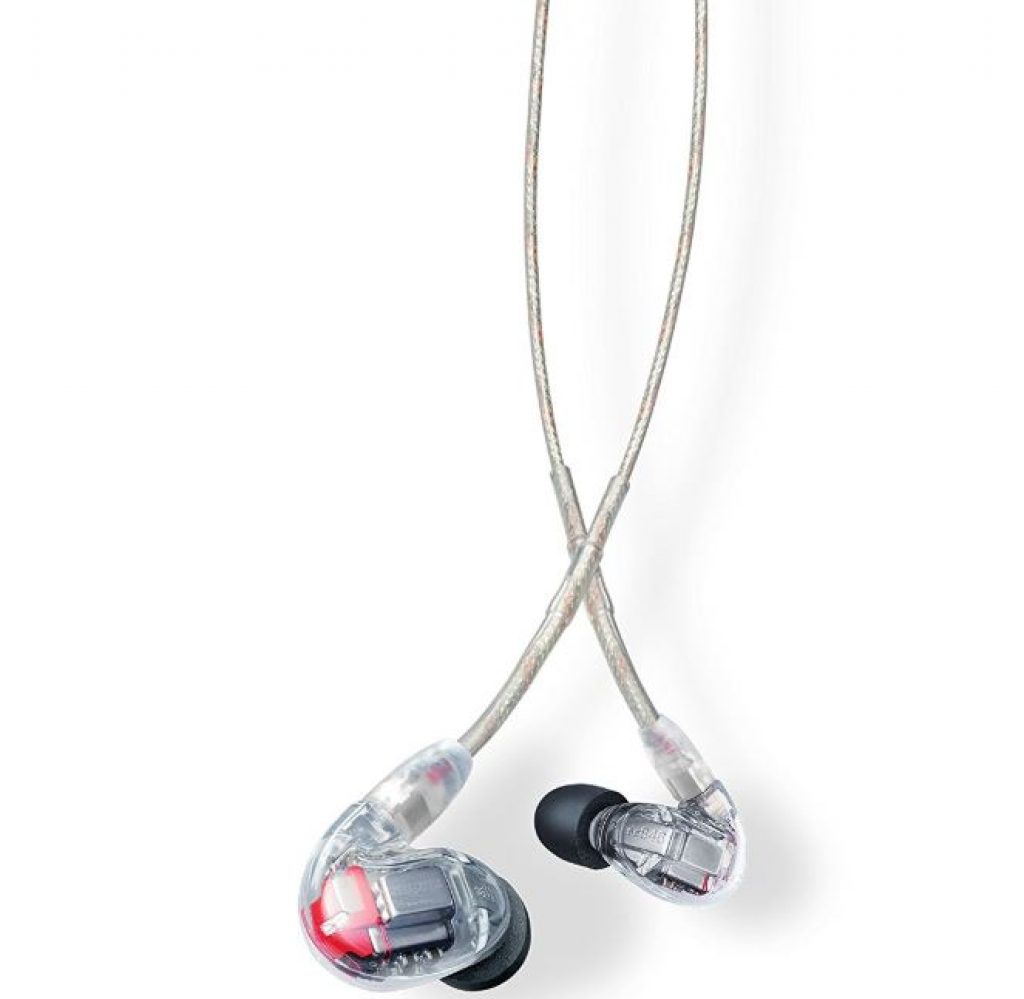 The Shure SE846-CL are expensive audiophile earphones with a visually transparent design. There has been a lot of thought about the specifications of these Shure earbuds, but for the high price, you have to decide if enough is offered to become enthusiastic. Four HD drivers have been implemented with a groundbreaking low-pass filter for true subwoofer performance. That's why the bass is great and most music genres will really come alive, depending on bass-based performance.
Noise isolation is also implemented that excludes environmental noise up to 37 decibels. This significantly improves the clarity of the sound in noisy environments such as train and bus stations. However, you should use the correct earbuds to ensure that the fit promotes noise isolation. Thanks to the detachable cable system you can have universal connectivity because you can use USB-C, 3.5 mm, Lightning and Bluetooth. This is somewhat future-proofing of the earbuds because in the future you can buy cables that use a new connectivity standard.
Bluetooth 4.1 connectivity is available with the wireless version that allows a battery life of 8 hours. The range is also 30 feet, but this gets worse if there are obstacles in the way. Using the Shure SE846-CL earbuds in wireless mode is useful when you are out and about. Overall, this is one of the best noise isolating earbuds to buy right now.
$899.00
$1,124.00
in stock
10 new from $895.01
5 used from $649.44
Last updated on October 20, 2021 3:15 pm ⓘ
COWIN HE8D
The COWIN HE8D uses sensors to detect the volume level of your music and uses that information to reduce or increase noise isolation. In this way, the earbuds provide stable, high-quality music without any interference. The connectivity technology is also wireless, making these earbuds practical and easy to use when on the move. Moreover, the earbuds are made of soft synthetic leather, which gives a luxurious look when worn. The headphones are designed to fit your ears for a long time.
They are also made to be lightweight so that the earbuds will not put the strain on the ears after wearing them for a long time. In addition, the COWIN HE8D active noise-isolating Bluetooth earphones are waterproof and sweat-resistant, making it a great product for outdoor activities. The protection used is the Liquipel Nano coating, which has been tested in the laboratory as one of the best materials to prevent water damage. All-in-all, this is one of the best noise-isolating earbuds to buy.
Last updated on October 20, 2021 3:15 pm ⓘ
ISOtunes PRO
Earbuds from ISOtunes Pro are ANSI-certified and feature one of the best noise-isolating technologies, with noise cancellation at 27 dB. The Bluetooth hearing protector is made for loud environments or when you want to disconnect from the world and dive into your music. In addition, the earbuds are fully compatible with OSHA for use in the workplace. Moreover, the battery life of these wireless earbuds is amazing with music playback for 10 hours and 240 hours of standby time.
ISOtunes incorporates their SafeSound technology, which allows users to listen to music for the entire duration of the battery without damaging the ears. The connection technology used is Bluetooth 4.1 and EDR. This means that the earbuds can stream HD audio without interruption. In addition, noise isolation eliminates any background noise, allowing you to make clear, sounding phone calls in busy areas. Not only are the earbuds noise-proof, but also water- and sweat-resistant with a rating of IPX4. Overall, this is one of the best noise-isolating earbuds that you can buy.
$89.99
$99.99
in stock
2 new from $89.99
Last updated on October 20, 2021 3:15 pm ⓘ
RHA MA750i
The RHA MA750i noise isolating earbuds are made of sturdy stainless steel and therefore these earbuds are durable and durable. Each driver is shaped to have an Aerophonic shape to deliver sonic performance, and due to the geometry of the earbud, the noise isolation is absolutely stunning. RHA offers six sets of density tips for a comfortable and noise-isolating feeling. The outer layers of the earbuds are made of softer materials to comfort the ears and also block outside sounds. In addition, the RHA MA750i comes with two sets of double-flanged earpieces and two sets of memory foam earbuds, allowing you to choose which materials are most comfortable for you.
In addition, the design that fits over the ear is comfortable and prevents the earbuds from falling. Even when it is worn at the right angle, it can help to deliver noise isolation more effectively. The 1.35 m reinforced cable allows crystal clear transmissions from the device to earbud without interruptions. The earbuds also have oxygen-free copper cores and stainless steel through the cable, which means that the wire will be durable, long-lasting and flexible. Overall, this is one of the best noise isolating earbuds that you can buy right now.
Last updated on October 20, 2021 3:15 pm ⓘ
Etymotic Research MC3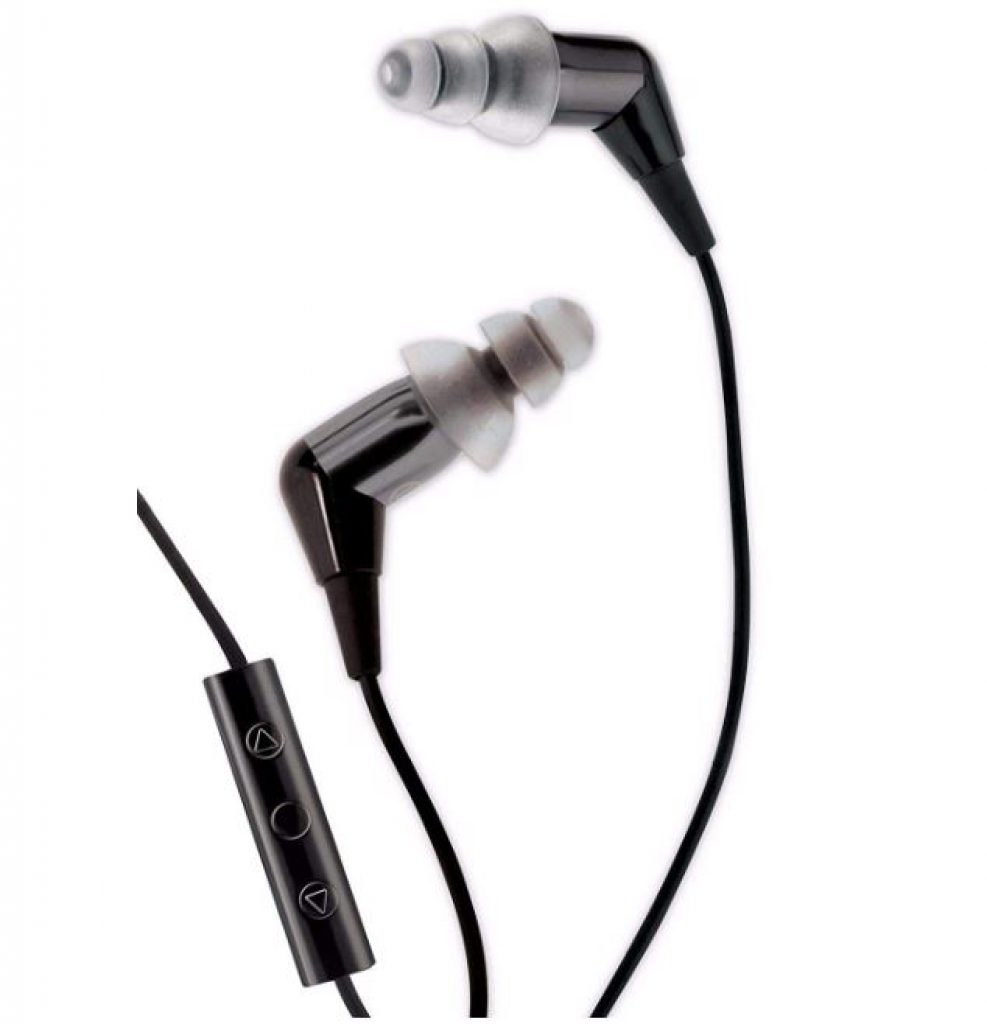 These are one of the best noise-isolating earbuds with noise cancellation from 35 dB to 42 dB and a maximum output of 120 dB. The earbuds produce a tight bass sound with clear mid-tones, not to mention sharp highs, creating an HD stereo experience. The slim and stylish neodymium drivers of 8 mm distribute the energy efficiently, thought the earbuds, which enable the drivers to play music at an incredibly high level. In addition, the Etymotic Research MC3 comes with a built-in microphone that allows you to answer calls on the go.
The three buttons on the pad can also be used to skip the melody, pause and play music. The reinforced 4-foot cable is made of high-quality materials and guarantees a long-lasting product. Also, the 3.5 mm stereo jack is compatible with almost all products, which means that these earbuds can be used universally. In the package, you will receive an assortment of earbuds to ensure a perfect fit, plus a carrying bag to keep the earphones safe when not in use. In addition, the earbuds have a high gloss and a polished anodized aluminum finish, making the product looks stylish and premium.
$70.39
$79.95
in stock
7 new from $69.99
3 used from $64.99
Last updated on October 20, 2021 3:15 pm ⓘ
Meidong Bluetooth Earbuds
Unlike most wireless earbuds, the Meidong noise isolating earbuds can be charged via OTG magnetic charging. This means that you can use any electronic device with a USB interface to charge it, such as a laptop, desktop computers, power banks, and smartphones. A full battery earbud consumes only 3% battery of the latest generation of smartphones. The earbuds have one of the best built-in chipsets with noise isolation, reducing environmental noise with a simple click of a button. The active noise isolation, Bluetooth 4.1 and aptx technology together form one of the best sounding melodies with stable highs and low-cut basses.
What is even more impressive with these earbuds, is the light construction – the earbuds are no bigger than 15 grams, which means you will not even feel them in your ears. Moreover, the ergonomic ear wings are designed to sit perfectly on your ears, ensuring a safe and comfortable fit. The soft, angular silicone earbuds come in three different sizes to ensure a perfect fit. Moreover, the earbuds remain firmly in place when moving or intensively moving, making it a great product for walkers, runners and also travelers. Overall, this is one of the best noise isolating earbuds on the market.
Last updated on October 20, 2021 3:15 pm ⓘ
MEE Audio Sport-Fi M6
The MEE audio Sport-Fi M6 is one of the best noise-isolating earbuds that come with a secure over-ear-fit and memory wire. The design of the product ensures that the earbuds can sit firmly in your ear without almost any change, and because of this design the earbud isolates all unnecessary noises from the outside. Moreover, these earbuds will not burden your ears after prolonged wearing, thanks to the patented ergonomic design of the earphones. The noise isolation also offers better bass, because it does not interrupt background noise for your experience.
The MEE audio Sport-Fi M6 is also certified with a sweat-resistant and watertight classification of IPX5. In addition, the earbuds come with a carrying bag and six sets of earbuds, which ensure a guaranteed fit for your ears. The earbuds also have a clip attachment that can be used to manage the cable so that it does not get in the way, making it a great product for runners. In addition, you will receive a 1-year free warranty when you purchase this product.
$49.99
in stock
5 new from $49.99
8 used from $32.43
Last updated on October 20, 2021 3:15 pm ⓘ
TaoTronics Lightweight Sports Earbuds
Another great pair of wireless noise-isolating earbuds is the TaoTronics lightweight noise-isolating earbuds. The aptX and Bluetooth connectivity ensure a stable connection at all times and eliminate all background noise. In addition, the noise isolation is excellent, reducing all unnecessary noises, allowing you to immerse yourself in the beats. Also, the earbuds are built with a splashproof Nano coating, so the earbuds are not affected by sweat or light rain. In addition, the earbuds are certified with a waterproof and sweat-resistant classification of IPX6.
Once you have finished using the earbuds, you can join the ends around your neck with the magnets, which is a safe way to take them with you. Moreover, the battery life is great with a travel time of 8 hours and 6 hours. The earbuds come with 4 pairs of interchangeable stands and sports ear hooks that offer a safe and simple fit. In addition, the built-in microphone has noise cancellation because it uses CVC 6.0 technology.
Last updated on October 20, 2021 3:15 pm ⓘ
ISOtunes Noise Isolating Earbuds
The ISOtunes Noise Isolating Earbuds are today one of the first tested and ANSI-certified sound isolating earbuds. The noise isolation is about 26 dB and they are great to use in loud situations – for example in large crowds, when mowing the garden or while working. The earbud connectivity is wireless, which means that they are also ideal for training. The sound is superior compared to other noise isolating earbuds due to the connection technology (Bluetooth 4.1) and the drivers used (8 mm).
Both functions have a combination of amazing, lifelike tunes with clear bass and elegant treble. Moreover, the earbuds are sweat- and water-resistant with a rating of IPX3. In addition, the ISOtunes Noise Isolating Earbuds includes a built-in microphone that you can use to take calls while on the move. However, unlike most microphones, it uses active noise isolation technology so that you have clear audio without background noise.
Last updated on October 20, 2021 3:15 pm ⓘ
Things To Consider Before Buying the Best Noise-Isolating Earbuds
Noise Isolation – One of the more desirable features in earbuds is noise isolation because of the advantages this entails. You can walk through a busy street or sit with your family in the living room and not hear the surroundings around you. That is why you can immerse yourself in the audio experience you are trying to have. It can be frustrating when background noise leaks in and reduces the clarity of the music. However, you must bear in mind that noise isolation can sometimes be dangerous. For example, if you are driving, you must hear the ambient noise around you to avoid the dangers of the road. This also applies when you cycle through a busy city with cars and people around you.
Comfort – Another important feature is the comfort of the best noise-isolating earbuds. Most noise-isolating earbuds have a design in the ear so that background noise can easily be reduced or completely eliminated. However, this means that the fit is safe and that the amount of movement of the earbuds is kept to a minimum while you are active. The comfort can be improved when a large number of earcups of different sizes are provided. Some companies also take an extra step to include ear tips with 2 different types of material. This allows you to select the earbud that has the right fit and you also feel the most comfortable.
Wireless capabilities – Due to improvements in Bluetooth technology and battery life, the earbud market is popular in the direction of wireless options. Nowadays you can expect a battery life of up to 10 hours that is reliable and provides sufficient power for the whole day. There are even models that offer a short battery life. The great advantage of a wireless setup is that you do not have to deal with hiding a wire. This means that the freedom of movement has been improved and that wireless earbuds are suitable for physical exercise.
Sweatproof – Are you going to use earbuds for outdoors or during exercise? Then you should look for a watertight assessment that indicates that the earbuds can handle a decent level of moisture before they break. During exercise, sweat formation can give the electronics of the product problems if the design is not watertight. In addition, most sweat-resistant designs are resistant to light rain, which means that you can walk with peace of mind during bad weather and do not have to worry about breaking the earbuds.