TigerVPN review: TigerVPN is an impressive Slovak VPN service with several attractive features and functions. For example, the company offers 300+ P2P friendly servers in 62 locations in 43 countries. There are much larger networks nearby (ExpressVPN, NordVPN, etc.), but TigerVPN says it has its hardware, DNS servers, and infrastructure and encrypts everything itself. The company offers separate iOS, Android, Windows, and Mac apps, making it easy to get started. And OpenVPN compatibility allows you to set up the service with other customers and on other platforms. Here is our TigerVPN review.
Privacy and logging
Looking at TigerVPN's list of features and its vision on user monitoring seem very clear: 'Protecting our customers is our most important task. That's why TigerVPN does not store activity logs anywhere – period. The small print is not that simple. The company does not collect or log the sites you visit or the content of the traffic you upload or download, but it does record some sessions and other details. Here is the complete list, taken from the Privacy Policy:
VPN protocol and version
Operating system
App version
Traffic statistics
Randomized country statistics
Connection session (server location)
Favorite servers
Debug information
TigerVPN points out that all of this cannot be linked to a particular Internet action individually, so the meaning of this data is limited. It is unusual for a VPN to store your favorite locations centrally. Still, there is a good reason for this because it allows you to synchronize favorites with all your devices (e.g., set a location on your iPhone, and it will be immediately available on your PC). This is a neat feature that we would like to see available more often.
Like most small providers, TigerVPN hasn't allowed itself to perform any security or privacy audits, so there is no way to confirm that it keeps its website promises. Nevertheless, the privacy policy goes to great lengths to give real details about how the service works and what it means to you. It feels much more reliable than the 50-word 'we log absolutely nothing about you' policy pushed by so many competitors.
If this matters to you, don't take our word for it; take a look at the document itself – even 30 seconds browsing the headlines will show you that this is a step above the average VPN privacy policy.
TigerVPN review: Streaming support
While some VPN providers focus on their privacy benefits, TigerVPN leads to the ability to 'unblock geo-restrictions and website filters,' allowing you to 'kiss censorship and restrictions goodbye and access any website on the planet.'
That sounds great, but it didn't take long to discover that it wasn't true. We tried to log into TigerVPN's London and Manchester locations. Still, neither gave us access to BBC iPlayer, with the site detecting the VPN and warning 'this content is not available at your location.'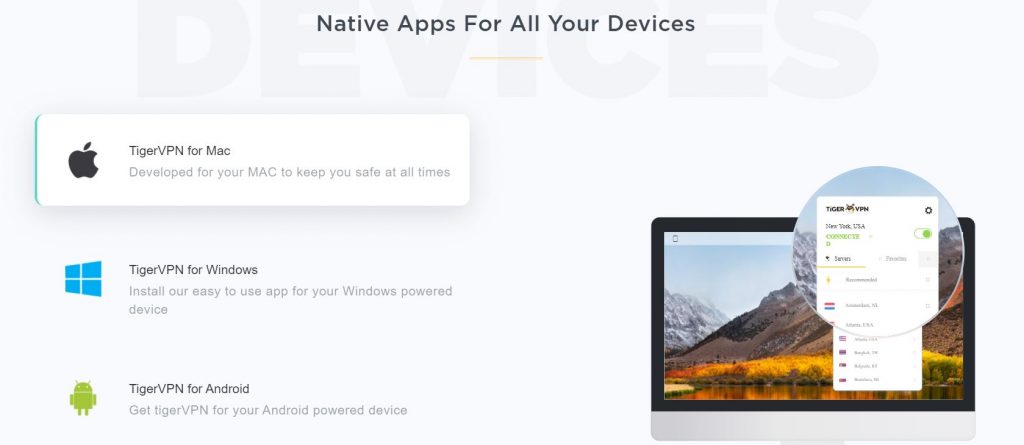 The problems continued when we failed at Amazon Prime Video and Disney+. TigerVPN says Netflix currently blocks its U.S. and most other servers, but we were surprised to stream U.S. Netflix content through a U.S. TigerVPN location. We checked it three times, and it worked every time, but the company that says Netflix is blocked makes us a little nervous. Take the three-day trial, confirm it for yourself before you buy.
TigerVPN review: Performance
TigerVPN's results in our speed tests got off to a good start, with our nearest UK servers averaging 65Mbps on a 75Mbps connection.
UK-US performance was also very acceptable at 40-50Mbps, and even UK-Australia gives us 30-40Mbps. We switched to a European data center with a 500Mbps+ connection, but it made little difference; downloads were still 55-70Mbps on average. Not the best we've seen, but still, TigerVPN, with the lowest recorded speed of 30Mbps, is never less than usable.
However, TigerVPN performed better in our privacy testing, without any DNS or WebRTC leaks, and we found all of our test servers at their advertised locations.
Pricing and plans
TigerVPN's monthly plan looks expensive for $11.99, mainly because you only get support for two simultaneous connections. However, by paying a year in advance, you can establish five simultaneous connections, and you'll see the cost drop to a more reasonable (but still above average) $6.67.
A three-year plan gives the best value at $2.75 per month, but there are better deals elsewhere. If you don't like long term contracts, Private Internet Access's annual plan is a similarly priced $2.85 per month for the first term, $3.33 for renewals. Or if you can live with a two-year plan, Surfshark's is only $1.99 a month.
The company doesn't seem to advertise it, but when we downloaded and installed the Windows client, it offered us a free three-day trial. We had to provide our email address, and it only allowed us to use a few devices at a time, but when most providers stop offering any trial, we're not about to complain. Three days of testing on your primary device is enough time to look at the app, determine its speeds, unblock it, and generally get a good idea of how TigerVPN works for you.
If you sign up, TigerVPN will accept payment by card, PayPal, Bitcoin, and more. 7-day money-back guarantee gives you some protection, but most providers do better: NordVPN and ExpressVPN, for instance, offer the industry standard 30 days, while Hotspot Shield and CyberGhost give you a generous 45 days.
TigerVPN review: Final words
TigerVPN does a lot of good. It has a solid privacy policy and makes access to its services easy on just about any device. The unique bundling of Shimo and Sticky Password might make it a tempting deal, assuming you don't have a password manager yet. It also came within spit distance of TorGuard's download speed scores, a remarkable achievement. TigerVPN falls short is value: The company's offerings are good, but others do better for less (or just a little more).
Our Verdict
Simplicity is good, but being feature-free is a problem, and TigerVPN doesn't have the power or resources to compete with the top VPNs.
PROS
Easy-to-use desktop and mobile clients
P2P support
OpenVPN underneath
Free three-day trial
CONS
Very few features
No-kill switch
Doesn't unblock BBC iPlayer, Amazon, Disney+